Rebel: Tory vs the establishment
Douglas Carswell's book gives a refreshing take on the new elitism.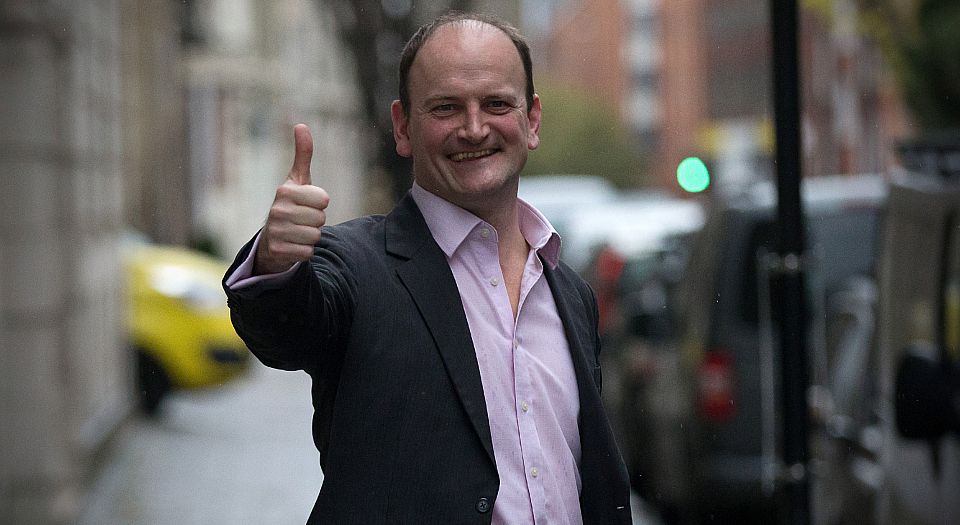 Following UKIP's crushing defeat in the Stoke by-election in February, it should have become clear to all that UKIP and Brexit are not synonymous. Stoke is one of the most pro-Brexit parts of the country, and yet it rejected the party that likes to claim responsibility for Brexit.
Douglas Carswell, MP for Clacton-on-Sea, gets this. Despite defecting from the Tories to UKIP in 2014, he understood that while many Britons were not keen on being ruled by bureaucrats in Brussels, they also didn't want UKIP's Dad's Army to be in charge. Now, in his new book Rebel, he tells the story of his defection to UKIP and his decision later to leave UKIP to become an independent MP. (He has since announced that he will not stand in the upcoming General Election.)
Carswell entered parliament in 2005 as a Tory MP. He had high hopes for then party leader David Cameron, believing he would take seriously Britons' dissatisfaction with the EU. He tells how, during the Lib-Con coalition years, he and Daniel Hannan, Tory MEP and longstanding critic of the EU, would covertly meet in the Tate Britain to discuss how to push forward their hope for a referendum on EU membership. But Cameron's lack of interest in the EU problem soon became apparent – 'special advisers smirked each time we tried to make our case'.
During this time, he noticed something very striking about the polling data: the more prominent Farage and UKIP became, the less general support there was for leaving the EU. 'The numbers were clear', he writes. 'Disapproval of Britain's EU membership, once running at 60 per cent, fell to below 50 per cent as UKIP's polling took off.' Yes, some voters opted for UKIP as a means of expressing their anti-EU beliefs, but for others UKIP was a turn-off. Carswell figured that so-called swing voters would be less likely to vote to leave the EU if Farage was seen as the man fronting the campaign to get out.
Cameron and the government, Carswell suspected, knew this. And it would be on this basis that they might at some point fight a referendum on the EU. They believed there would be 'the Cameronian Remainers on the one hand, and the Faragists on the other'. Carswell says 'it was crystal clear to us that if the referendum became a Cameron v Farage contest', then the Eurosceptics would lose. People would be turned off by Faragism. With this in mind, he defected to UKIP in order to 'take control of Euroscepticism', and refocus it away from Farage, UKIP and its anti-immigration politics. So he joined UKIP to stop UKIP from being a problem
His decision made sense. Had Farage headed the campaign to leave, his unpopularity might well have sunk Brexit. Far from UKIP cleaning up post-Brexit, as Remain doom-mongers claimed would happen, it turns out that even the one MP who sat under the UKIP banner was never properly committed to the party. And now, once again, UKIP has no MPs.
Carswell's book is not just a personal retelling of Brexit. It is also a diagnosis of the problems of the world as Carswell sees them. In his view, competition and free exchange are the main sources of all the good in the world, and those who would restrict competition are the source of the world's ills. History, in his mind, can be divided between producers and parasites. He uses this divide to explain the history of various societies: the Roman Republic, the Dutch Republic, the Venetian Republic. These societies, in various ways, distributed power, restrained their elites and allowed for forms of free exchange; but then the elites eventually become unrestrained, forming oligarchies and cartels, and curtailing political and economic competition, leading to social ruin.
For various reasons, some parts of Europe, principally Britain, were able to constrain their elites, preventing them from becoming extracting parasites, in Carswell's words. Yet now, he fears, we too face that age-old risk of falling into the grip of an oligarchical elite. Our economy is run by parasitic elites in both the public and private sector, he says. Large corporations and the state are able to restrict competition. The free market has been replaced by 'crony capitalism'. He says our society has restricted political competition, too, which is the bedrock of democracy, giving rise to domination by a handful of parties.
He sees similar developments across the Western world. The rise of new oligarchical elites is the reason behind the emergence of so-called populists like Trump, Farage and Le Pen, whom he calls 'the New Radicals'. He is no fan of these New Radicals, viewing their arguments and solutions as reactionary. They will leave Western electorates even more embittered, he fears.
And yet he is even more worried about the reaction to 'the New Radicals'. Just as fear of the Gracchi was used to justify oligarchical rule in Rome, so fear of Trump or Le Pen is whipped up today to make technocratic governance seem more appealing. Carswell says the true threat to democracy is coming not from populist rabblerousers, but from the supposedly enlightened elite. A review of his book in The Economist captured what he means. It is complimentary of much of the book, but it also scolds Carswell for believing in 'people power'. People power 'is not the answer', it says, because people 'are often moved by short-term passions, swayed by demagogues, deceived by rumours': 'Crowds are often mad rather than wise.' In the face of such elitist sneering, many of Carswell's arguments sound refreshing and relevant.
Tom Bailey is a spiked columnist. Follow him on Twitter: @tBaileyBailey
To enquire about republishing spiked's content, a right to reply or to request a correction, please contact the managing editor, Viv Regan.