Let the people speak: why spiked welcomes the snap election
This is a great opportunity to deepen the democratic spirit of Brexit.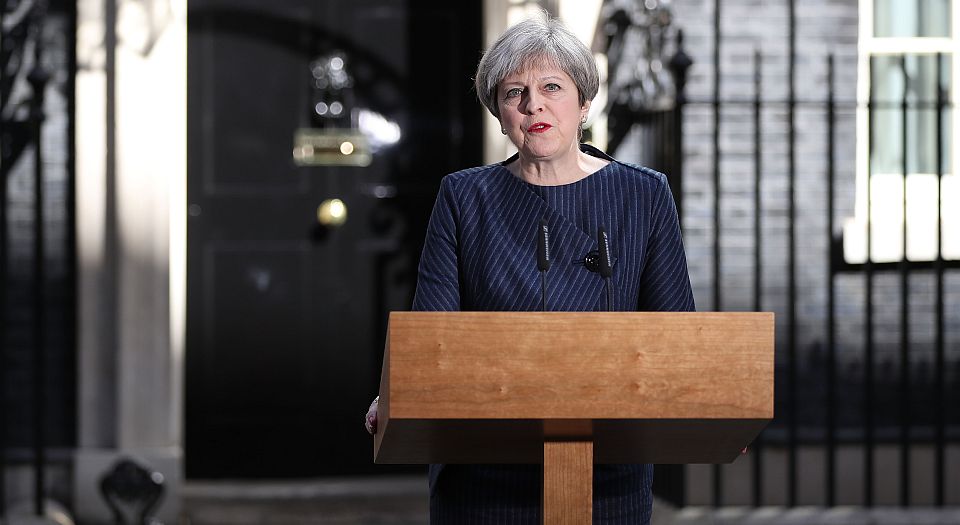 Theresa May's calling of a snap General Election may have been surprising. But the response to her announcement has been disturbing. It hasn't been a case of 'election fatigue', as some in the media have claimed. It's been more like election fear, even election fury. Sections of the media and political class are up in arms over May's plan, with some describing it as more of a 'coup' than an election, and a process that promises to be 'nasty' and to 'corrode democracy'. Quite how asking the people to decide who should run the country damages democracy is anyone's guess. The driver of this election fury is the same reason why those of us who believe in democracy should welcome the election: because it is an opportunity to clarify and possibly even strengthen Brexit.
Make no mistake, it is this possibility that has struck dread into the hearts of the chattering classes: that the election might, in the words of the Guardian, 'secure' the Brexit mandate, providing a 'double democratic lock' around the 17million-strong cry for leaving the EU that was made in last June's referendum. May is certainly posing the election in these terms. In Downing Street yesterday, she pitted the electorate's positive, confident demand for Brexit against the negative nay-saying and agitation with Brexit of the political class: Labour, the Lib Dems, the SNP, and 'unelected' lords, as she strikingly said. The Remain-leaning political set now fears that a General Election victory for May will mean that Brexit is a definite: it would 'sweep away the last hope that [Brexit] could be reversed', as the Guardian said.
The first striking thing about the incredibly negative response to the snap election is its exposure of the elitist urge to stop Brexit from happening. For all the Remainer elite's claims in recent months that their court cases and street protests and appeals to the Lords were merely about getting a Soft rather than Hard Brexit, or ensuring that Brexit was okayed by parliament, the palpable fear that gripped them yesterday confirms that actually they still held out hope of stopping Brexit, of pursuing that 'long European history of second EU referendums in the wake of "incorrect results"'. The second striking thing is the fatalism. The description of the snap election as a 'coup' or a 'power grab' by May expresses an extraordinary lack of confidence in one's own ability to engage and stir things up. The view of May as awesomely powerful, a terrifyingly dead cert, reveals rather more about the emptiness and confusion of the opposition than it does about May's own ideological strength.
Because if May does, as seems highly likely, waltz back into power come 8 June, it would be down primarily to the disarray of the Labour Party, the one party that traditionally challenged the Tories for power. And in turn the disarray of Labour is down, not so much to Jeremy Corbyn, though he is unquestionably the lamest of leaders, but to Brexit. Or rather to what Brexit revealed about Labour in the 21st century: that it has become disconnected from its grassroots working-class supporters, its historic founding base, and is now reliant for favour, PR and its continued existence on a new middle-class clerisy. Labour's angst over whether to support Brexit and keep its traditional voters sweet, or oppose Brexit and ensure the ongoing patronage of its new middle-class cheerleaders, captures the extent of its identity crisis – its existential crisis, in fact. If May's snap election is a 'power grab', then that's only because of the historic demise of Labour and social democracy more broadly.
In essence, the election fury of the opinion-forming set expresses a deep fear that Brexit will win yet another mandate. Amazingly, and with virtually no sense of shame, the Remain-leaning elites have overnight gone from saying 'May has no mandate for Brexit' to 'How dare May seek a mandate for Brexit?'. This is because they know there's a mandate for Brexit out there – a huge, populous one – and they are terrified, horrified, in fact, that it is being tapped into once again. They thought, or they hoped, that they had wrestled the issue of the EU and Britain's political, economic and constitutional future back from the people and handed it back to clever legal minds and cool-headed politicos: people like them. The snap election scuppers this by inviting the people to have their say yet again. It's this, the very stuff of democracy, that they fear.
And it is also this that democratic Brexiteers should welcome. This election is important, crucial in fact, because it allows us to clarify Brexit – the largest democratic mandate in British history but also one of the most agitated against, most feared, most demonised. The people's cry for Brexit has been defamed and muddied by an elite disturbed that its technocratic power has been called into question. If the election allows us to spell out again what Brexit means, that is great. If it allows us to reassert the spirit of Brexit – the idea that the people's will should be the strongest force in the land, and that politics should be the business of everyone – we should relish that. There are risks, of course. Huge risks. Lots of Brexiteers might not vote this time round. The Remain elite could make gains, given their resources and energy. The onus is on those of us who value Brexit and democracy, and the creation of a new politics that is more open and engaging, to get stuck in and sway the debate. But this should be seen as an opportunity, not a burden.
Has May called this election because she loves democracy? Nope. Is she the best person to make Brexit happen? Not at all – she's the thing that Brexit was a revolt against: a technocrat. And yet the snap election, possibly unwittingly, opens up the space for restating the Brexit worldview – which is essential following months of anti-Brexit fearmongering – and arguing for the realisation of people's desire for a better, more democratic kind of politics. It also allows us to start saying what this democratic politics, this Brexit country, might look like. spiked plans to do both: to cut through the election fatigue, fear and fury, and make the case both for sustaining the Brexit spirit and for remaking politics so that it's more alive, more populist, more progressive. Because if the Brexit era confirms anything, it's that the old political categories, classes, parties and ideologies are done and dusted, zombies from another century, and this opens up the space for thinking in a new, uncluttered way about the future of society. Let's not fear that thinking – let's embrace it.
Brendan O'Neill is editor of spiked.
To enquire about republishing spiked's content, a right to reply or to request a correction, please contact the managing editor, Viv Regan.