The press isn't to blame for the slow death of Labour
Conspiratorial Corbynistas blame everyone but themselves.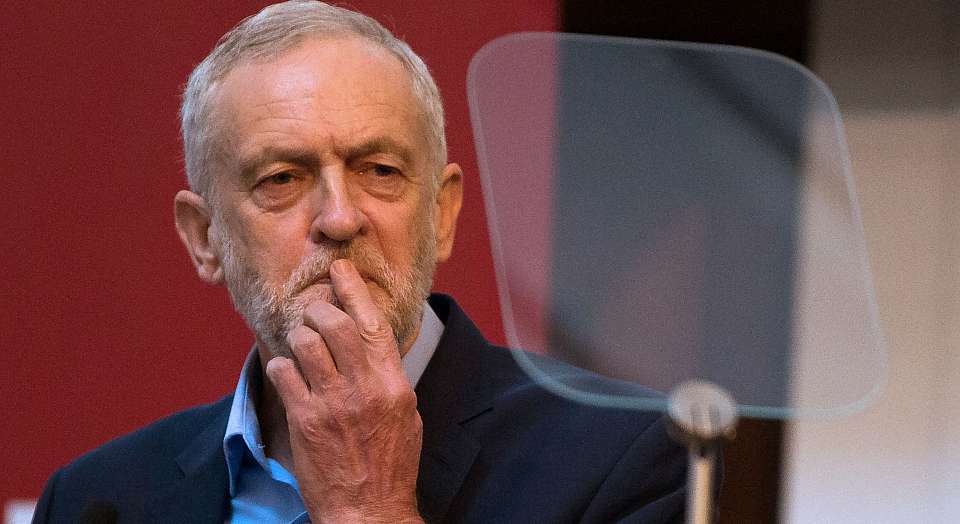 I give it six months until the Labour Party starts blaming the Illuminati for its consistently poor showing in the polls. In the meantime, Corbyn and Co will keep blaming the media. They are trying to persuade voters that Labour isn't the hole-ridden ship we all think it is, but rather is a party that's being slowly waterboarded to death by ghastly newspaper hacks.
When asked last week in a TV interview if he might like to hang up his beige suit, take one for the team and quit as Labour leader, Jeremy Corbyn responded with disgust. Visibly angered, he ranted against the MSM (mainstream media) for being 'obsessed with this question'. Labour would 'have a strong opposition in Britain if you bothered to report what we are doing', he said. Of course, comrade! Labour's pathetic standing in the polls isn't down to its vapid policies and its poor leadership — it's because the mainstream media refuse to take the left seriously.
Corbyn has never been fond of the press. He blamed the fuss over his U-turn on whether there should be a second referendum on Scottish independence on the 'mischievous misreporting' of the Press Association – which controversially dared to write down what he said word-for-word. Corbyn fell foul of the press again this week. At a press conference at the Federation of Small Businesses on Tuesday, he shut down the BBC's Mark Lobel when he asked him to comment on Trump's bombing of Syria. Before Lobel had even finished speaking, Corbyn dismissed his question on the most important geopolitical issue of the day as irrelevant and said he would answer it at a later point. So much for Labour taking on the big issues.
Labour has become so blinkered by its obsession with non-existent media bias that, in a turn of events that wouldn't seem out of place in Blackadder, it has turned on the left-wing magazine, the New Statesman. Disgruntled that the NS dared to publish a special issue asking why the Labour Party has collapsed, Corbyn supporters protested outside the mag's offices. Armed with a megaphone and placards reminiscent of a kindergarten wall display, angry Corbynistas demanded the NS give them 30 pages in which to support their leader. It all spoke to a warped sense of entitlement raging among contemporary left-wingers, which makes them think any kind of criticism is unjustified. This makes them sound like pathetic whingers. Even worse, their reluctance to engage with criticism means they never improve their thinking.
Given Labour's long history of media-bashing, the Corbynista fury isn't surprising. Ever since the Sun took the piss out of Neil Kinnock on a daily basis during the 1992 General Election – culminating in the notorious frontpage headline 'It's the Sun wot won it' following Kinnock's defeat – Labour has viewed the press as a nuisance. In one of his last speeches as prime minister, in 2007, Tony Blair labelled the media a 'feral beast' and said it was 'incredibly hostile to Labour'. Following the closure of Rupert Murdoch's News of the World in 2011, then Labour leader Ed Miliband celebrated by saying that the whole 'psyche of British politics has changed'.
These crusades against the media spring from an existential crisis within Labour, and are a means of avoiding dealing with that crisis. Labour recognises that it is teetering on the edge of oblivion. With local elections looming, it looks set to lose key council seats. Its support among the working classes is plummeting. Its turmoil over Brexit reveals just how distant it now is from many of its traditional grassroots voters. But rather than hold up a mirror to itself, and ask why it is crumbling, or better still just accept that it is crumbling and think about doing something new and better, Labour continues to look for others to blame for its problems. Yet all the media are doing is the thing that Labour itself should be doing: holding up a mirror to the party.
At best, Labourites' shrieking about the bias of the media makes them look like a front for Conspiracy Theorists Anonymous. At worst, it makes Corbyn in particular look like a tantrum-throwing seven-year-old. Rather than rally against journalists who dare to critique the left, Labour should be wondering if perhaps these pesky hacks are on to something.
Jacob Furedi is a spiked columnist. Follow him on Twitter: @jacobfuredi
To enquire about republishing spiked's content, a right to reply or to request a correction, please contact the managing editor, Viv Regan.