Mauling an MGM classic
A new adaptation of An American in Paris is an infernal mess.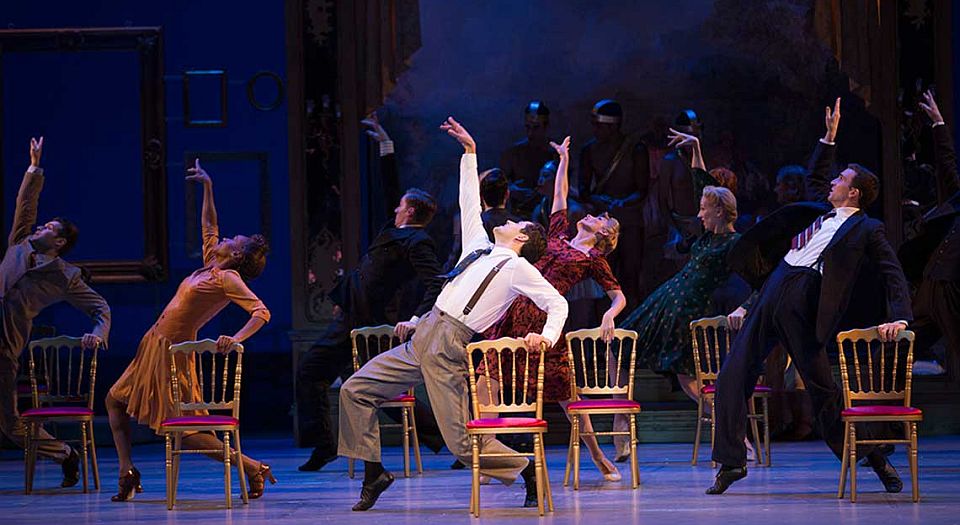 A new adaptation of An American in Paris, the great MGM musical starring Gene Kelly and featuring the songs of the Gershwin Brothers, has opened at the Dominion Theatre in London's West End. The film version, directed by Vincente Minnelli in 1951, was the most ambitious of the MGM movie musicals, and the nearest the studio ever came to producing high art.
The film's greatest strength is the contrast between the 'real' scenes in Paris, where characters perform spontaneous, compact musical numbers on the street, and the Technicolor fantasies inside the characters' heads. The movie is inconsistent, but it does climax with an extraordinary ballet – a freewheeling, impressionistic, beautiful sequence that takes place entirely in the imagination of Gene Kelly's character, Jerry. Its endless sets, dream logic, sensational choreography and sheer length (17 minutes) make it the most formally brilliant sequence in any MGM musical.
The new stage version does away with all that. It has a puzzling new book written by Craig Lucas. It keeps the Gershwin numbers but it has a completely different story and characters who are barely comparable to their movie counterparts. At least it's still set in Paris, I suppose, and there's an American in it.
The book seems to have been written deliberately to evoke the corniness of Golden Age musical comedies: the silly plot devices, the shallow romances, the cheesy lead-ins to songs, etc. We're meant to laugh, because that's how musicals used to be! Only, the original movie wasn't like this. Where that marvellous film strove for modernity, this new adaptation is aggressively old-fashioned and knowingly clichéd in a way the film never was.
It starts similarly enough. Jerry Mulligan is a former soldier and aspiring artist. He's friends with Adam, a fellow American who plays piano. Adam is friends with a French cabaret singer named Henri, who's in a relationship with a girl named Lise. What follows from this familiar outline, however, are trite plots that didn't feature in the original film, a smattering of 'idiot plots', and the most clichéd kind of backstage musical.
An idiot plot is the technical name for a plot that could be cleared up with one sensible line from any of the characters. This isn't to say that an idiot plot is necessarily a bad story. In a good musical like Top Hat, the story's farce is built on a simple misunderstanding that spirals ever-more ludicrously and comedically out of control. In this new An American in Paris, in contrast, we have an idiot ensemble, where every single bloody character's plot is driven by an incredibly simple piece of information they don't share with the other characters for no good reason.
The guys meet constantly for drinks, Henri always bemoaning his lack of courage in proposing to his fiancée. In multiple meetings, he never once tells the guys her name. This is so that Jerry can fall in love with her – a love he also mentions in passing without ever telling them her name. Lise keeps rejecting Jerry, but doesn't just tell him she's already in a relationship. In the original, Jerry knows Lise is in a relationship and both explicitly choose to have an affair. Again, this is much more edgy and modern than the traditional musical comedy, or indeed this new stage adaptation where everyone is highly moral but extremely obnoxious, selfish and, yes, idiotic.
But enough about the characters – even the ballet is reduced to idiocy in this infernal adaptation. The majesty of the ballet sequence in the film was that it was complete fantasy, a vision in Kelly's mind after his character Jerry is rejected by Lise. In this musical, bizarrely enough, the gang are all involved in producing an actual ballet. Lise is now a ballerina, whose first scene sees her being picked from the chorus to be the lead dancer in as clichéd a way as possible. As the show progresses towards the climactic performance, I guess we're meant to be in suspense as to whether the ballet will be a success. Craig Lucas has taken the most formally brilliant sequence in all of MGM and reduced it to just 'putting on a show', as Judy Garland and Mickey Rooney did so endlessly.
I hope I'm not giving the impression that the libretto is light and brisk and silly – it's not. It's slow, laboured, and it takes forever for the idiot plot to resolve itself. Also, some strange seriousness about the Nazis is thrown into the mix, also absent from the original, so that the leads can stare into the audience as they remember 'that dreadful war'.
The real tragedy is that this dire libretto is incredibly well directed by Christopher Wheeldon. The production design makes every moment on stage look gorgeous. Every chorus number starts out simply enough and evolves into a huge production number. The choreography, also by Wheeldon, is excellent, despite ditching the film's tap for ballet throughout. It was wise to cast ballet dancers as the leads rather than typical musical-theatre performers. The extended dance sequences are long enough that you start to forget how dreadful the libretto is, and you find yourself wondering why other West End shows are so lazy with their choreography.
But the moment the characters open their mouths, it all goes to pot again. I now see why this big-budget show shut after less than two years on Broadway and didn't win any major Tonys. If it were an actual revival, or perhaps even an entirely new pastiche of the Golden Age book musical, it might have worked. But as a reductive adaptation of Minnelli's great movie, it's an insult both to its source material and its West End audience.
To enquire about republishing spiked's content, a right to reply or to request a correction, please contact the managing editor, Viv Regan.