Why it's always 'Russia wot dunnit'
Blaming Russia is a 'get out of jail free' card for struggling political elites.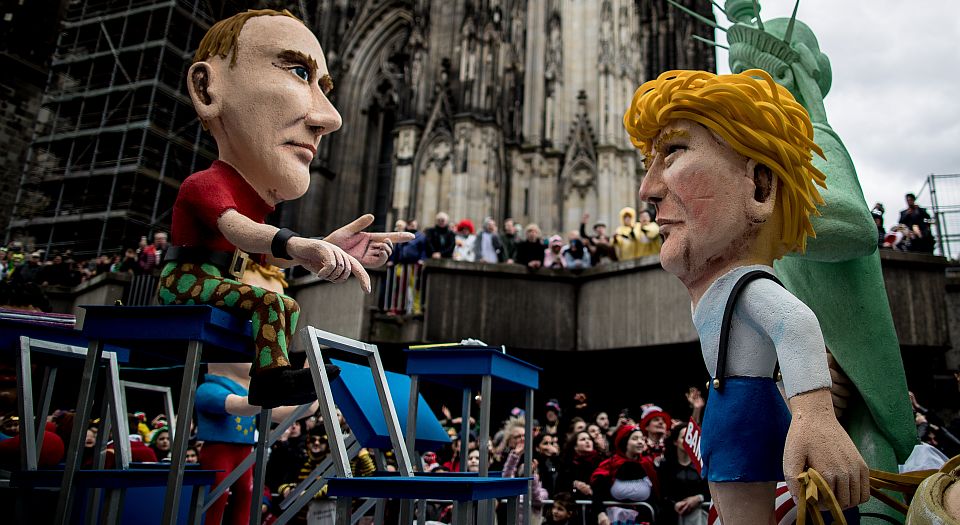 Last month, commentator Sam Kriss wrote an excellent article entitled 'Liberals on the edge of a nervous breakdown'. Kriss argued that American liberals, leading Democrats and many others in the political establishment were so distraught about Donald Trump's victory that they were embracing conspiracy theories, particularly those asserting Russian involvement in the election, rather than trying to understand why the Democrats lost.
Given the US political and media elite's obsession with Putin, it's hardly surprising that a majority of Democrat voters now believe that Russia really did intervene in the election. And now, with some Democratic senators calling alleged Russian interference 'an act of war', the American liberal establishment is setting the US down a very dangerous road.
The evidence alleging behind-the-scenes influence isn't exactly compelling. Crowdstrike, a cyber-security company commissioned by the Democratic Party, claims that Russian state-backed hackers accessed the emails of Hillary Clinton's campaign chairman, John Podesta, and the Democratic National Committee, before passing the haul over to Wikileaks, which in turn made them public. That's it. The FBI were refused access to the computers or servers used by Podesta and the Democratic National Committee. Any claims of Russian involvement come solely from Crowdstrike, which cites the presence of Agent-X, a malware program used by Russian hackers, on the hacked computers as proof. Yet even that is not a smoking gun. Agent-X is also used by Ukrainian hackers and American cyber-security firms, among others.
In addition to the flimsy Crowdstrike allegations, the CIA, FBI and NSA have published a pamphlet claiming to prove Russia's 'activities and intentions in recent US elections'. But this actually consists of little more than baseless assertion and a long section on the role of Russian state TV channel, Russia Today, which is hardly a covert operation.
More telling still, FBI director James Comey stated last month that the FBI has been investigating Trump's links to Russia and its president, Vladimir Putin, since August last year. While for some this was yet more proof of Russian involvement, the reality is that an investigation over six months old is still to unearth any cast-iron evidence to support these allegations.
What's clear is that it doesn't seem to be evidence that is driving the obsession with exposing Russian power behind Trump's throne. Many are simply determined to believe that Russia 'hacked the election', that Trump is controlled by Moscow. Indeed, such is the high level of McCarthyist-era suspicion and conspiracy-mongering, that anyone who is slightly sceptical about, or disagrees with, an American policy regarding Russia is denounced as a Kremlin agent. Even one-time Democratic presidential candidate Bernie Sanders, who himself has been the victim of a smear campaign from the Democratic Party establishment, is now getting in on the act and demanding that Trump reveal his Putin connections.
Now, perhaps the Russian state is behind the hacking of Democratic emails. It wouldn't be a surprise. Every major state today engages in cyber-espionage, including the US, as shown by Wikileaks' recent revelations about the CIA's cyber-espionage programmes and tools.
But there's one big problem with the claims that Russia is controlling American political affairs from afar. Put simply, there's no evidence. And that's a bit worrying given that senior Democrats, with little in the way of proof, have still been willing to accuse a fellow nuclear power of an 'act of war'. It is a reckless and wild strategy (if, indeed, you can call it a strategy). When even those deeply hostile to Russia and President Trump, such as the journalist Masha Geeson, warn against believing a 'xenophobic conspiracy theory', you know there's a problem.
Unfortunately, some politicians in Europe seem keen to embrace this very same 'xenophobic conspiracy theory'. For them, it's a way to explain not just Trump, but the rise of populism and anti-EU sentiment. In Britain, Labour MP Ben Bradshaw has been pressuring the prime minister, Theresa May, to reveal whether she has information that Russia somehow swayed the Brexit referendum. Then, in the run-up to the Stoke-on-Trent Central by-election in February, the BBC alleged that Russian state-linked Twitter accounts were attacking UKIP and its by-election candidate Paul Nuttall, and encouraging people to vote Labour. A UKIP spokesman has dismissed the claims: 'The idea that Putin gives a flying rat's arse about Paul Nuttall winning in Stoke… I just don't see it.'
With the French and German elections coming up, we can expect more claims about the shadowy influence of Russia from Europe's political and media elites. French presidential candidate Emmanuel Macron has already claimed to be a target of Russian cyber-attacks and negative reporting from Russia Today. Given that Russia Today's viewing figures in France are in the thousands rather than the millions, it seems unlikely that Russia's state-propaganda channel will swing the French electorate against Macron.
Elsewhere, Belgian MEP Guy Verhofstadt saw FBI director James Comey answer 'yes' to a question from Congress about whether Putin would like to see more countries leave the EU. This, according to Verhofstadt, confirms that Putin backed Brexit and that he wants to use the populist right to destroy the EU. Got that? Comey's opinion, because that is all it is, has been turned into proof that Putin is set on smashing the EU.
Again, there is no evidence to suggest anything of the sort. Even the German intelligence agencies have said that there is no evidence of Russian interference in German political affairs. Which is odd, if you believe the conspiracy theorists. Because if Russia really is set on destroying the EU, you would surely expect at least some meddling in the politics of the nation at the heart of the EU project.
But the absurdity of the conspiracy theories is not the real problem here. Rather, it's that this revamped Red Scare speaks to a profound and seriously anti-democratic shift among disoriented, struggling elites.
In the US, the liberal elite has given up on trying to understand why Americans didn't vote for Clinton, and has focused instead on trying to delegitimise Trump's election victory by suggesting it was the work of the Kremlin. The Democrats, in particular, are effectively refusing to accept Americans' democratic decision. This is the real political scandal that should be dominating the US media. Moreover, this explicit rejection of the vote simply confirms to Trump supporters that the Democratic establishment despises them. After all, Democrats and their supporters are telling millions of Americans every day that they voted for Trump because they were duped, manipulated by Putin. They are telling them that their vote shouldn't count.
In Europe, political elites are also attempting to delegitimise populist, anti-EU parties and movements – from Front National in France to the Five Star Movement in Italy – by claiming that Russia is somehow behind them all, pulling the strings. This is not only shallow and wrong, it also means that the real political dynamics informing the populist surge, from the democratic deficit within the EU to the broader disenfranchisement from mainstream political processes within EU member states, are being steadfastly ignored. Moreover, as Scott Radnitz, writing in Foreign Policy, observed, if there is a relationship between populist parties and Russia, it is not because they are Kremlin puppets; it's because they share conservative traditional values which are seen to be under attack within the EU.
The Russia blame game is really an abdication of political responsibility. Verhofstadt might feel better thinking Putin was behind Brexit, but that's not going to make the EU's problems go away. And Democrats might feel better thinking Putin is behind the rise of Trump, but that doesn't change the fact that millions of American voters have come to despise the Democratic Party. There are sections of Western political and media elites who would rather do anything, including escalating a conflict with a military superpower, than engage with their own publics. It seems that the real enemies of Western democracy are not within the Kremlin, but within our own political elite.
Tara McCormack is a lecturer in international politics at the University of Leicester. She is author of Critique, Security and Power: The Political Limits to Critical and Emancipatory Approaches to Security, published by Routledge. (Buy this book from Amazon(UK).)
To enquire about republishing spiked's content, a right to reply or to request a correction, please contact the managing editor, Viv Regan.