The rage against Moyes
No, the Sunderland manager is not a dangerous misogynist.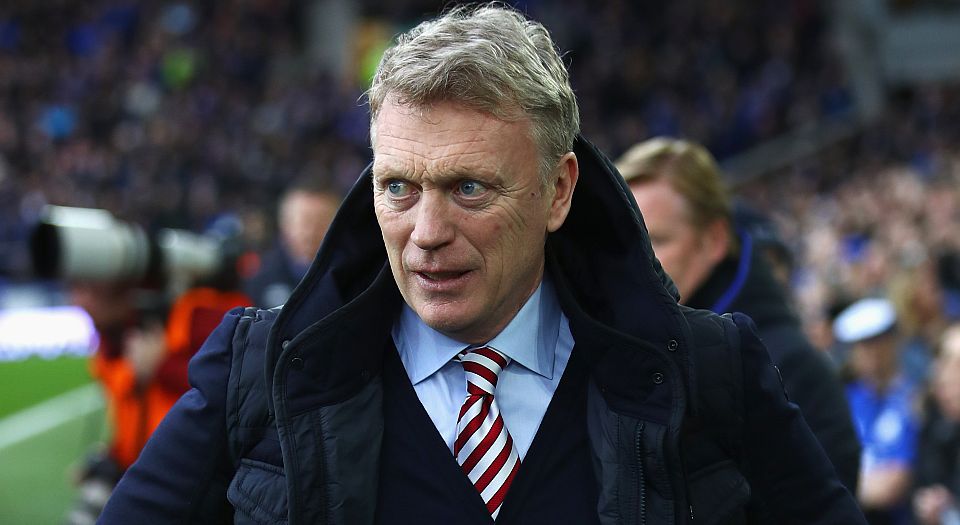 David Moyes often looks bewildered. He spent much of his ill-fated spell at Old Trafford looking bewildered. His brow has been no less furrowed at Sunderland, where he appears in a perpetual state of perplexity. And now, as he faces an FA investigation into 'sexist' remarks he made to a female reporter, I'm guessing that he's reached Peak Bewilderment. It's tempting to chuckle, but Moyes's latest tribulations are no laughing matter. If he is punished by the FA, the Scotsman will become the latest casualty of a stifling You Can't Say That culture, which is corroding public life.
What did Moyes do wrong? After Sunderland's 0-0 draw with Burnley in February, he jokily reprimanded a female BBC reporter, Vicki Sparks, for asking him whether he felt pressured by the presence of Sunderland's owner, Ellis Short. At the end of the interview, Moyes said to Sparks: 'You were just getting a wee bit naughty at the end there, so just watch yourself. You still might get a slap, even though you're a woman. Careful the next time you come in.' Moyes publicly apologised for his remarks at a subsequent press conference, but only succeeded in adding to his rap sheet by referring to Sparks as a 'girl'.
If Moyes is guilty of anything, it is making a cringingly bad joke. His comments were somewhat patronising, but this hardly amounts to 'misogyny', as the domestic-violence charity Women's Aid described it. Nor was his threat to slap Sparks 'sinister' or 'chilling', as others have described it. If you listen to the recording, it's pretty clear this wasn't a genuine threat of violence. Both Moyes and Sparks were laughing – though, admittedly, hers will have been nervous laughter. Were his comments sexist? Well, technically, to demonstrate the absence of gender bias, he should have threatened to slap the reporter, regardless of gender. Or perhaps to chin her, if slapping is considered too 'gendered'.
Daily Mail sports writer Martha Kelner described Moyes's mock threat as 'low-level sexism' on BBC Radio 4's Today programme. If there was a scale for measuring the magnitude of sexism, as there is for earthquakes, I'd imagine that 'low-level sexism' would be the equivalent of a minor tremor. Given this was a relatively petty breach of contemporary PC gender etiquette, the almighty moral shitstorm which has followed seems completely disproportionate. Moyes had the decency to phone Vicki Sparks 48 hours later and apologise for his behaviour. And, according to a BBC spokesperson, she 'accepted the apology'. That should have been the end of the matter. But it wasn't. It's become inflated into a political issue. Shadow sports minister Rosena Allin-Khan weighed in by tweeting 'David Moyes cannot get away with these sexist threats – the @FA must take action immediately'. Gary Lineker described Moyes's behaviour as 'inexcusable'. Moyes's employers, Sunderland AFC, described his comments as 'wholly unacceptable' – although the club didn't bow to Twittermob demands for the manager to be sacked.
Moyes might, on the face of it, appear to be the fall guy here, but this incident has also become a convenient stick with which to beat football and, by implication, its predominantly male, working-class constituency. As Polly Neate, chief executive of Women's Aid, put it: 'The ingrained sexism at the heart of Mr Moyes's remark represents something much darker; it is a cornerstone of a culture that condones violence against women.' Clare Phillipson, director of Wearside Women in Need, went as far as to equate Moyes with Adam Johnson, the Sunderland winger who is serving time in jail for grooming a minor. 'We've had Adam Johnson and now we've got this', she said.
The shrill clamour for Moyes to be punished is problematic on two counts.
Firstly, if every word that a public figure utters, on or off the record, is governed by the same stifling strictures that have become de rigueur on university campuses, then we suffocate public life. It means that free expression and debate is shut down and, consequently, we are all condemned to tiptoe fearfully through an etiquette minefield.
Secondly, and this point seems lost on those queuing up to give Moyes a shoeing, it is incredibly insulting to women. That's right. Insulting and patronising. The demand for the FA to take action is far more condescending than Moyes's jokey slap threat. Why? Because the implicit message is that women are fragile creatures who need to be protected from casual sexism; that they can't deal with an insult or a condescending put-down themselves. Ultimately, this doesn't empower women, it undermines their autonomy and casts them forever in the role of victim. Vicki Sparks isn't the first sports reporter to be on the receiving end of a dressing-down from a football manager. It goes with the terrain. And, if we're serious about equality, we should insist that women are tough and resilient enough to deal with demeaning remarks without requiring the language cops to safeguard them.
Duleep Allirajah is spiked's sports columnist. Follow him on Twitter: @DuleepOffside
Picture by: Getty
To enquire about republishing spiked's content, a right to reply or to request a correction, please contact the managing editor, Viv Regan.