It's time us left-wingers stood up to PC
The left has made itself ridiculous. Let's get our act together.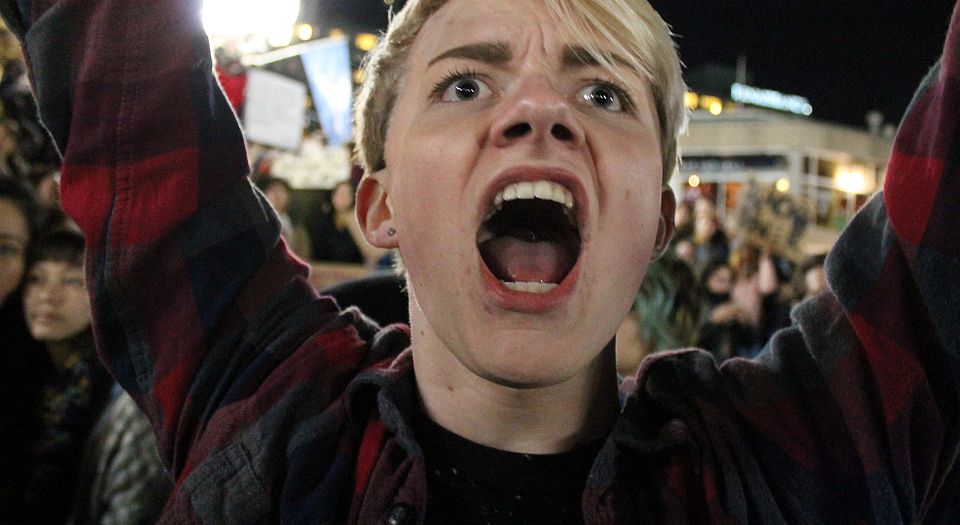 Many of us on the left are tired of playing a losing game. Too often we are unhorsed by the worst excesses of our own side, in particular the mindless peddling of identity politics as a substitute for rigorous debate. Each week brings with it a fresh litany of petitions, articles and social-media posts, all contributing to the impression that the left has turned into a coterie of preening killjoys, unschooled in the art of self-awareness.
Recent low points include calls for Doctor Who to regenerate as a black woman in an effort better to reflect the diversity of the Time Lord community; Caitlin Moran's advice to young girls that they should avoid reading books by male authors; and Lincoln University Students' Union's banning its conservative society from using its social media account for the crime of highlighting restrictions on free speech. Irony, it seems, is not a strong point among these guardians of social rectitude.
More recently, a British artist has called for the destruction of a painting currently being displayed at the Whitney Biennial exhibition in New York because its theme – the murder of an African-American child in Mississippi in 1955 – is not appropriate material to be tackled by a white artist. Apparently, 'white free speech and white creative freedom have been founded on the constraint of others, and are not natural rights'. Many of us find the destruction of artwork and the curtailing of free expression to be troubling phenomena. The historically illiterate have no such misgivings.
It's unhelpful to describe this trend as 'political correctness gone mad'. The phrase has become predictable right-wing boilerplate; one associates it with the screeds of Richard Littlejohn, or the reactionary paranoia of Jon Gaunt, who believes that it 'will soon be a crime to be a heterosexual married parent'. In any case, 'political correctness gone mad' has become a cliché, and all writers worth their salt avoid clichés like the plague.
The sledgehammer tactics of contemporary identity politics have little to do with political correctness as traditionally understood. Tacit social contracts concerning polite forms of discourse in the workplace, schools or public spaces are hardly a controversial notion. We all adhere to such principles in one form or another, albeit with some inevitable sticking points and disagreements along the way. We are facing something far more sinister: a mutated form of political correctness that seeks to police language and thought alike. It's an authoritarian movement spearheaded by well-intentioned activists who are seemingly blind to their own bigotry.
Moreover, they are inadvertently self-satirising. Comment pieces in the Guardian are increasingly making it look like a parody publication. Take, for instance, Suzanne Moore's article about how women who voted for Donald Trump were suffering from 'internalised misogyny', or Stuart Kelly's suggestion that the Scottish tradition of Burns Night should be abandoned because of the poet's allegedly 'deplorable' views about women. It's got to the point where hoaxes such as the recent proposal of an 'equality tax' for white people begin to seem authentic. The left won't get anywhere if it continues to provide such ready fodder for its enemies.
This is why the onus should be on the left to tackle the problem, to rid its own house of the termites that lurk within. Little can be achieved when so many who are perceived as 'liberal-left' are in practice neither liberal nor left-wing. These are interlopers who arrogantly take on the status of ambassadors. Their philistinism knows no bounds. Works of art are valued only insofar as they conform to a narrow worldview, one typically dominated by intersectional grievances. Freedom of speech is dismissed as an inconvenience, rather than recognised as a fundamental principle of democracy. Those who hold such views naturally expose themselves to ridicule, and yet are outraged when it happens. It's like a village idiot gleefully clambering into the stocks only to complain when passers-by start pelting him with fruit.
After the US election, I had hoped that we on the left would start to rethink our position, to understand that we had unwittingly contributed to Trump's success. Studies have repeatedly shown that Trump garnered most support in those areas where the economy is weakest. But no, according to the Nation, it's all about a 'fear of diversity'. That's right, we're back to the 'all Trump supporters are racist' narrative. Because that strategy worked so well for Hillary Clinton, didn't it? One wonders whether the Nation is being secretly funded by Trump's administration to help him on his way to a second term.
Identity politics, as it currently operates, is a mostly tokenistic endeavour. Too often it assures progression for women and ethnic-minority people who already come from a privileged background. It's very easy for the middle classes to make their scattershot assumptions of 'straight white male privilege', to pretend that opportunity has nothing to do with socioeconomic status and everything to do with race, gender and sexuality. It's a convenient method by which they can assert their own virtue while continuing to benefit from an inherently unequal economic system.
The election of Donald Trump should have been a wake-up call for the left. Instead, we have seen a doubling down on the very strategies that guaranteed his victory in the first place. Trump supporters are scorned and derided with increased vehemence, Brexit voters are still smeared as racist, and the working classes are urged to know their place and vote in accordance with the instructions of their technocratic masters. It would also appear that the word 'Nazi' has been redefined as 'anyone with whom the left disagrees'. I've never met a Nazi, although I'm assured by many of my liberal friends that you're never more than six feet away from one.
With Theresa May polling better than ever, and Marine Le Pen gaining ground in the run-up to the French elections, now might be a good time to reflect on where we on the left are going wrong. It seems to me that we have two options. We could return to our traditional objectives and strive to redress social inequality and thereby improve the lives of working-class people. Or we could continue this bourgeois obsession with identity politics and see where that gets us. I know which I'd prefer, but something tells me I'm not going to get my way.
Andrew Doyle is a stand-up comedian and spiked columnist. Follow him on Twitter: @andrewdoyle_com
Andrew is the co-writer of Jonathan Pie: Live, now available as a digital download at the Jonathan Pie website.
To enquire about republishing spiked's content, a right to reply or to request a correction, please contact the managing editor, Viv Regan.