'Don't mention the war!'
Why England fans should be free to taunt the Germans.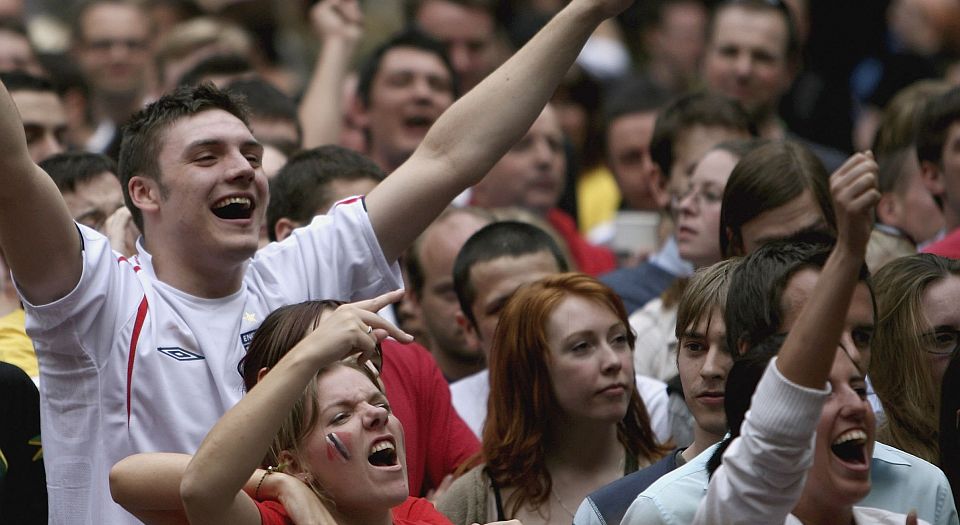 England fans taunting the Germans with offensive songs about the Second World War. We've been here before, haven't we? England fans get beered-up, sing insulting songs about the war, spread their arms like war planes and, sure enough, every bien pensant commentator gets their knickers in a twist.
We might be perennial flops at international football but, when it comes to moral grandstanding, the English are world-beaters. 'English football dragged through the mud once again by braying beer-fuelled scum who sing anti-German war songs', thundered the Independent. There was a lot of thundering, finger-wagging, tut-tutting and harrumphing after last week's friendly in Dortmund. The Sun's Dave Kidd was appalled at events in the Westfalenstadion. 'There, hundreds of boorish, inebriated men continued to glory in a world war which ended 70 years ago, bellowing out tedious chants about German bombers and swaying around, mimicking aircraft', he wrote. The Football Association (FA) chairman, Greg Clarke, branded the fans' behaviour 'inappropriate, disrespectful and disappointing'. The FA is reportedly studying police video footage with a view to excluding the miscreants from the England Supporters Travel Club – which would be a de facto ban on attending England away games.
Even the Football Supporters' Federation (FSF), which purportedly represents fans, joined the chorus of disapproval. 'Unfortunately, little of the wit and imagination that goes into our club football songs is reflected at England games', complained an FSF spokesman, warning that the reputation of England fans could be 'tarnished by the actions of a minority'. I think we can all agree that 'Have you ever seen a German win the war?' won't be up for a Pulitzer Prize any time soon. For every genuinely funny terrace song, there are 99 devoid of wit or imagination. It's a bit like the X-Factor auditions. You have to wade through shedloads of dross before you find a twinkling gem like Honey G.
But while terrace war songs may not have any literary merit, is it right to punish fans who sing them? More to the point, if we can't mock the Germans about the war, what can we mock them about? Their footballers are better than ours. Their beer is better. And their cars. So too are their motorways. 'Don't mention the war', we're told. But that's all we have. The war. Well, two wars to be precise. And one World Cup. Admittedly, we're quite good at television drama. But try turning our small-screen prowess into a whip-smart terrace jibe. It's just not possible. 'BBC on fire, RTL is really dire.' See what I mean? It doesn't even scan.
The thing about terrace banter is that it is largely theatrical. The ritual trading of playground insults contains a large dollop of irony. If it's an international fixture then, naturally, the songs will trade on national stereotypes. We'll call the Welsh 'sheep-shaggers'. We'll tell the Dutch 'You can stick your f***ing tulips up your arse'. The French will be serenaded with choruses of 'If it wasn't for the English, you'd be krauts'. And, sure enough, when England play Germany, the taunts will be all about the war. Yes, it's puerile but it's just a form of pantomime. We know that the national stereotypes aren't true and most fans on the receiving end are thick-skinned enough not to take it seriously. Were German fans upset by songs about the RAF? I very much doubt it. 'The Germans I spoke to were not offended by the puerile chanting, they were just embarrassed for us', recounted Daily Mirror columnist Andy Dunn. According to my 'source' in the Fatherland, the German media didn't make an issue over the RAF chants or the booing of their national anthem.
It might seem sad and anachronistic to sing about a conflict that took place three quarters of a century ago, but there's a bigger issue at stake here. A war of a different kind. I'm taking about the War on Banter in which football has become the main battleground. For over 20 years, the authorities have been trying to clean up football, to purge it of the offensive chanting and insult-trading which characterises traditional terrace culture. That's what I take issue with: the desire to sanitise football, to make the matchday experience a 'safe space' for 'people like us'.
If we don't take a stand against the illiberal You Can't Say That brigade, then the glorious vulgarity of terrace culture will be suffocated. Moreover, whether you love or loathe terrace banter, there's a bigger principle at stake here, and that's free speech. The right to sing offensive songs at football might not be a freedom that the clicktivists and Guardianistas recognise or value. But, to me, the freedom to mock and insult is the acid test of our society's commitment to civil liberties. If we can't defend the inalienable right of grown men to exchange playground taunts at a football match, then our so-called free society is done for.
Duleep Allirajah is spiked's sports columnist. Follow him on Twitter: @DuleepOffside
Picture by: Getty
To enquire about republishing spiked's content, a right to reply or to request a correction, please contact the managing editor, Viv Regan.