The brilliance of Brexit
Campaigners, politicians and writers on why today is a great day.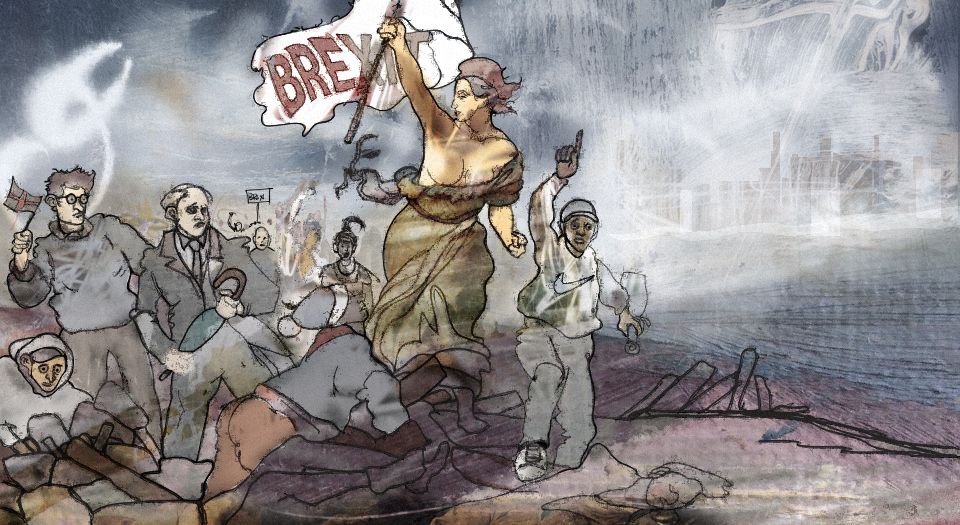 Julie Burchill says…
It's very handy that Brexit was born as the Labour Party was dying – now all of us comrades who are repulsed by forelock-tugging, nepotism and hypocrisy have a home to go to. I can't remember a time when I felt so excited about the future. I was pleased but not shocked to learn that John Lydon, my teenage hero, is a proud Brexiteer – I've always said that the REAL thing the Remnants can't forgive us for is not the imaginary hate crimes or the alleged economic Armageddon our victory will bring, but the fact that we've revealed them as a bunch of scared-stiff, curtain-twitching, tut-tutting, doom-mongering stick-in-the-muds, clinging on to the boring old status quo like a kiddy with a comfort blanket, when all this time they thought they were progressives. Bring on the chaos!
Julie is a journalist and author.
---
Tim Stanley says…
Brexit is simultaneously the smallest thing and the biggest. The smallest because we're already halfway out of the EU. We were never in the euro, which is what matters. The EU wants a unitary state, we don't – so let's depart as friends.
But it's also massive because it's a repatriation of law and democracy. Brexit was one of those things that could never happen. But the people willed it, so it will be so. Within the bounds of a constitutional monarchy, this is as revolutionary as it gets. It's thrilling. The sense of potential for the nation is great. We're the architects of our own destiny.
It's now up to left and right to contest what kind of future they want for the UK after Brexit. The 2020 election will pose a choice between socialism and capitalism. Principle will be at stake. That's the best thing that can ever be said about politics.
Tim is a historian, journalist and leader writer for the Daily Telegraph.
---
Kate Hoey says…
Today is brilliant because triggering Article 50 simply reflects the most basic element of democracy: putting into effect the choice of the people. With the entire establishment arrayed against them, the British public decided that the UK was strong, wise and generous enough to survive outside the restrictions of the European Union.
In a few years' time, when we are making our own laws and freely trading with the rest of the world – including with our European friends – I predict that it will be very hard to find people who admit to having doubted that we could succeed as a proud independent country.
Kate is MP for Vauxhall.
---
Munira Mirza says…
Many people I respect and admire voted to remain in the EU; there were decent arguments on both sides. We had a vote which decided the matter. Those Remainers who in effect refuse to accept the result and are trying to undermine it come across as petulant and elitist. There are many practical benefits that arise from leaving the EU but most of them stem from one fundamental principle: only a country that makes its own laws and decisions can be accountable to the people. 'Take back control' was not just a neat soundbite; it got to the heart of why democracy matters.
Munira is an adviser on arts and philanthropy and the former deputy mayor of London for education and culture.
---
Paul Embery says…
What happened on 23 June was a genuine democratic revolt. The establishment was shaken to its core. Working-class England – which had hitherto always played second fiddle in the minds of politicians to Middle England – arose from its slumber. And how! An entire class of people which had been ignored and patronised hit back. The left must get on board. Democracy just happened. We should cheer and embrace the new mood. Suddenly politics means something again. Suddenly we can see that the political order isn't inviolable. There is a New Jerusalem to be built. And we have taken the first step.
Paul is regional secretary of the Fire Brigades Union and national organiser of Trade Unionists Against the EU.
---
Matt Ridley says…
Britain has an astonishing history but an even more astonishing future. Given what is happening in science, technology and society, there is every chance that Britain's story in the next few decades and centuries will be even richer than the last few centuries. We are wealthier, healthier, cleverer, more technical, more knowledgeable, more peaceful and more tolerant than we have ever been as a nation. We are connected to other countries as never before. We've got the internet, container shipping and budget airlines making trade, travel and transactions easier than they were for any other generation. Distance has never mattered less. The people who determine the future of a country like Britain are not mainly the politicians, civil servants and commentators, but the scientists, entrepreneurs and artists. The last thing they need is a supranational, unelected, rule-driven, homogenising extra layer of government doing its almighty best from inside a luxury headquarters in Brussels to ensure that all our decisions are biased towards the people of one region at the expense of the rest of the world.
Matt is an author, Times columnist and Conservative peer.
---
Gisela Stuart says…
Our decision to leave is a fantastic opportunity for the UK and for the EU.
I believe we can come up with a win-win deal. Remember, we will always be neighbours, trading partners and strategic allies. Without the Brits in the way the EU can go ahead with the political integration the single currency requires.
An independent UK will have to think differently about itself. It's time for a big debate about national renewal. How do we make ourselves match-fit for the rest of the century? We should rebalance our economy, make our communities more resilient, and reach out to the world.
Gisela is MP for Birmingham Edgbaston and chaired Vote Leave.
---
Harsimrat Kaur says…
The referendum was extraordinary because every vote counted. Every person who voted had a reason and let that reason be told. Now Theresa May and her team know what we voted for and it's up to them to make it happen. If they do, it will be a massive win for democracy. If they don't, it's up to us to hold them to account.
The main reason I voted to leave was so we can implement a fair immigration system. The idea that a person with an EU passport has easier access to Britain than someone with a non-EU passport is outrageous. Going forward, I want to see us restore that equality.
Harsimrat is a mathematician, Leave campaigner and founding supporter of Change Britain.
---
Brian Denny says…
Brexit was a magnificent display of direct democracy, which took complacent neoliberal elites completely by surprise. Any attempt to dilute or annul this unprecedented democratic mandate will only spark an even greater revolt.
The Brexit vote was so positive because it was an expression of contempt against the corrupt, bloated corporate monster that is the EU. And, at the same time, it exposed it as the weak and morally bankrupt empire that it is.
Now we can relearn the concept of participating in an active democratic process, which the EU's institutions and its treaties, pacts and directives have robbed us of. These treaties, drawn up in secret for the benefit of corporate elites, are, as the great democrat Thomas Paine teaches us, no more than the dead ruling the living. We have nothing to lose but Eurocratic dictatorship.
Brian is spokesman for Trade Unionists Against the EU.
---
Darren Grimes says…
On 23 June the British people voted to take back control, despite the war of attrition waged on us through the machinery of Project Fear. That means we must leave the Single Market, the Customs Union and the jurisdiction of the European Court of Justice. There is no such thing as a 'hard' or 'soft' Brexit; there is only Brexit.
Taking back control is more than a campaign slogan. To those who wish to rerun the referendum, I would ask that they look across the continent. Citizens across Europe feel that they have no control over their lives, that they are powerless to bring about the change they want to see. Many feel constrained by the European project and its Eurozone straitjacket, and the EU's democratic deficit is driving people to the political fringes in increasing numbers
No matter what side of the argument you stood on during the referendum, we can all look forward to continued cooperation with our European neighbours. Crucially, we can forge new relationships – relationships that will see us rekindle old bonds with the Commonwealth, with developing nations and with countries in the growth markets of the world. Europe is only 15 per cent of the global market. There's a world out there, and Global Britain is ready to join it.
Darren is deputy editor of Brexit Central and founder of the BeLeave campaign.
---
Syed Kamall says…
Today is a historic day for the United Kingdom. It is a day which will mark the beginning of a more honest and constructive relationship with the EU, where we move away from a history of being awkward tenants, and build a new future as friendly neighbours. No longer will British politicians from across the political spectrum be able to pretend that the EU is merely a trading relationship and play down the 'European Project' of further political integration.
Brexit is a chance for the UK to seek trade and other links with – and talent from across – the whole globe, rather than with one corner of it. It is an opportunity to build a truly outward-looking economy by forging new relationships and renewing old friendships. Fortunately, most of my friends who voted to remain in the EU accept the democratic decision of the British people. I hope that invoking Article 50 will bring together our nation in order to deliver the most successful Brexit possible, so that in years to come Britain is seen as a beacon for openness and tolerance, and a nation of opportunity, aspiration and self-belief.
Syed is MEP for London and leader of the European Conservatives and Reformists.
---
Geoff Norcott says…
The EU is like a boyband – it's going to break up at some point, the only thing you need is good timing. Get it right and you're Robbie leaving Take That to have a successful solo career. Get it wrong and you're Brian Harvey reversing over your own head. 3.8 per cent wasn't a stunning majority, it was like finding out your BMI was just in the normal range: no reason to wear spandex. However, it was a win. The best way to now win over the most militant Remainers is to show that leaving the EU can allow Britain to be even more international.
Geoff is a stand-up comedian, and is currently on tour with his show Conswervative.
---
To enquire about republishing spiked's content, a right to reply or to request a correction, please contact the managing editor, Viv Regan.