Lessons from a Hollywood hustler
The Kid Stays in the Picture: a stylish look at the life of Robert Evans.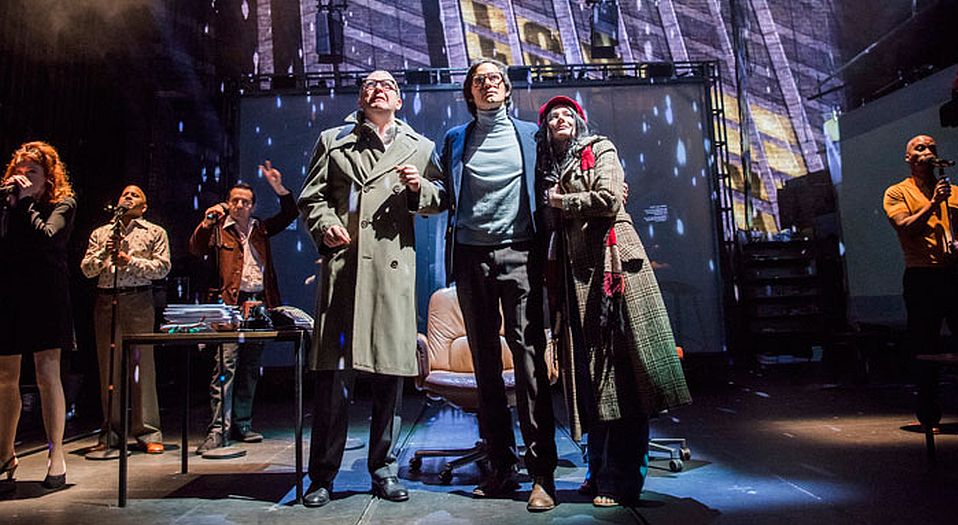 Hagiography, or recounting the lives of the saints, was always meant to have an instructive purpose: to elevate and exhort us lesser mortals. But the Royal Court's ingenious account of the life of Hollywood hustler Robert Evans, The Kid Stays in the Picture, is not intended as an example to others. It could serve as a cautionary tale, warning that if you want to stay sane, solvent and out of jail you better steer clear of Tinseltown. Evans was not just one of Hollywood's great film producers, with credits ranging from Rosemary's Baby to Chinatown. He was also a whopping personality who lived by the seat of his pants.
As related here in Simon McBurney's dizzying, spellbinding, hi-tech adaptation of Evans' autobiography, his life was a doomed romance. Evans is presented as a frontiersman, a pioneer of cool who lived the kind of life for which many are called, but for which few are chosen. A life that hubris and the law eventually laid low. He started out as the son of a Jewish dentist in Harlem, and got into acting thanks to his good looks after being spotted on a Beverly Hills poolside by actress Norma Shearer.
Ava Gardner and Ernest Hemingway hated him as an actor and tried and failed to have him fired from the film adaptation of Hemingway's The Sun Also Rises. The producer, Darryl Zanuck, overruled them, announcing through a loudhailer 'the kid stays in the picture'. This moment was an epiphany for Evans. He realised where power lay in Hollywood: in the hands of producers. Striking out into production himself – making The Detective, starring Frank Sinatra – he became famous for his combative manner. This got him noticed by the explosive industrialist Charles Bluhdorn, who hired Evans in 1968 to restore Paramount Pictures to its former glory. Evans achieved this in style, with a succession of films including, most famously, The Godfather.
Everyone told him The Godfather would never sell – least of all with Al Pacino as the lead. But when Evans saw Coppola's first cut his only objection was that he'd commissioned an epic and been presented with a trailer. Coppola was sent back to the editing room to make it the cross-generational saga we know today. Thanks to another big fat money-spinner, Love Story, he met his third wife Ali MacGraw. They had a son together (the actor and producer Joshua Evans), but McGraw, one of the most desirable women in Hollywood, later ran off with Hollywood's most desirable man, Steve McQueen. By this stage Evans counted secretary of state Henry Kissinger among his buddies, and was able to dragoon the Nobel Peace Prize-winning carpet bomber of Cambodia into openings to make up numbers.
Evans' fall was almost as meteoric as his rise. Claiming hardly to have touched booze or drugs through most of his working life, his discovery of cocaine proved catastrophic. First he was convicted of trafficking cocaine in 1980 (he maintains he was just a user) and plea-bargained his way out of jail. Then one of his dealers was implicated in the murder of one of his associates. His name was mud. All doors were closed to him and the rest of Evans' life has been taken up with polishing his autobiography, more marriages and a succession of strokes.
There is a lot of material for writer-director McBurney to work with, and a lesser talent might drown in it. His solution is to turn Evans' life into a theatrical blizzard. Eight actors perform myriad cameos in a fast-moving clusterfuck of seamless impersonations, with mercurial costume, beard and wig changes. Each one is gorgeous. Coppola is a gloriously hirsute, stubborn and vengeful fatso, while Bluhdorn is a vituperative Austrian-Jewish emigre with a Shakespearean turn of phrase. With wobbly voiced Mia Farrow and a deceptively fey Ali MacGraw, Evans moves through an evasive landscape of tricksters and shapeshifters. His life here becomes a version of Chinatown, a sinister film noir where everyone around you is almost certainly out to get you, but you don't yet have the evidence to prove it.
Set to Pete Malkin's hypnotic soundscape of phones, planes and highways, this is also a visual kaleidoscope with shifting perspectives using video cameras and projections. It could so easily become a muddle of hi-tech exhibitionism. But instead it sweeps you along on the tsunami of Evans' life. For once, McBurney abjures appearing in his own show as an actor, but he has a highly drilled cast including Heather Burns as pretty boy Evans the younger, Christian Camargo as the hustler Evans in his pomp, and Danny Huston (son of John) as the shadowy older Evans, dogged by scandal and rocked by ill-health.
It doesn't have much to say about life beyond Beverly Hills, but what it does say it says with style and panache.
Patrick Marmion is a playwright, journalist and associate lecturer at the University of Kent. He is currently adapting Will Self's Great Apes for the stage.
The Kid Stays in the Picture is at the Royal Court until 8 March.
To enquire about republishing spiked's content, a right to reply or to request a correction, please contact the managing editor, Viv Regan.