This reckless Russia-baiting must stop
Some in the West seem hell-bent on resuscitating the Cold War.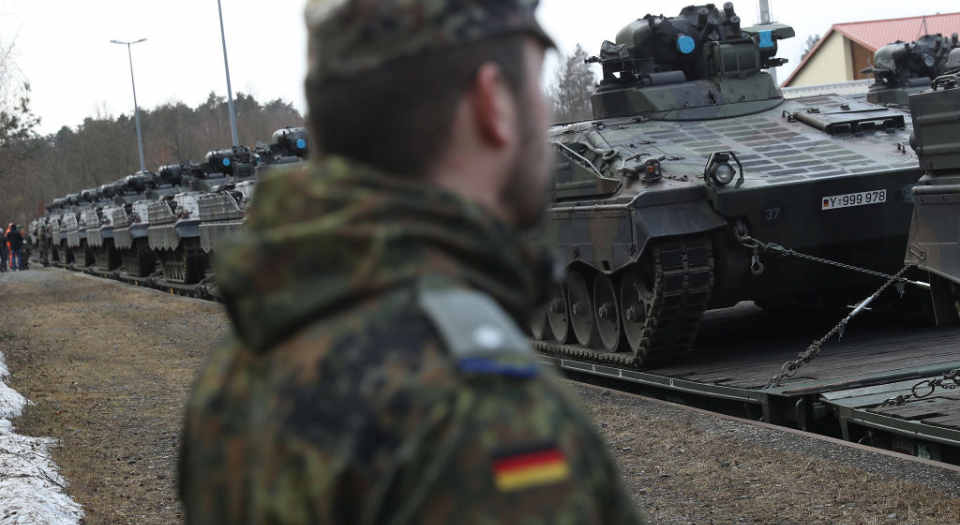 And so this weekend, with the first deployment to Estonia of a prospective 800 UK troops, the NATO plan to 'project… stability' against Russia, agreed upon at a summit last July, continues to move up a gear. In total, NATO members will soon have deployed four battalions, consisting of nearly 4,000 troops, in Poland, Lithuania, Latvia and Estonia – that is, right along Russia's western borders. This will be supplemented by the provision of hi-tech weaponry, vehicles and aircraft, and the construction in Romania and Poland of missile-defence systems.
The narrative justifying this display of military might has been repeated to thought-nullifying effect. UK defence secretary Sir Michael Fallon was the latest to rehearse this deadeningly familiar story, as he explained that the aim of the NATO plans is to 'deter [Russian] aggression'. After all, that's what Western political and media elites seem to think Russia is: an aggressor. We know this because that's what we are constantly being told: that Russia is now in the grip of the imperialist delusions of Mad Vlad Putin; that it wants, in the words of US defence secretary James Mattis, to break the postwar global order; that it will stop at nothing to order the world according to Putin's grand designs.
That's why Russia supposedly semi-rigged the US elections, why it bombed Syria into Russian line, why it invaded Ukraine. Because it wants to dominate its enemies, and where its desire exceed its means, undermine and disorient them. As UK defence chief Mike Penning told parliament in October, it's time 'to look back to the old foe' and defend ourselves.
Yet to see Russia as the aggressor, and the NATO-fronted West and its allies as the picked-upon, is a distortion of historical reality. For every cruise missile test by the Russians, there has been a 'military training exercise' by NATO – such as that in June, when NATO members embarked on the largest movement of foreign allied troops in Poland since the Second World War. For every annexation of former Russian territory in Ukraine, there has been a Western-backed coup to install a pro-EU premier. For every heavily highlighted sign of Russian aggression, there has been an accompanying, obscured, misrepresented act of Western aggression to prompt it.
In fact, since the end of the actual Cold War, the West, with NATO its institutional and organisational expression, has seemingly been set on antagonising Russia. Not deliberately, exactly, but almost as a byproduct of the West's post-Cold War disorientation, its want of purpose – a want writ large in NATO itself, a remnant of the Cold War that has lived on in search of an enemy to justify its mission. And where better to look for this enemy than towards the 'old foe', as Penning tellingly called Russia.
That's why after the fall of the Berlin Wall, and despite promises to the contrary, NATO actually became more pro-active, more expansionist, extending its membership eastwards towards the Russian border, taking in Hungary, Poland and the Czech Republic. It was reaching out for a point, enemies against whom it could define itself. As then US president Bill Clinton insisted in 1997, in almost existential terms: 'The bottom line is clear: expanding NATO will enhance our security. It is the right thing to do.' Then, following the NATO invasion of Afghanistan in 2001, the former Soviet satellite states of Lithuania, Latvia and Estonia were admitted in 2004, followed by Croatia and Albania in 2009. A 2012 NATO strategy statement captures well its expansionist logic: '[NATO's] goal of a Europe whole and free, and sharing common values, would be best served by the eventual integration of all European countries that so desire into Euro-Atlantic structures.'
In the West of course, NATO's expansion is seen as benign and right. Every intervention in territories picked almost at random, from Kosovo to Afghanistan, Iraq to Libya, is presented and perceived as an intervention in the service of the good, the ethical (no matter the often terrible consequences). And every new member admitted, almost entirely from the old Eastern Bloc, is presented and perceived as an extension of peace and security. But it's not difficult to see that from the perspective of Russia, the perspective of the Kremlin, NATO's wars, its expansionism, might be seen as at least something approaching an act of aggression.
And now, incredibly, NATO is amassing troops on the Russian border. So while Fallon et al might try to paint Russia as the aggressor here, it doesn't take an FSB agent to see a rather less West-flattering counter-narrative. This is why, following the announcement of NATO's plans to deploy troops to its eastern frontier states, former Soviet president, Mikhail Gorbachev, a man well-versed in old-school Cold War diplomacy, declared: '[NATO's rhetoric] screams of an intention practically to declare war on Russia. They only talk about defence, but in fact they are preparing an offensive.'
Yes, Russia has made its own moves. It did annex Crimea in the aftermath of the EU-backed, de facto coup in Ukraine in 2014. It is involved in the rebel-controlled eastern region of Ukraine. And Russian armed forces did help Assad's Syrian regime roll back ISIS at great civilian cost. But these actions are not those of a power-crazed military aggressor — they're those of a nation state with relatively clear strategic interests, chief among them being the protection of its borders, and beyond that, preserving regional stability. Russia is not so much driving conflicts as it is responding to them – responding to the West's unravelling of the Middle East, responding to NATO and the EU's various entreaties to the Baltic states, and responding, above all, to the transformation of Ukraine from a long-term ally into a EU-ified and NATO-encouraged antagonist.
Yet if NATO's reckless sabre-rattling on the ground continues, Russia might really become what its Western antagonists presently only imagine it to be: a clear and present danger to the West.
Tim Black is a spiked columnist.
To enquire about republishing spiked's content, a right to reply or to request a correction, please contact the managing editor, Viv Regan.