The secret of Modi's success
Indians want more development, and believe Modi will deliver it.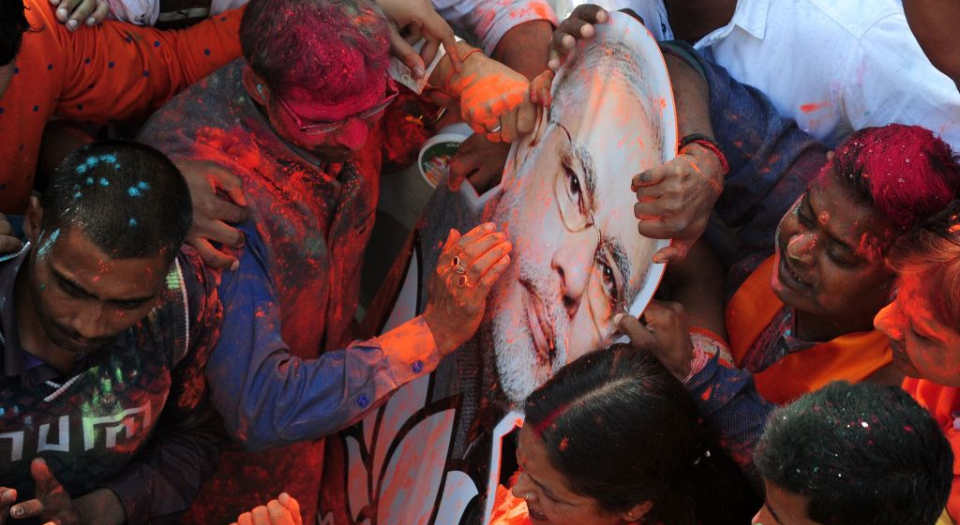 India's ruling Bharatiya Janata Party (BJP) won decisive victories on Saturday in state legislative assembly elections in Uttarakhand and especially Uttar Pradesh (UP). The party won 325 of 403 seats in UP, India's most populous state (if it were an independent country, it would be the fifth largest in the world). While the BJP's incumbent coalition partner lost badly in Punjab, the BJP also polled strongly in the north-eastern state of Manipur, where it previously had little presence, and in Goa it is in negotiations to form a government with the support of smaller parties.
State elections take place on a rolling schedule in India, with just a couple more scheduled this year. But as a mid-term indicator of the ruling party's popularity, the UP result alone is a ringing endorsement of the BJP and of the prime minister, Narendra Modi, in particular. Modi led the campaign in UP, and the BJP did not even name its candidate to be the state's chief minister, so the election win is a personal victory for a politician who has always been controversial.
Modi came to prominence as the chief minister of Gujarat from 2001 to 2014, where he gained a two-sided reputation. Gujarat enjoyed a decent amount of economic development during Modi's tenure, largely driven by foreign investment, and the 'Gujarat model' was touted as something for the rest of India to emulate. But the BJP is also the party of Hindu nationalism, the political wing of a movement that is often hostile to Muslims and other minorities. So when hundreds of people, mostly Muslims, were killed in sectarian riots in Gujarat in 2002, many held Modi responsible.
When Modi was named as the BJP's prime ministerial candidate in 2014, and unexpectedly won the general election outright, both sides of his reputation had a good airing. Nearly three years on, however, Modi can be judged on his record as prime minister. Following the weekend's election results, BJP finance minister Arun Jaitley said, 'BJP's landslide victory in assembly elections has again established that people of India want development as pushed by PM'.
It has to be said that India's economic performance in the past three years has been far from stellar, but Modi's one headline policy was a coup de théâtre. Many observers saw the state elections as a referendum on 'demonetisation'. On 8 November last year, Modi announced that, from midnight, current 500 and 1,000 rupee notes (about 85 per cent of the notes in circulation) would no longer be legal tender and would have to be deposited in banks to be redeemed. This was intended as a blow against the cash-based shadow economy and rampant tax evasion.
The immediate impact of demonetisation was chaos, and many leading economists condemned it; Amartya Sen called it 'despotic' and 'a disaster for the economy of trust'. And, yet, despite the undeniable disruption it caused millions of Indians, and despite the fact that the BJP's opponents made opposition to demonetisation a major campaign issue, voters did indeed seem to endorse it as a step in the right direction.
Jaitley summarised the situation thus: 'We are seen as pro-poor, we are seen as economically reformist and a sole defender of the nationalist constituency of the country.' The last point is a reference to controversy over student protests, especially at Delhi's Jawaharlal Nehru University, where radical left-wing students were filmed chanting 'anti-national' slogans in support of Kashmiri separatists. This allowed the BJP to flex its nationalist muscles without necessarily targeting Muslims as such. (Although it should be noted that the the 'anti-national' tag has been used promiscuously by the BJP, with worrying implications for free expression).
Overall, then, Modi is seen as a strong advocate of the poor and of the Indian nation, and someone who is willing to make bold decisions, in sharp contrast to the previous prime minister, Manmohan Singh, who was disdained as a ditherer. Even if demonetisation turns out to have been a mistake, Modi was willing to take a risk in pursuit of development – voters seem to feel the same.
Veteran political journalist Shekhar Gupta writes: 'Narendra Modi has now risen as India's most popular mass leader since Indira Gandhi in her heyday, and he has earned it all from his own effort rather than build[ing] on a legacy.' Indeed, in defeating the Congress-Samajwadi Party alliance in UP, he not only swatted aside Rahul Gandhi, son of Rajiv Gandhi, grandson of Indira and great grandson of Nehru, but also unseated UP's chief minister Akhilesh Yadav, son of former chief minister Mulayam Singh Yadav. Indian politics is notoriously dynastic. Until Modi – a Gujarati who as MP for Varanasi is an adopted son of Uttar Pradesh itself, and who (perhaps thankfully) has no children.
In rejecting the alliance of dynastic parties, UP voters have shown their impatience with the old ways of doing things. The ruling Samajwadi Party came to be associated with the so-called 'Goonda raj' – politics orchestrated by goons. UP has always been notorious for its caste politics, with parties seeking to build coalitions from different combinations of upper and lower caste groups, Muslims and other minorities, promising a quid pro quo that rarely materialises, along with occasional political violence and intimidation.
BJP president Amit Shah said the election result shows that 'the politics of caste, nepotism and appeasement has been defeated'. In contrast, another former chief minister, Mayawati, whose Bahujan Samaj Party was trounced, put it down to fraud, citing the fact that the BJP won even in Muslim majority districts. In fact, it seems likely that many Muslims did vote for the party, perhaps especially young and female Muslims. Nevertheless, Shah's BJP is not above manipulating sectarian feeling where useful, with the party reportedly reaching out to Muslims in one district, while demonising them in another.
Whatever vegetarian sausage-making went on during the campaign, however, it worked for the BJP because it has a big-picture message that appeals to a broad constituency. Indians want more development and are willing to keep taking a chance on someone who looks able to deliver. Modi is often bracketed with Vladimir Putin as a 'strong man', trading in national self-esteem. But India is not Russia; Indian voters have a taste now for growth. The test of Modi's strength will be whether he can bear that democratic expectation.
Dolan Cummings is a writer based in London.
To enquire about republishing spiked's content, a right to reply or to request a correction, please contact the managing editor, Viv Regan.