Does Erdogan have a right to hold rallies in Europe?
Not necessarily, no. But we should let him where possible.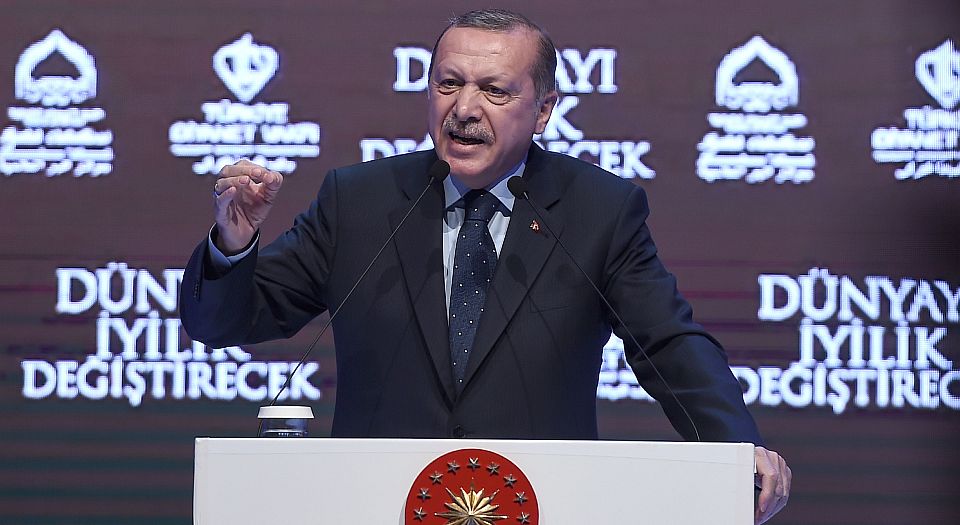 Does the Turkish government have a right to carry out electioneering in Holland, Germany, France and Switzerland? This has become a heated question in Europe in recent days, as officials in President Erdogan's government have visited various European countries to drum up support among ex-pat Turks for Erdogan's upcoming referendum to grant himself new powers. There have been clashes, too, most notably in Rotterdam after the Dutch authorities escorted a Turkish official to the border.
Erdogan used the N-word – Nazi – to condemn the Dutch and German governments for refusing to allow his ministers to organise political meetings in their countries. His use of this term underlines the seriousness of the tensions that have erupted between the Turkish and European governments. Erdogan, whose referendum for new presidential powers is a very high-stakes one, believes he has the right to mobilise support for his campaign among his compatriots in Western European societies, and that governments that prevent him from doing so are authoritarian, and even Nazi-like. But is he right?
The answer to this question seems, at first sight, to be straightforward. In principle, the government of a sovereign nation, be it Holland, Germany or Turkey itself, has the authority to decide whether or not to allow representatives of foreign governments and parties to conduct political activities within its borders. Governments are rightly wary of allowing representatives of foreign powers to turn their nation into a political battleground. In principle, they have the right to regard such activities as unwelcome, as a kind of foreign intervention in their domestic affairs.
They also have the right to be concerned about Erdogan's attempts to influence their citizens who are of Turkish origin. In countries such as Germany, the Turkish community is deeply divided, and Erdogan's attempts to mobilise support among expatriates could lead to an eruption of conflict between different factions. This was graphically demonstrated by the rioting in Rotterdam at the weekend. This was a protest against the decision of the Dutch government to prevent Erdogan's minister for the family, Fatma Betul Sayan Kaya, from entering the local consulate. The Turkish government's attempt to export its referendum campaign swiftly blew up into a diplomatic row, with important geopolitical consequences. Erdogan's promise that Holland would 'pay the price' for its treatment of his minister suggests he is more than happy to risk escalating international tensions in order to consolidate his power at home.
So whether or not the freedoms afforded to the citizens of a society should be extended to foreign political agents is the prerogative of the government of that society. And yet, while the governments of Holland, Germany and elsewhere have every right to curb the influence of external political actors in their nations, it does not follow that it is always right to exercise this right. Rallies for Erdogan's side in the referendum have also been cancelled in Austria, Switzerland and Sweden, but France took a more relaxed attitude and allowed the Turkish foreign minister, Mevlut Cavusoglu, to address a political rally in Metz.
In a globalised world, it is not unknown for politicians to address expatriates in foreign nations. Last month the French presidential candidate Emmanuel Macron came to London to address a rally and to build support among his countrymen in England. Both the Democratic and Republican parties sought to influence American citizens in the UK during last year's presidential elections. In Britain there are numerous political organisations that are affiliated with political parties in the Indian sub-continent. An open, democratic society will always presume in favour of allowing foreign politicians and parties that have an affiliation with a foreign homeland to operate freely. So, on balance, it would have been better if Holland and Germany had allowed Turkish government operatives to hold meetings with their supporters.
What would be best of all is if the Dutch and German governments felt sufficiently confident about being able to manage the disruptive impact of Erdogan's intervention in their societies. The decisions they made were, in all likelihood, difficult ones; and as subsequent events confirmed, the stakes in this situation are higher than simply the matter of the political rallies themselves. In retrospect, it seems clear that the Turkish government's referendum campaign in Western Europe is not simply about winning votes among ex-pats but is also an attempt to consolidate Turkish influence over the internal affairs of Western European societies. When Cavusoglu spoke in France, he used his speech as an opportunity to denounce Holland as the 'capital of fascism'. This shows that his government is making statements that have enormous geopolitical consequences. How governments in Europe, and the government of Turkey, deal with the globalisation of domestic politics and the tensions it can create will be a key question in the coming months.
Frank Furedi is a sociologist and commentator. His latest book, What's Happened To The University?: A Sociological Exploration of its Infantilisation, is published by Routledge. (Buy this book from Amazon(UK).)
Picture by: Getty
To enquire about republishing spiked's content, a right to reply or to request a correction, please contact the managing editor, Viv Regan.