The Russia frenzy gripping Washington
All sides in US politics now make wild, conspiratorial claims.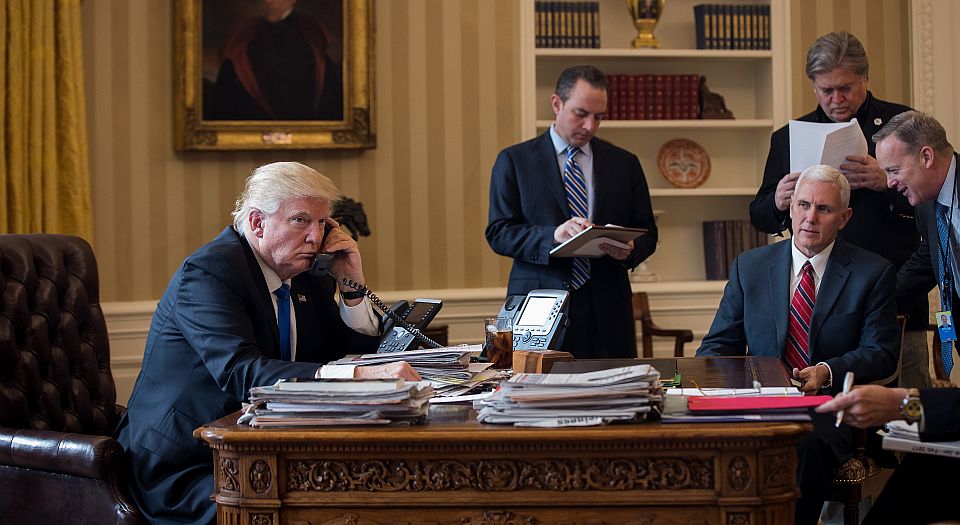 American politics has been reduced to a battle of competing conspiracy theories: it's either Trump colluded with the Russians, or Obama wiretapped Trump. This return to Cold War-style suspicion (which arrives just in time for a new season of the spy-thriller TV show, The Americans) would be a joke if the consequences for democracy weren't so serious.
Trump upped the conspiratorial stakes last weekend, when he tweeted: 'Terrible! Just found out that Obama had my "wires tapped" in Trump Tower just before the victory. Nothing found. This is McCarthyism!' He followed up with: 'How low has President Obama gone to tap my phones during the very sacred election process. This is Nixon/Watergate. Bad (or sick) guy!'
Trump's tweets caused an uproar, with many rushing to dispute his claims. A spokesman for Obama rejected Trump's accusations. James Clapper, the former director of national intelligence, denied any wiretapping of Trump Tower. FBI director James Comey reportedly asked the Justice Department to reject the president's allegations. The New York Times was outraged: 'Just contemplate the recklessness – the sheer indifference to truth and the moral authority of the American presidency – revealed here: one president baselessly charging criminality by another, all in a childish Twitter rampage.'
The Times is correct on the central issue: Trump's charge is baseless. When challenged this week, Trump's aides could not come up with substantiated evidence. The best they could do was point to a few anonymously sourced and unconfirmed media reports (including the BBC's), and call for the president's claims to be investigated.
So it's right to call out Trump on his claims. But it's also important to note that Trump's tweets were a counter-punch that followed months of equally baseless allegations and hysterics coming from the Times, other media and Democratic Party politicians. Indeed, Trump's critics are espousing a double standard: when Trump makes an unsubstantiated claim, it's an outrage; when they do it – as they have done with their panics about Russia influencing the election – they are defending American democracy.
Time and again, Democrats and their allies in the media have overreacted. In cases such as Trump's cabinet members Michael Flynn (who resigned as national security adviser) and attorney general Jeff Sessions, wild accusations swirled about their meetings with the Russian ambassador to the United States, Sergey Kislyak, only later to fall flat, as no evidence was produced to prove these were sinister interactions. (It turned out that many of the Democrats flinging about these accusations, including their leaders in Congress, Chuck Schumer and Nancy Pelosi, had themselves met with the energetic Kislyak.) On 14 February, the Times ran a breathless headline – 'Trump campaign aides had repeated contacts with Russian intelligence' – but the article admitted that anonymous intelligence officials 'had seen no evidence' of the Trump campaign 'colluding with the Russians on the hacking or other efforts to influence the election'.
In an interview with Andrea Mitchell of MSNBC, Senator Chris Coons, a Democrat from Delaware, stated that 'there are transcripts that provide very helpful, very critical insights [on] whether or not Russian intelligence or senior Russian political leaders – including Vladimir Putin – were cooperating, were colluding, with the Trump campaign at the highest levels to influence the outcome of the election'. How did Coons know about the transcripts? 'I believe they exist', he said. But when pressed in a second interview, this time by Chris Wallace of Fox News, Coons admitted he didn't have 'conclusive proof' of such transcripts or of collusion between the Trump campaign and Russia.
The Times, in the same editorial that slammed Trump for his tweets, also said: 'The mere fact that a new administration is being investigated for potentially colluding with Moscow is unchartered territory.' The Times is quite keen on getting the word out that the Trump team is being investigated for colluding with Russia; yet such collusion is not a 'fact', just a rumour it is spreading. Again, the Times just applies a double standard.
We should also not lose sight of the bigger picture: that the claims about collusion with Russia are an attempt to delegitimise Trump. But these claims are complete and utter bullshit. Let's grant the hypothesis that Democrats are floating: that Putin wanted Trump to win; that Russian intelligence hacked the emails of the Democratic National Committee and Hillary Clinton's campaign chairman, John Podesta; that Russia shared the emails with WikiLeaks. If all of this is true (and we don't know that it is), it had zero impact on the election. Very few had ever heard of Podesta, and no one voted on the basis of something he wrote in an email.
Moreover, there's no evidence whatsoever that Russia somehow 'hacked the election', as in rigging the outcome. But the Democrats' desperate campaign of obfuscation may be working, at least among its core supporters. According to a YouGov poll, 52 percent of Democrats believe Russia tampered with the vote totals to elect Trump. And as the journalist Michael Tracey has noted, 'Trump/Putin theories are increasingly the top concern that plugged-in "Resistance" types bring up at the highly charged townhall meetings that have received so much attention of late'.
Trump's tweet-bombing was not the move of a master strategist. When under attack, he goes on the offensive. As David Ignatius wrote in the Washington Post, it was more akin to a businessman filing a counter lawsuit. But Trump's counterattack has, oddly enough, made the Democrats look inconsistent. Trump is basically saying: two can play this game. If you can put forward baseless claims and say they must be investigated because they are 'serious', well, so can I.
These tit-for-tat allegations shouldn't be treated lightly, and they shouldn't be dismissed as simply examples of longstanding partisanship. Commentators like to say that Trump's emergence has lowered standards in politics generally: that he has introduced a crude style that his opponents have begun to imitate. That's true, and the rash, evidence-free accusations about Russia could be viewed in that light. But there's more.
The Russia-related claims speak to a new discourse in American politics – the attempt to delegitimise opponents, to see them as totally alien and not worthy of political debate. Democrats, in particular, have been on a mission since the election to challenge Trump's legitimacy; in turn, Trump has also gone to extremes and challenged his critics' standing – see, for example, how he denounced sections of the media as 'enemies of the people'. What both sides don't seem to realise is that, by so easily slipping into this rhetoric, they are eroding the integrity of, and trust in, political institutions generally.
It is also very foolish to discuss a major foreign nation in this way, and to use Russia as a pawn for domestic political point-scoring. It is as if no US politicians asks: what does this mean for our relationship with Russia? It's easy to see this as a ridiculous rerun of the Cold War, as history repeating itself, the second time as farce, as Marx said. But it's serious. From Ukraine to Syria and elsewhere, Russia's relationship with the West is pivotal in world affairs, and, by tweaking Russia in this way, US politicians are playing with fire.
We don't know if eventually some hard evidence will be found to back up the allegations that are flying around Washington. But at least some evidence is needed to justify the time and cost of an investigation. Reasonable political establishments don't simply set up investigations for every wild claim that is aired. The conspiracy theories about President Obama's birth certificate, which Trump himself shamefully promoted, were 'serious', but were rightly not the subject of an investigation. Until more evidence is produced, an investigation into Russian ties isn't warranted either.
While all is far from known, we do know this: Washington's frenzy over Russia says much more about the degraded state of US political discourse than it does about Russia itself.
Sean Collins is a writer based in New York. Visit his blog, The American Situation.
To enquire about republishing spiked's content, a right to reply or to request a correction, please contact the managing editor, Viv Regan.