Macron is more establishment than you think
The political outsider who's really a media darling.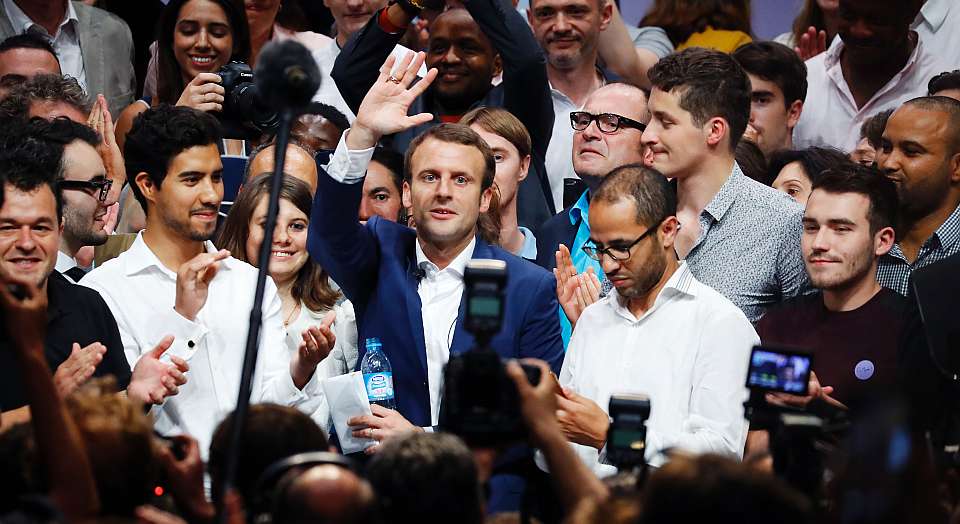 More than 3,500 French people turned up to hear Emmanuel Macron speak in Westminster last week. Even considering that London is now referred to as France's sixth biggest city, given how many French people live and work here, that's an impressive turnout. It's hard to imagine a Theresa May or Jeremy Corbyn creating the same buzz among British expats in Paris.
But this is not new for Macron. The independent centrist presidential candidate has been filling halls across France, attracting younger crowds especially. One wonders what he's been saying to these filled halls, considering he only announced his programme this week. Yet with or without a plan, Macron has been running consistently high in the polls, ever since the Francois Fillon scandal broke. He is usually placed second after Front National's Marine Le Pen, but some polls predict him as victor and next president of France.
Macron's rise is the latest in a string of surprises that are now typifying the 2017 French election. He is the youngest candidate by far, at 39, and has no official party, just his 'En Marche' (Moving Forward) movement. He claims to be neither left-wing nor right-wing, though he worked as economy minister for a period under Francois Hollande's Parti Socialiste (PS) government. He is also the only candidate never to have held elected office. He began his career as a civil servant, then paid his way out of the government contract to become a Rothschild banker. He was was brought into the Hollande government by then prime minister Manuel Valls as a consultant before becoming minister for economy, industry and digital affairs. He resigned in the summer of 2016, launching his presidential campaign a few months later.
Unsurprisingly, the former investment banker has based his political plans on the importance of business – a not un-savvy move given France's stagnant economy and high unemployment rate. He wants to lower business tax, add more flexibility to the sacred 35-hour working week, and modify an unemployment and benefits system which he says does not encourage people to go to work (it is true that French benefits are particularly generous). This focus on business could explain why younger generations are so enthusiastic about him, especially in larger cities like Paris. And his energy has no doubt tapped into a desire among French people to break free of the pall cast over the nation by numerous terrorist attacks.
Francois Bayrou, leader of centrist party Mouvement Democrate, this week announced he will not be standing for election and has formed an alliance with Macron, a move which should boost Macron's campaign, as he's likely to receive the bulk of Bayrou's support. Macron is now considered by many to be the best chance of stopping a Le Pen presidency. But is that really the case?
Some say he has set himself up as a centre populist, and has borrowed campaigning methods from both the Obama and Trump campaigns – such as his continual use of social media to take the temperature of public opinion. He is also the most pro-EU candidate, and has told British journalists he wants a strong Franco-German position for the Brexit talks.
He has set himself up as the political outsider. But while he has not been on the political scene for long, he is about as establishment as it gets. He took the usual post-graduate path of the French political and business elites, studying at Sciences Po and Ecole Nationale d'Administration; he then worked in the financial bubble of banking. It is hard to imagine what kind of common ground he could possibly share with ordinary French working people.
On Sunday, at a rally in Nantes, Le Pen attacked the media, claiming they were 'campaigning hysterically' for Macron. She accused him of being a media darling. Her outburst prompted comparisons with Trump's anti-media diatribes, but she is not alone in this thinking. French left-wing magazine Marianne last week published a report in which it claimed TV channel BFMTV gave more coverage to Macron than to Fillon, Le Pen and Benoit Hamon put together. The coverage may be useful to Macron's campaign, but he should be wary. Hillary Clinton was the media darling in the US elections, and things did not go as she planned. And as the Brexit and Trump winds blow the anti-establishment feeling across the rest of the world, voters are unlikely to trust a politician backed by the media elite – especially one who claims to be an 'outsider'.
Macron might look popular on the surface, but he is already upsetting sections of the electorate, most recently during a trip to Algiers when he called France's history in Algeria a 'crime against humanity'. This is fairly recent history and France still has a very painful relationship with that part of its past. For a presidential candidate, it was an unwise move. In Paris suburb Aulnay-sous-Bois, high-schoolers are still rioting over the 'Affaire Theo': the alleged rape of a young man by police officers in the same suburb, which happened a month ago. This has once more highlighted the huge tensions between police and residents in the suburbs of Paris. The atmosphere is unsettled, at best.
On the surface Macron looks like a breath of fresh air, full of youthful exuberance and capable of engaging with people. But he is not engaging with everyone, and he would do well to remember that being attractive to the young, liberal crowds of Paris and being popular on Twitter do not equate to a real connection with ordinary people. He has split the left behind him, as the in-situ PS members choose between his centre-left policies and Benoit Hamon's more socialist ones. He is unlikely to be right-wing enough to win support from Fillon supporters, which will be dangerous if it comes to a second-round vote between him and Le Pen. As Fillon is crushed under the weight of his scandal – announcing on Wednesday his intention to continue campaigning, despite a police inquiry being launched – and the left fails to offer any strong frontrunners, a vacuum has been created. Macron may think he's filling it, but Le Pen no doubt feels otherwise.
Naomi Firsht is staff writer at spiked and co-author of The Parisians' Guide to Cafés, Bars and Restaurants. Follow her on Twitter: @Naomi_theFirsht
To enquire about republishing spiked's content, a right to reply or to request a correction, please contact the managing editor, Viv Regan.