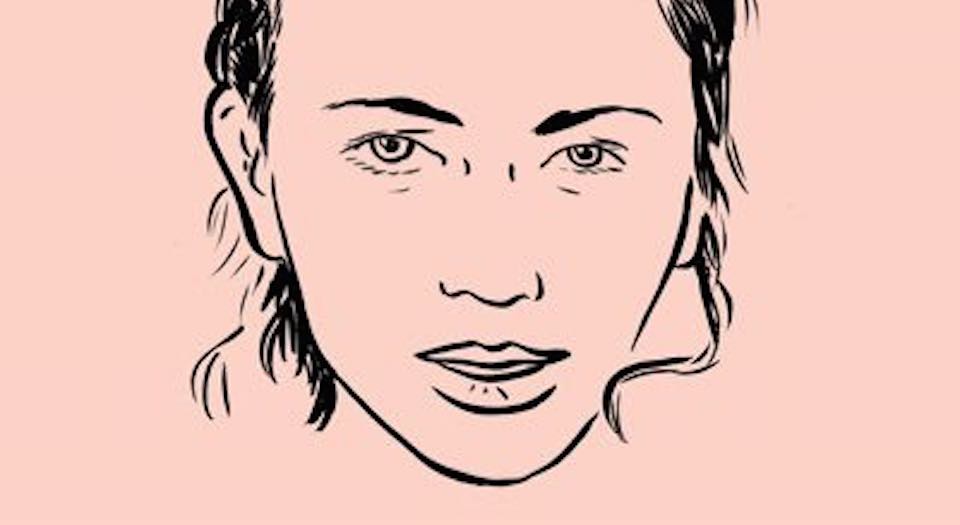 Long-read
'French women feel like it's now or never'
Lauren Bastide on the burqa, Le Pen and being a French feminist.
'It is the politician, but also the woman, who takes the pen today to address the French', wrote Marine Le Pen, leader of the French far-right party, the Front National, and presidential hopeful. Throughout her article, published in Politico last year, she continued to speak as a woman, and even quoted Simone de Beauvoir and contemporary French feminist Elisabeth Badinter. Writing about the alleged link between the migrant crisis and a supposed rise in sexual assault, she wrote: 'The fact that barbarism may again be exercised against women, because of a senseless migratory policy, fills me with terror.' So Le Pen seems to know her de Beauvoir; she appears to worried about a rise in sexual harassment; and she claims to be interested in women's 'bodily integrity'. Does that mean that Le Pen is actually a feminist?
'No', Lauren Bastide tells me, emphatically. 'She is a terrible bigot, sexist, racist.' Bastide is an avowed French feminist, former editor-in-chief of French Elle and one-time regular on the evening talk show Le Grand Journal. But her previous employment, especially working on television, left her, in her own words, 'void and useless'. So, she quit her job, enrolled for a masters in gender studies at the Université Paris 8, founded a podcast studio, Nouvelles Écoutes, and began her own podcast called La Poudre (Powder) – a 'space for herself' to ask women about their experiences and inspirations. Is it a feminist podcast, I ask her? 'Absolutely', she tells me.
Bastide has had her own battles with feminism. Back in 2015, Bastide, alongside feminist writer Titiou Lecoq, penned an article for Libération, condemning the feminist support for the 'breast is best' campaign. Going against the grain, Bastide and Lecoq criticised the presentation of women who bottle-feed as 'bad mothers'. She also distances herself from many French feminists on the issue of the burqa – a 'very, very, very touchy issue', she tells me. 'Right now, feminists in France are really divided on this question. Some, like Badinter, defend banning the headscarf from any public space. Other feminists, like myself, consider these bans a terrible attack on women's rights.'
Bastide's position goes against the traditional secular project in France – the idea that religion should not impede on public life. This idea has recently blown up in French politics, with bans on 'burkinis' on French beaches and calls to ban the headscarf from universities, where it is currently allowed. But Bastide is clear on why she opposes a ban on the veil: 'It's a woman's body, it's her choice. We shouldn't consider Muslim women as being unable to make their own decisions. Fighting against radical Islam and terrorism is very necessary – but this is very different.'
It's clear who she's thinking of here: Marine Le Pen. During a recent visit to Lebanon, Le Pen refused to don a white headscarf to meet Sunni Muslim leaders, and left the meeting. It was a political stunt, many claim, a pretence at caring for women's rights. 'She tries to make it appear like a strong feminist resistance. It makes me want to throw up. It's really gross', Bastide says.
It isn't surprising that Le Pen is playing the woman card. With feminists across the Western world recently rallying around Hillary Clinton, another dubious politician who used her biology to score points in her own election campaign, it's no wonder Le Pen is attempting to play the same game. Bastide recognises this: 'In France, we have this issue that the worst, most horrible face of the far-right is embodied by a woman. The most terrible part of it is that she is using a seemingly feminist narrative to sell her racist and misogynist programme.' So isn't it time that feminists began to rethink the argument that being female matters to politics? 'Of course', says Bastide. 'Being a woman doesn't automatically guarantee progressive ideas, but I still think that having more women in political positions would probably prevent the Front National from being so successful. I'd rather continue to believe that Marine Le Pen is an exception to the rule [that more women in politics equals progress].'
'There is something clearly going right at the moment in France in relation to feminism', Bastide continues. 'There have been a lot of new groups and new feminist media outlets, which prove that feminism is becoming less of a rude word. More and more women, especially young women, are embracing the movement.' But why now? Bastide travelled to Washington for the Women's March against Trump, and is active in feminist protests for abortion rights in France – is it the surge in international interest in feminism that has pricked young women's interest in France? Not exactly, suggests Bastide. 'It's because, right now, the far-right and even what is supposed to be the more moderate right-wing, like Francois Fillon, embody clear threats to women's rights. Fillon, for example, is close to very strict Catholics who are anti-abortion.'
Is she worried about Trump and Le Pen? Does she think now is the time for French women to stand up for their rights? She tells me she's interested in intersectional feminism, a term which makes me balk. But, as she explains, it is every feminist's duty to see the attacks from the far-right on women and racial and religious minorities as part of the same fight. 'We should be aware of what might happen to us', she says, 'but French feminists must understand that any discrimination against any type of community, is also bad for them'. Finally, I ask her, what is the future of feminism in France? 'I think women feel like it's now or never.'
Ella Whelan is assistant editor at spiked. Follow her on Twitter: @Ella_M_Whelan
To enquire about republishing spiked's content, a right to reply or to request a correction, please contact the managing editor, Viv Regan.