The Greek tragedy continues
The EU's crushing of Greece shows it is no friend of workers.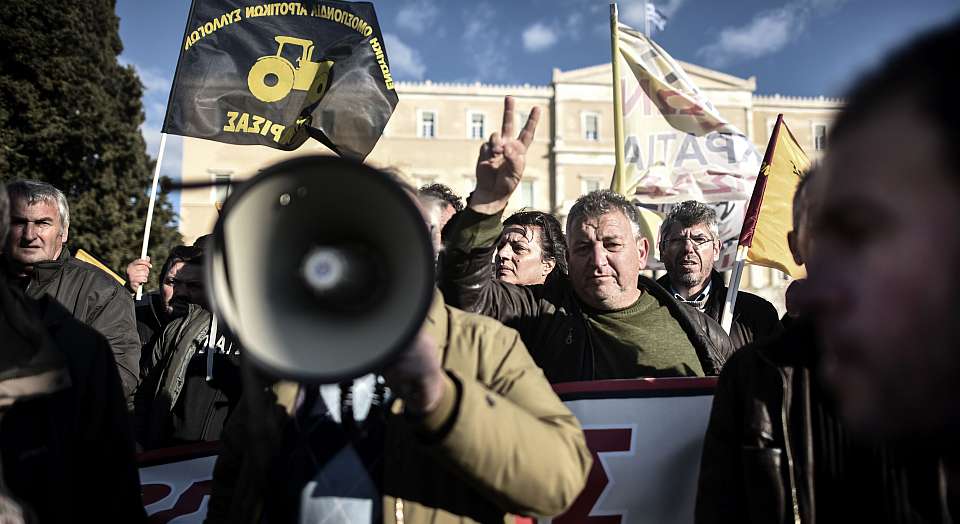 Following talks this week, it was announced that European Union and International Monetary Fund officials will return to Greece for discussions on a third bailout. After clashes between the two institutions earlier this month, the very glimmer of possible cooperation between them is being hailed as some kind of success. Dutch finance minister and Eurogroup president Jeroen Dijsselbloem said it is a 'very positive and good step'.
Greece needs help if it is to to pay off €7 billion to its creditors in July this year. If it doesn't, it will face potential bankruptcy and exit from the euro. The leftist Syriza government has apparently already acceded to further tough measures on the tax system, pensions and labour laws, which could see pensions cut even further and a lower threshold set for income tax.
Yet according to the head of the European Stability Mechanism – the Eurozone's bailout fund – things are going well for the Greek economy. Klaus Regling told German newspaper Bild that Greece would probably not need the full agreed loan of €86 billion (£73 billion) by August 2018. Considering Athens has already made a €2 billion repayment to the bailout fund, Regling said it showed 'Greece is a reliable contract partner. It is a sign that the restructuring of the Greek banking sector is progressing well.'
Greeks themselves may not see things quite so rosily. Last week thousands of Greek farmers rallied outside the Greek parliament and others blockaded roads in protest against austerity measures which saw tax and social-security contributions rise. According to a Reuters report, one food bank in central Athens is now serving 11,000 families — up from 2,500 in 2012 and 6,000 in 2014. Food banks no longer know if they can meet the needs of the numbers. The Greek Orthodox Church is even helping some people pay their water and electricity bills.
Of those living in poverty in Greece, around 1.2million are pensioners. One 73-year-old pensioner, Dimitra, interviewed by Reuters, said she had never imagined being reduced to handouts. 'It had never even crossed my mind… I lived frugally. I've never even been on holiday. Nothing, nothing, nothing.'
A 61-year-old former teacher who volunteers at a soup kitchen found she was unable to get a pension when her contract ended and the retirement age was increased to 67. Her husband's pension has been cut from 980 to 600 euros. In exchange for volunteering she receives handouts from the soup kitchen. 'We just exist. Most Greeks just exist', she said.
This is the reality for ordinary Greeks, betrayed by a left-wing government that promised to stand up to the EU and then promptly gave in to even tougher measures than originally proposed. Greece is now being squeezed more and more by life-changing austerity measures.
The Hellenic Confederation of Professionals, Craftsmen and Merchants (GSEVEE) survey for 2016 showed three out of four Greek households became poorer in 2016, and around one third had at least one unemployed member. Greece has the highest level of unemployment in the EU, currently at 23 per cent. And youth unemployment is perilously high, estimated to be over 45 per cent at the end of last year.
Former Greek finance minister Evangelos Venizelos has astutely pointed out that in the country's current financial stalemate, the only thing likely to have changed among Greeks is their attitude towards the EU. '[We are] at the same point we were several years ago… The only difference is that anti-European sentiment is growing. What was once a very friendly country towards Europe is becoming increasingly less so, and with that comes a lot of danger, a lot of risk.'
This attitude is hardly surprising. According to recent polls, over half of the Greek population now think joining the euro was a mistake, and a Pew research survey last year showed 90 per cent of Greeks disapproved of EU handling of economic issues. Grexit could well be back on the table.
Meanwhile, back in the UK, Labour leader Jeremy Corbyn has declared he fully supports triggering Article 50, so long as workers' rights, as guaranteed by the EU, are maintained, and petulant Remainers frequently raise the issue of workers' rights as reason to stall or amend the Brexit process.
Those who find EU workers' rights so sacred are surely suffering from some kind of delusion. What care, what mercy, has the bureaucratic mass of Brussels shown to Greek workers? What protection is afforded to Greeks forced to queue up at food banks because of increasingly stringent measures? How many more protesting pensioners must be teargassed by police, how many more Greek families must slip below the poverty line, before EU-lovers admit that the Brussels bureaucrats they support are more concerned about their precious euro than any of the ordinary people struggling simply to exist?
In the UK, Remainers are gearing up for their largest ever protest at the end of March, no doubt stocking up on blue facepaint and preparing their sad-smiley EU-flag placards. Yet the reverse is happening in Greece, where elderly farmers are stoically trying to stand up to the same unaccountable institution that wiped the smile of their faces long ago.
To enquire about republishing spiked's content, a right to reply or to request a correction, please contact the managing editor, Viv Regan.