Stoke: the people vs the political class
Jacob Furedi reports from a city in revolt against Westminster politics.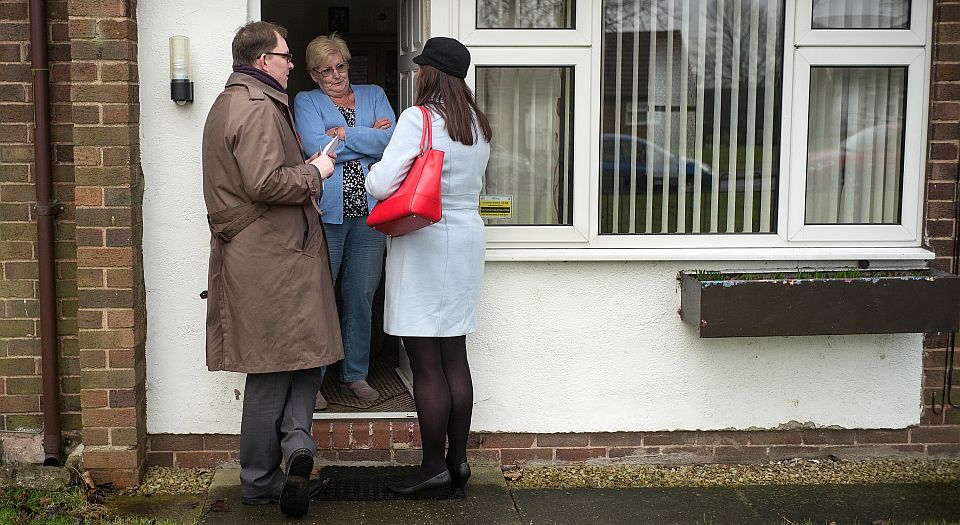 'They've taken a stand against the establishment by voting for Brexit, and clearly I'm the anti-establishment candidate, because if I win here it will shake politics to its foundations.' So says UKIP leader and candidate for the Stoke Central by-election, Paul Nuttall, as he canvasses for votes in the city's Bentilee suburb.
It's a sleepy Sunday afternoon, and most people have just finished their weekly roast – 'the perfect time for canvassing', Nuttall's press officer says. Nuttall has been ambling up a residential street, maintaining a firm distance from the enthusiastic UKIP staffer and two bodyguards pacing behind. Given I passed hardly anyone while walking from Stoke-on-Trent railway station to Hanley in the city centre, it's hard to know who would bother Nuttall, or even recognise him.
The only evidence that Stoke is on the cusp of a pivotal by-election appears on the front pages of some discarded newspapers lying desolately next to a boarded-up shop. It seems only a handful of homes have party placards in their windows. The energised chatter across the country caused by Labour MP Tristram Hunt's resignation doesn't appear to have penetrated into the Potteries.
Given Nuttall will have to upend Stoke Central's history of low voter turnout in order to win, it remains to be seen if he can really deliver. When former Labour MP Mark Fisher held Stoke Central in 2001, the proportion of people who came out to vote dropped from 62.8 per cent to 47.4 per cent. In the 2015 General Election, which saw Hunt re-elected, only 49.5 per cent cast their ballots – the lowest turnout in the country.
However, that didn't stop more than 65 per cent of Stoke's electorate turning out to vote in the EU referendum. And 69.4 per cent of them voted to Leave, turning Stoke from a centre of voter disillusionment into one of the key Brexit capitals.
In response to this, UKIP has choreographed a campaign aimed at ensuring Stoke Leavers will be heard. 'In this constituency, the issue which most often comes up is Brexit', Nuttall tells me. We're sitting in the back of a static black sedan; a member of his security detail is in the front seat. Nuttall's eyes light up at any mention of Brexit – not because he's keen to reel off rehearsed lines, but because Brexit genuinely excites him. 'The vast majority of people here voted to Leave the EU', he says, suggesting that 'what they want is a Brexit MP'.
Labour certainly isn't offering a Brexit MP. The Labour candidate seeking to take Hunt's vacated spot is Gareth Snell. He has promised not to block Brexit in the House of Commons, but his campaign has clearly forgotten the importance of the Brexit vote to people in Stoke. And that's foolish, considering that in 2015 Labour won with a majority of just 5,179 votes.
It wasn't hard to spot Labour's campaign office at the GMB union building. Campaigners were pining to take a selfie with Snell outside; this was clearly party central. Around 70 canvassers – many of whom had travelled up from London – stood in a packed hall with their iPhones primed and their mouths hanging open. Not for Snell this time, but for Corbyn's right-hand man and Labour's shadow chancellor, John McDonnell.
Gareth Snell addresses Labour activists. Picture by: Jacob Furedi
Listening to McDonnell and others, it soon became clear that this rally was more about reassuring Labour voters that the party's failure to climb above 26 per cent in recent national approval polls didn't matter that much. Stoke-related issues took second place to the need to big up the party's fortunes. The crowd seemed more enthused by the C-word – Corbyn – than by the needs and interests of the people of Stoke. It was like a Momentum away-day.
Despite Stoke's overwhelming vote to leave the EU, neither Snell nor McDonnell even mentioned Brexit. Instead, Snell obsequiously pushed a 'message of hope, optimism and prosperity', while McDonnell, wearing a jumper so red it would have made Mao blush, settled for a less flowery 'message of solidarity'. It was a surefire way to enthuse a bunch of canvassers shipped in from north London, but it's hard to see the people of Stoke getting excited about such vacuous statements.
Walking up the Piccadilly in Hanley – one of Stoke's six component towns – I found that people weren't especially excited about the by-election. UKIP's campaign office overlooks the square, covered in so much purple and yellow there's no room left for any tweed. But for the locals walking by, Kipper HQ might as well have been the empty shop it was a month ago. 'I couldn't care less', says Ryan, out for a Sunday shop with his kids. Overhearing our conservation, a passer-by says: 'They can all fuck off.' I ask if he's referring to UKIP. 'All of them! They're not part of us.'
UKIP HQ in Hanley. Picture by: Tom Fenn
It's not hard to see why the by-election isn't a priority for people in Stoke. Shut-up shops line the streets; young homeless people mill about outside them. 'They're just a fact of life here', says the man who runs a local paper shop.
When McDonnell talks about 'giving people hope', he forgets that for many people in Stoke hope doesn't lie in Westminster politics. When they do look to Westminster, it's to ensure that Brexit is pushed through. And yet Labour can't even be bothered to pay lip service to this Brexit passion. As John Tywitt, a retired plumber, told me: 'The Labour lot seem more interested in issues other than Brexit.'
Snell's silence on Brexit is unsurprising, given his sometimes open contempt for the 17.4million who voted Leave. A few months ago, he tweeted: 'Soft Brexit, Hard Brexit / Massive pile of Shit / Sloppy Brexit, Messy Brexit / Quit, Quit, Quit.' Classy stuff, Snell.
After the rally speeches, Snell's press officer let me speak with McDonnell and Snell in a dingy meeting room. McDonnell and a press officer flank Snell, clearly worried he might slip up. When I ask about the importance of Brexit to Stoke, Snell stares at his thumbs. McDonnell tries to change the subject: 'It is, but you need a local MP who is going to support and negotiate a deal that will benefit this area.'
The qualifying 'but' says it all. Rather than accept that a significant Stoke majority voted Leave, McDonnell is more keen to rally against the government's decision to 'pursue a Hard Brexit, which will undermine any chance that this local economy has of rebuilding'. He forgets, or doesn't care, that it is a Hard Brexit – aka Brexit – that Stoke voted for.
'I'm just worried that the Labour MPs won't make Brexit happen', says Hanley resident Stephen Crouch, smoking a cigarette on a bench. You can understand his concern. Labour clearly feels more comfortable cosying up to a global bureaucratic institution like the EU than it does representing the interests of people in places like Stoke. It forgets that many of these people voted Leave not simply to exit the EU, but also as a way of demonstrating that their political beliefs matter as much as those of people in north London; as a way of saying: 'We're here, and we have an opinion.'
As a result, Labour is an easy target for UKIP. When I ask Nuttall about Corbyn's insistence that Labour will not scupper Brexit, he lets out an exasperated laugh. 'Do you really trust them on this? A fifth of their MPs rebelled last time round. You've got Tony Blair talking about convincing people to stay in the EU.' Then comes the withering, UKIP-style put-down: 'To me, it seems like Labour has been hijacked by an Islington elite. It is more London-centric than ever before.'
'Coming from London in some of these places doesn't fare well', admits Jane Avis, a Labour councillor for Croydon, standing at a desolate bus stop during her round of canvassing up here. And she's right. Almost all the residents I spoke to were relieved to know I was a reporter rather than an out-of-town canvasser.
Labour is right to say that the NHS is a big issue in Stoke. In order to pay its staff, the Royal Stoke University Hospital is forced to take £1million from the budget for patients every year, due to the onerous debts the Department of Health has shafted it with. But Labour primarily talks about the NHS and other issues – tuition fees, tax avoidance, etc – as a way of not talking about Brexit. 'Labour blur conversation away from Brexit', Janet tells me as she does her shopping.
Labour's unwillingness, or inability, to talk about things that interest the people in Stoke reinforces the disconnect between those in London and those further north. I was not surprised when Christopher, a Labour canvasser shipped in from the capital, suggested to me that the idea of regeneration in Stoke was just 'this northern powerhouse bullshit'.
But can Nuttall cut through this and make gains? He presents himself as a straight-talking character – 'Whereas Nigel is into the First World War, Paul is into football and boxing', a close aide tells me – yet it remains to be seen whether he can really connect. Following his various questionable claims about the Hillsborough tragedy, many speculated it could be over for Nuttall.
Paul Nuttall. Picture by: Tom Fenn
He gets defensive when I say that while he clearly isn't from Islington – his soft Liverpudlian accent confirms his roots – he also isn't a Stoke local. Fiddling with his flat cap, he reels off a sharp but clearly rehearsed response: 'Was Winston Churchill from Dundee? Was Harold Wilson from Huyton? Was Margaret Thatcher from Finchley?' True enough, but perhaps it isn't wise for the troubled Nuttall to compare himself to Churchill, Wilson or Thatcher.
The controversies around Nuttall clearly haven't deterred Daniel Lynch, who has lived in Stoke all his life. Over a pint in The Reginald Mitchell, he tells me: 'I don't really know Paul Nuttall, but what sways me to him is all the propaganda against him.' The by-election will be the second time Daniel has voted – the first time was for Leave in the EU referendum. 'It was a way to stand up', he says.
I ask what UKIP will do if it loses. Nuttall tells me: 'We will keep fighting and move on to the next one.' That is all very well, though if UKIP does turn into a travelling troupe, its claim to be the most grounded party that represents people's real interests will be called into question.
The problem in Stoke is that none of the candidates seems capable of making a meaningful connection with local people's aspirations. They just make vague and broad statements, filled with buzzwords. They cannot handle what the Brexit vote was – a monumental two fingers to today's insipid, uninspiring politics and a demand for something bigger and more democratic. The locals who voted for this are far more progressive, and hopeful, than the canvassers shipped in from London to talk to them about 'hope'.
Jacob Furedi is a writer and student.
Header picture by: Getty
To enquire about republishing spiked's content, a right to reply or to request a correction, please contact the managing editor, Viv Regan.