PewDiePie is not an anti-Semite
Why is the media smearing this juvenile YouTuber?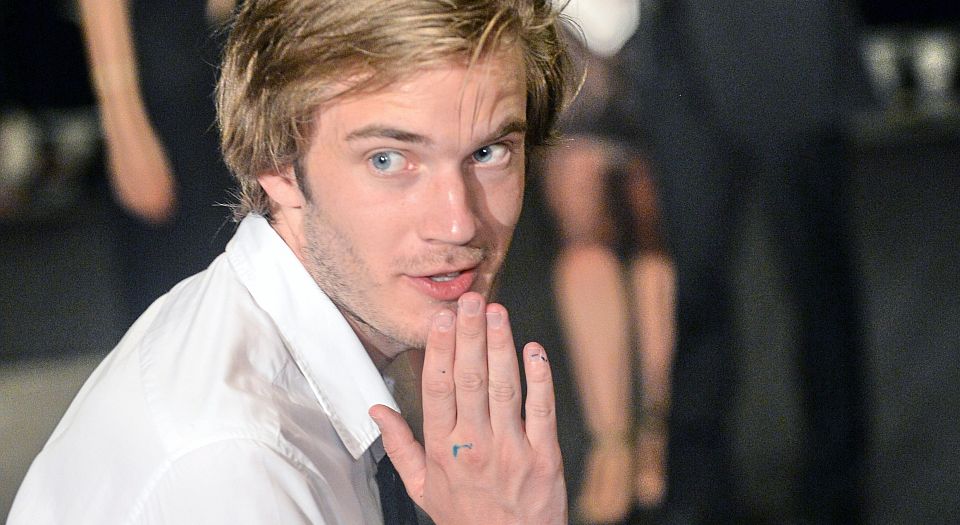 With over 53million subscribers, Felix Kjellberg, better known by his screen name PewDiePie, is the biggest star on YouTube. The Swedish star's videos have been watched over 14 billion times. Becoming famous for his comic commentary while playing video games, he now has legions of teenage fans, who he calls the 'bro army'. South Park co-creator Trey Parker wrote glowingly of Kjellberg when he made Time's list of the 100 most influential people in 2016, calling him the 'most powerful artist' of 'a new artform' who shouldn't be underestimated.
This internet megastar came under fire last week when an 'investigation' by the Wall Street Journal (someone watched a bunch of his videos) unearthed nine examples of Nazi imagery and perceived anti-Semitism in his videos. Disney's Maker Studios had been working with Kjellberg. And when the Wall Street Journal went to Disney for comment, it subsequently severed ties with him. Since then, he's been pulled from a premium service and an advertising scheme on YouTube.
To describe this as PewDiePie's 'downfall' or 'fall from grace' would be to misunderstand the online world. While this sort of scandal would usually end someone's career in film or TV, the fallout has had no effect on his YouTube audience. Even without his production deals, he'll still earn millions this year. He's gained an additional 500,000 subscribers in the last two weeks alone. Indeed, he allegedly lost more subscribers, tens of thousands, after he previously posted a video where he outed himself as an atheist.
The coverage of this story says more about the media's snobbishness towards internet personalities than any prejudice held by the Swedish star. News reports generally introduce Kjellberg as someone 'you've never heard of', often making a point of refusing to call him by his 'stupid' screen name. But even that doesn't justify the way in which this comic YouTuber is being depicted. The New York Times ludicrously described him as a 'populist reactionary', while an Independent headline pondered 'When did fascism become so cool?'.
The Wall Street Journal compiled a compilation of his most heinous 'anti-Semitic' moments, all lovingly taken out of context. The clip that's caused the most offence, and has now been taken off YouTube, shows PewDiePie looking at a website called Fiverr, where you can pay people $5 to do just about anything. To show the absurdity of this concept, he asked two Indians to post a video of themselves holding a sign saying 'death to all Jews'. (The duo are part of a comedy troupe called Funny Guys, and aren't 'poor brown people', as described by the Independent.) At the end of the video, PewDiePie is clearly shocked they actually go through with it.
Another clip shows PewDiePie dressed in army fatigues and nodding to a film of Hitler making a speech. What hasn't been reported is that the clip was part of a longer video, criticising journalists who take his clips out of context to suggest he's racist.
Anyone who actually bothers watching the videos in question can see that Kjellberg is at worst juvenilely offensive. The subtext of these bits is that anti-Semitism and racism are wrong, and his viewers clearly get this. Whether these videos are crass or unsophisticated is one thing. But the suggestion seems to be that any reference to Hitler in comedy is a sign of prejudice. By this logic, The Producers is a deeply anti-Semitic film.
What's really behind this random attack? Presumably it stems from the campaign against Trump, who is now also being accused of anti-Semitism. The suggestion seems to be that PewDiePie is part of the post-Trump landscape, in which anti-Semitism is normalised. In reality, what many seem to be doing is trivialising anti-Semitism while ignoring real examples of it. That PewDiePie can be so pilloried while the BDS campaign continues to take root on campuses is nothing short of staggering.
There are more anti-Jewish hate crimes reported in America than against any other religious minority – more than double that committed against Muslims. To call PewDiePie's harmless piffle anti-Semitic trivialises the experiences of many American Jews. And it turns anti-Semitism into something inane. Apparently, satirising anti-Semitism – albeit crudely – is just as bad as believing in it. For proving themselves immune to this hysteria, PewDiePie's fans are clearly far smarter than the media is making out.
Christian Butler is a writer based in London.
To enquire about republishing spiked's content, a right to reply or to request a correction, please contact the managing editor, Viv Regan.