In defence of Wayne Shaw
The sacking of the pie-eating keeper speaks to the sanitisation of football.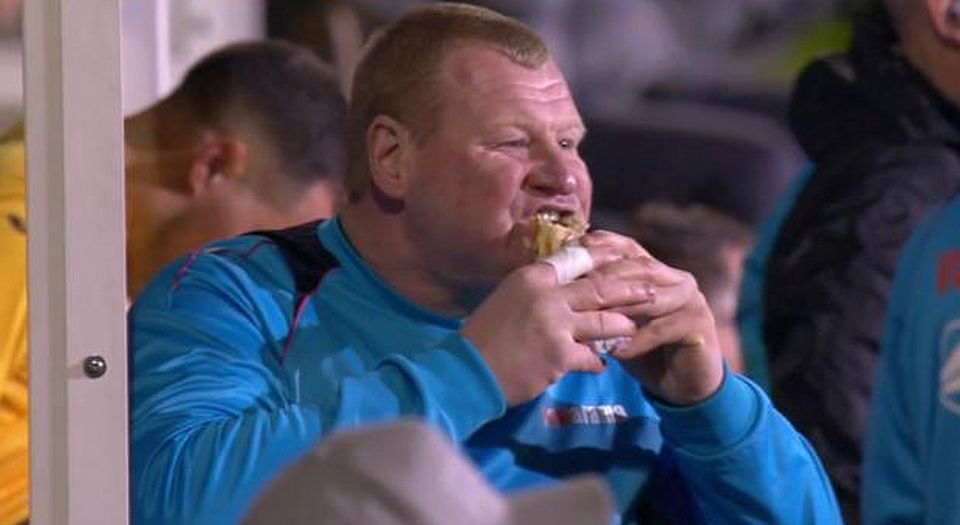 You may have heard of 'dog bites man' stories in journalism. They're the ones where a figurative canine does what comes naturally and a reporter is obliged to dress it up as something exceptional. But one story that broke this week really does take the biscuit: a man eats pie story.
The man in question is Wayne Shaw – the 23-stone goalkeeping coach and reserve keeper for Sutton United Football Club. Sutton faced the Premier League aristocrats of Arsenal at Sutton's south London 5,000 seater, lean-to 'stadium' this week. Shortly before the end of the FA Cup fifth round match on Monday night, Sutton had used all their substitutes, making it impossible for Shaw to enter the fray. He was then filmed in the team dugout taking and eating a meat and potato pie.
The commentators had a bit of a laugh at the man sometimes known as the 'roly-poly keeper'. Piers Morgan had him on Good Morning Britain and presented him with four pies for breakfast (note to Piers: Shaw is known to enjoy two fry-ups for breakfast, separated by a snooze). A characteristically malcontent Gooner himself, Morgan asked how many more pies Shaw would need to sign for Arsenal – the answer was two. Eager to get in on the larks, Martha Kearney, matron to the nation, spoke to Wayne on Tuesday's World At One on Radio Four. He denied he was throwing a bet by eating the pie, assuring Martha that it was just a laugh, and it was a pasty anyway.
But my mid-afternoon on Tuesday the saga had descended into embarrassing farce as Sutton United's most loyal servant – a man known for sleeping on the couch at the ground three nights a week after staying on to turn out the ancient floodlights – was sacked by owner Paul Doswell. Investigations had been launched by both the Football Association and the Gambling Commission to determine if Wayne had broken betting rules.
Shaw admitted that he knew bookmakers were taking odds on him eating a pie during the game against Arsenal. It is a criminal offence to assist someone cheating at gambling – even if you don't benefit from it yourself. The implication was therefore that some of Wayne's mates may have placed wagers on his eating a pie, and that he secured their winnings by tucking in. This should presumably not be confused with a situation where you bet on a player scoring and the player goes ahead and does just that. Grumpily realising it had shot itself in the foot, Sun Bets (the gambling arm of Rupert Murdoch's Sun newspaper) whinged that it had lost a 'five-figure sum'. Suddenly the supposed fairytale of lowly Sutton playing mighty Arsenal had become a nightmare. Shaw now faces a potential jail sentence of two years.
Sutton's property-magnate owner Doswell was quick to wash his hands of Wayne. He told reporters that Shaw had been guilty of 'openly eating a pie' and that he had made a 'bad error of judgement'. 'The reality', Doswell added, 'is that he's going to have to reflect on where he's at over the next few days'. Doswell revealed that his Falstaffian keeper had been in tears when he fired him over the phone. Clearly choked himself at having to be his beloved servant's professional executioner, Doswell added this glorious oxymoron: 'In the end we had to stop talking to each other because it was that kind of conversation.'
There will be people who may be inclined to dismiss this whole debacle as a storm in a teacup. To do so would however be as naïve as Shaw himself. Enter Richard Watson from the Gambling Commission. Tasked with looking into this serious incident, Watson told us that 'integrity in sport is not a joke'. You might suppose that he must have himself been joking, but again you'd be wrong. He is enforcement and intelligence programme director for the Gambling Commission – a post that seemingly really does exist in a body that acts as lacy curtains to the multi-billion gambling industry, helping them keep up appearances and ward off legal curbs on their house-always-wins business.
To be fair to Watson, it is presumably his job to take things out of proportion, and the FA can't take any more ridicule. Sun Bets meanwhile may simply want to recoup some of that supposed five-figure sum (which is basically peanuts). Moreover, Wayne does have high-profile supporters. Erstwhile buddy Alan Shearer, who trained with Wayne when they were teenagers, joked that 'I followed my dreams to the Premier League and he followed his to the burger van'. Gary Lineker tweeted, 'day by day football is losing its heart and its sense of humour'. But make no mistake: there really is something sinister going on here.
Shaw finds himself as the accidental representative of 'grassroots' football (despite Sutton United's artificial pitch). For the Linekers of this world he embodies the spirit of real football, the soul of a now soulless game. He's naïve, passionate, honest to goodness and fat. But that soggy leather lace-up ball known as 'the real game' has long since been kicked into touch. Players like Shearer and Lineker, who profit so handsomely from what is now a brutally unsentimental business, need people like Shaw to keep that fantasy alive. But for the authorities who need to keep their revenue streams open, Wayne Shaw has to be made an example of. That's why even more revolting than Wayne's pie / pasty is the nauseous narrative of self-important professionalism that dominates sport. Instead of the nerve-shredding carnival of skill, exasperation and mass idiocy that it should be, it is now demanded that football submit to a loathsome ceremony where professionalism must not only be done but also be seen to be done. There is no place in this corporate hellhole for pranks or greasy pies.
The story may yet end happily, however, because it turns out that Shaw has previous. In 2013 he is said to have head-butted a fan who was taunting him before a match at Kingstonian. He was duly sacked by Sutton United, only to be re-signed a year later. So there is hope: the dark forces of professionalism don't yet control us completely.
Patrick Marmion is a playwright, journalist and associate lecturer at the University of Kent. He is currently adapting Will Self's Great Apes for the stage.
To enquire about republishing spiked's content, a right to reply or to request a correction, please contact the managing editor, Viv Regan.