Yemen: the bloody reality of the pre-Trump era
This devastated nation shows the US was never a force for peace.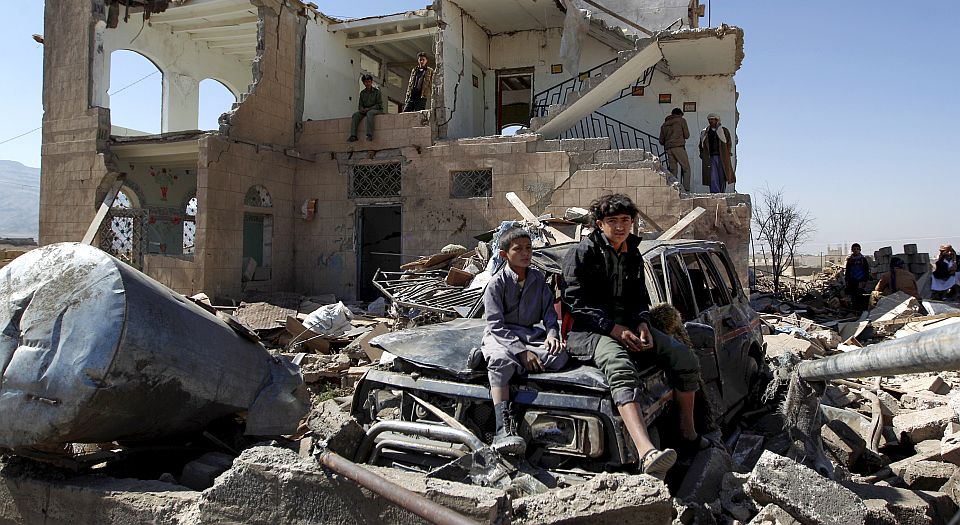 The situation in Yemen is grim. After nearly two years of Saudi Arabia-led bombing — backed, armed and assisted by the US and the UK — nearly 10,000 Yemenis have been killed and 40,000 injured. The United Nations reports that the real figures are likely to be far higher, as it has only been able to gather information from those health facilities that are still functioning; over half have been rendered inoperative.
The deep collateral damage of this brutal aerial assault is even more shocking. The UN reports that it needs $2.1 billion to help the 12million Yemenis now facing famine. According to the UN's humanitarian co-ordinator, Jamie McGoldrick, almost 3.3million people, including 2.1million children, are suffering from acute malnutrition. As one report put it, 'The humanitarian situation in what was already one of the world's poorest countries, is now, after Syria, the most dire on the planet'.
In Western elite circles, however, the unfolding catastrophe in Yemen fails to signify. It is intermittently reported, of course, and hands are perfunctorily wrung, but its meaning is carefully managed, restricted, obscured. A half-blind eye is turned. Yemen is alternately reduced to a victim of Saudi, Gulf-state iniquity, or seen as a site of internecine Sunni-Shia strife.
All of which makes sense, because to see clearly what is happening in Yemen, to face up to the US and the UK's complicity in the barbarising of the region, shatters two aspects of the same fantasy, two narrative themes that sustain the West's self-image: that the US and its allies are a stabilising, peace-providing force in the world; and that Donald Trump's presidency somehow marks an end to the Good Old Days of ethical, democracy-bringing, humanitarian interventions.
That's why the devastation of Yemen can't be allowed to mean too much. It represents the unwelcome, unpalatable reality of America's role in the world, the intrusion of facticity upon the fantasy. It shows that there really were no Good Old Days. It shows that the pre-Trump era was just as marked by instability, and clueless, warmongering interventionism as Trump's critics expect his foreign policymaking to be.
You can see this denial of reality, this fantasy, in the thinking of those who insist we are entering a terrifying, dangerous new era. You can see it in CNN's insistence that Trump is about to sow a 'new world disorder'. 'America', its op-ed contends, 'always looked to for stability, continuity and as a guarantor of the liberal world order, now could become under Trump one of the most disruptive global forces'. You can see it in the Guardian's editorialised argument that Trump is destroying the idea that 'the US can be counted on by its allies not just for defence guarantees and economic cooperation, but even as a defender of liberal democracy, rather than a threat to it'. And you can see it in all those who conclude, as one commentator does, that '[Trump's] election makes the world a more dangerous place and also a more uncertain place'.
Yet it is a myth that the US and its allies were 'a guarantor of the liberal world order', a myth that they were 'defenders of liberal democracy', a myth that Trump's presidency augers a more dangerous, uncertain, hateful world. It is one exploded by the reality of US-led, Western interventionism, from the NATO-fronted, EU-justified antagonising of Russia along its western border, to the unravelling and destruction of Iraq, of Libya, of Syria, of Afghanistan, and so on. And today, it is one exploded by the ruination of Yemen.
For the US and its allies haven't been defending liberal democracy in Yemen, or bringing peace and stability. No, they've been fuelling the conflict, militarily supporting its Saudi-led escalation, legitimising the sky-falling destruction. Right from the start of Yemen's most recent troubles in 2011, when long-time US ally in the war on terror, President Saleh, was under severe pressure following Yemen's own Arab Spring, the US and friends have ruthlessly pursued their own regional agenda, regardless of how destabilising and disordering it proved to be. They did this when, in 2011, they tried to prop up Saleh despite popular opposition, even redeploying US troops from the south Yemen 'war on terror' with al-Qaeda. As one then US ambassador insisted, 'For right now, he's our guy'. And they continued to attempt to direct proceedings from afar when, alongside the Saudi-dominated Gulf Cooperation Council, they oversaw the so-called Yemeni transition agreement, in which Saleh was allowed a dignified send-off, and his deputy, Abd Rabbo Mansour Hadi, was gifted the reins in early 2012. Hadi was their new guy in Yemen, their bulwark against the Houthi rebellion, their proxy in a regional conflict with Iran.
Guiding Yemen into the post-Arab Spring future, then, was the dead hand of the US and Saudi Arabia. But, as in Iraq or Afghanistan or Libya or Syria, this attempt to direct proceedings from on high, to order the affairs of a whole people from without, ran up against the reality of such an abstract operation: the resistance and recalcitrance of actual Yemenis, especially the long-disenfranchised Houthis, a Zaydi Shia movement from northern Yemen. Not that this was a conflict along ethnic lines – many Sunnis, disillusioned by Hadi's reign, supported the Houthi opposition, too. As one Sanaa-based researcher said in 2015 of the new US and Saudi-backed regime : '[Hadi] has no military power, no real political power, no support base on the ground, no tribal support base. In reality, what's he got? It's the international community.'
Indeed. Hadi and his limited forces drew what legitimacy and authority they had, not from Yemeni society, but from the 'international community' of the US, Saudi Arabia and allies. Hadi represented the 'international community' against a significant section of the Yemeni populace. So when the Houthis took advantage of Hadi's hollow rule, sweeping into the capital of Sanaa in September 2014 while Hadi fled to Riyadh, the response when it came was not a surprise: it was a continuation of the attempt to order the region according to Saudi and US interests.
So it was, six months after Hadi had been turfed out of Yemen, that the Saudi regime — backed, armed and assisted by the US, the UK et al — began its brutal bombing campaign. This campaign has indiscriminately killed thousands, devastated Yemeni infrastructure, and razed hospitals, schools and factories to the ground.
News reports of the destruction, of Saudi-bombed funerals, of US-droned civilians, have done nothing to alter the West's involvement in fuelling the conflict. As then US secretary of state John Kerry said in December, the 'humanitarian situation… is dire', but we 'need to bring [the war] to a close in a way that protects the security of Saudi Arabia'. A month earlier, British foreign secretary Boris Johnson was busily urging the British state to continue arming the Saudis, despite the carnage.
Yemen is the truth of the pre-Trump world order. It is the blood-soaked reality of Western intervention, the bombed-out riposte to the fantasy of certainty and stability now peddled by those clinging to their moth-eaten fantasies of moral superiority. But, as last week's US attack on an al-Qaeda leader in Yemen demonstrates, Yemen also captures something of the undramatic reality of post-Trump world order. Planned by Obama and authorised by Trump, it showed that there is as much continuity as rupture when it comes to international affairs. Whether Trump will persist in the shrill, self-righteous postures and chaos-inducing policies of his predecessors on Capitol Hill is unclear. But one thing's for sure: the pre-Trump world order was every bit as destabilising and destructive as that expected of the post-Trump world order.
Tim Black is a spiked columnist.
To enquire about republishing spiked's content, a right to reply or to request a correction, please contact the managing editor, Viv Regan.