Brass Eye wouldn't survive today
Our era is too kneejerk and censorious for iconoclasm.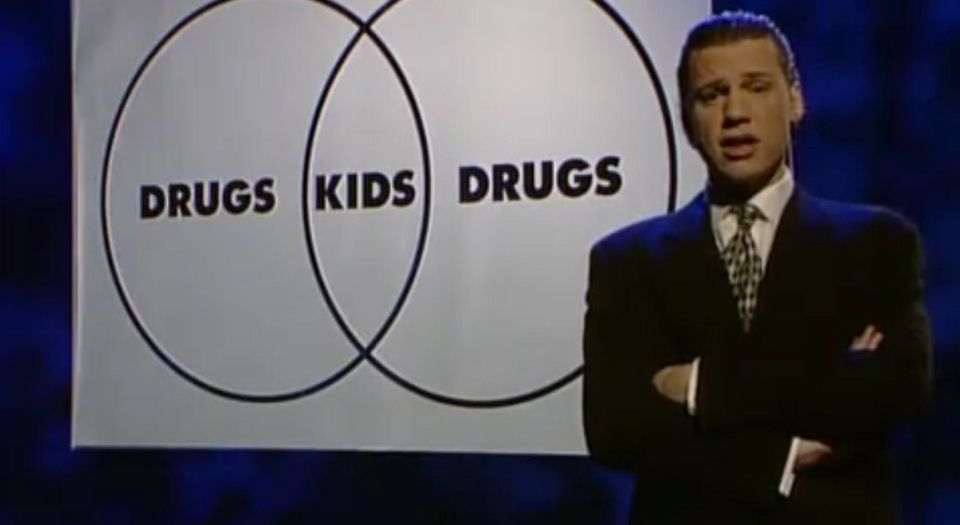 Last week saw the 20th anniversary, mostly ignored, of one of the most significant television comedies of recent times: Channel 4's Brass Eye. The creation of Chris Morris, this was the satirical current affairs show that caused much commotion in the 1990s — for its fictitious stories about a drug called 'cake', its declaration of 'Paedogeddon' in the British Isles, and its unveiling of an unlikely stage musical based on the life of the Yorkshire Ripper, Sutcliffe!.
Brass Eye generated the greatest uproar with its paedophile episode, which sought to parody the media's alarmist and often hysterical approach to the issue. In the offending programme, various celebrities, from Phil Collins to Gary Lineker, endorsed a ludicrous campaign called 'Nonce Sense'. As they declared earnestly into the camera: 'Nonce Sense. I'm talking Nonce Sense.'
Much has changed in the ensuing 20 years — for instance, we would now refer to the Daily Mail and the Guardian as the outraged 'mainstream' media. Otherwise, much has stayed the same. Gary Lineker is still with us. He and other celebrities are still pronouncing on worldly matters. Since the subsequent emergence of social media, they're now talking more nonsense than ever. In many ways, Brass Eye foretold of the future that is now the day today.
New media has enabled celebrities to embrace politics, usually of the superficial, youth-friendly, vaguely liberal-left variety. All the stars are at it today. From the Golden Globes to the Oscars, from Benedict Cumberbatch's and Bono's sermonising to Lady Gaga 'nailing it' at the Super Bowl with her nods to multiculturalism. From Ewan McGregor to Frankie Boyle to Lily Allen, no celebrity or performer is without an opinion on current affairs. It makes good business sense.
'Virtue signalling' may be a fairly recent phrase, facilitated by social media, but it signifies an age-old foible that Morris addressed both in Brass Eye and previously with Armando Iannucci in the spoof news programme The Day Today, where a woman raised a 'pathetic amount' of £1,500 for a jam festival just to go on TV and make herself look important.
It wasn't just the culture of celebrity politicking that Brass Eye foresaw. It was the culture of victimhood, offence and special pleading. One offender in the 'Paedoggedon' episode sought to fend off his interrogator with the riposte, 'It's just another form of racism' — employing the tenuous language of victimhood that prevails today. Brass Eye's infamous 'good AIDS' versus 'bad AIDS' skit similarly undermined the assumption that to have a disease automatically conferred moral worth.
Brass Eye tested an emergent culture of You Can't Say That censorship that many of us were writing about back then. Government ministers called for it to be banned — only to admit they hadn't watched it. It also addressed a similar, nascent, culture of fear, in which the 'mainstream media' overplayed everyday dangers, not least to children. Those kids safely kept in their rooms at the end of the millennium as a consequence of paedophile scaremongering and health-and-safety anxieties have consequently grown up to be a generation of 'snowflakes' who often feel threatened by that which is strange and unusual.
And that, above all, is how Brass Eye forsesaw the future. It foresaw a future — our present — in which the programme itself would unlikely be broadcast. Channel 4 would probably not dare air a show like Brass Eye these days. Imagine the hateful, righteous Twitterstorms objecting to it, the online petitions exhorting us to have it banned. Imagine Lineker retaliating online, marshalling his followers to do likewise. Our era is too shallow and kneejerk, too censorious, too quick to take sanctimonious offence, to tolerate such iconoclasm. Brass Eye would be at odds with an internet age which has not, as it once promised, opened our minds, but has rendered them more blinkered and intolerant.
'Now that is a scientific fact. There's no real evidence for it. But it's scientific fact.'
---
Hypocrites Against Trump
Many people have been keen to point to the double standards of those demanding Donald Trump be denied a state visit to the UK on account of his so-called Muslim ban, because of the reluctance of similar voices to protest about Arab countries that ban Israelis from their territories.
Similarly, John Bercow's strop against the US president also 'smells of hypocrisy', as The Times put it. After all, in 2015 the speaker of the house invited President Xi of China to address MPs and peers. In 2012 he welcomed Kuwaiti Sheikh Sabah al-Ahmad al-Jaber al-Sabah and Indonesian president Susilo Bambang Yudhoyono. These countries have human-rights records considerably worse than that of the United States, before or since Trump.
One must conclude that Trump's detractors in Britain demand civilised and tolerant decorum only from heads of state who are white and speak English. It's as if, in their Eurocentric arrogance, today's ostentatious liberals expect no better from those primitive Arabs and 'Other' foreigners. Such barbarians!
It's paradoxical that 'anti-racists' seem to be unwitting champions of that special, elitist 'Anglosphere'.
---
Gay Greeks
The Athens government has announced plans to drop the mandatory study of Ancient Greek tragedy in high schools and introduce in its place more 'modern' classes on sex education that would address issues such as gender equality and same-sex marriage. Critics warn that this could spell the end of classical studies in the country. 'This is preposterous', says Antonis Mastrapas of the National Federation of Classical Studies Professors. 'Not even during Greece's gruelling years of dictatorship were the works of ancient masters like Sophocles and Thucydides excluded from high school curriculums.'
The distinction here between ancient and modern is false. The two staples of Ancient Greek literature — tragedy and comedy — are not inherently 'ancient'. They are timeless components of the human condition, as is war and peace, honour and disgrace, love and hatred. Eternal, too, is sex and the fluid nature of gender. The Spartans had radically different concepts of 'straight' and 'gay' compared to us, at least until recent years. Herodotus and Plato also wrote of man-love. And wasn't Sappho the first lesbian poet?
What better way to explore sexuality than through the Ancient Greeks. As a bystander in Father Ted summed it up: 'They invented gayness!'
Patrick West is a spiked columnist. His new book, Get Over Yourself: Nietzsche For Our Times, will be published later this year by Imprint Academic. Follow him on Twitter: @patrickxwest
To enquire about republishing spiked's content, a right to reply or to request a correction, please contact the managing editor, Viv Regan.