'My thinking was infected'
A Canadian judge has been forced to capitulate to feminist groupthink.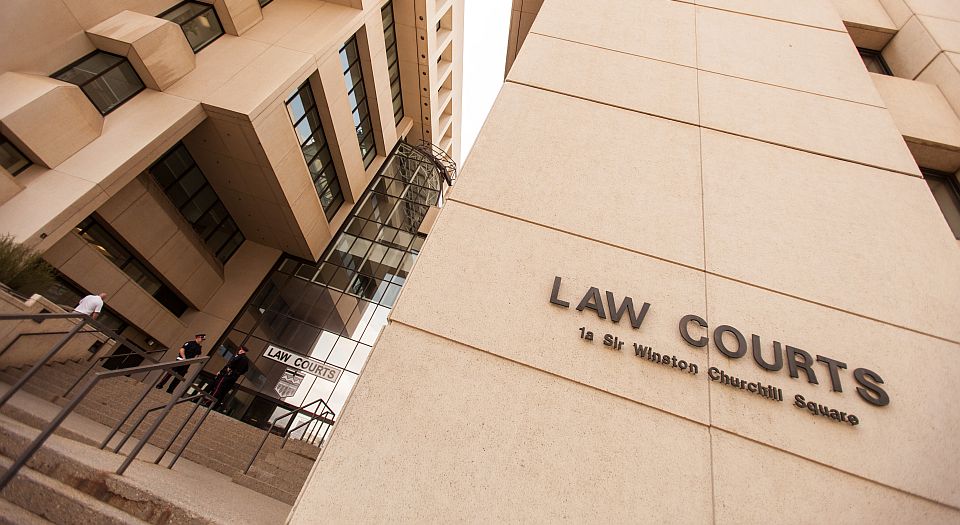 In December 2011, some homeless youths gathered in a house in Calgary in Canada for a party. One was Alexander Wagar, aged 23, who had recently come out of prison. Another was a 19-year-old woman, Ms A. Also present were Wagar's brother, and a friend. Much drink was taken, and Wagar was said by some present to have exposed himself while dancing at one point. Then four of them, including Wagar and Ms A, went to the bathroom to smoke some cannabis.
Ms A then intimated to the others and that she and Wagar wished to have sex, so the others politely left the room. What happens next became hotly disputed in a series of court cases. Wagar said he helped Ms A pull down her jeans, and they started having sex, with her sitting on top of a washbasin. They then moved to the shower, where they made out. Wagar's brother then came into the bathroom, and Ms A told him to 'fuck off'. Later, Wagar's brother told others at the party that Ms A was a 'slut'.
Later, Ms A complained to the police that Wagar had raped her. He denied this, saying she was a willing participant in their sexual encounter. She claimed that she had been drunk and was unable to resist. Wagar was charged with rape. The trial came before Judge Robin Camp in September 2014. He sat without a jury. Camp had practised law in South Africa and Botswana between 1979 and 1998, before emigrating to Canada.
During the case, Camp made some unfortunately phrased comments. A number of times, he referred to the complainant Ms A as the 'accused' (possibly, he meant to say 'accuser'?). He also asked her to clarify how the assault happened, given her evidence that her bottom was in the washbasin.
'Why didn't you just sink your bottom down into the basin so he couldn't penetrate you?', he asked her at one point. Ms A replied, 'I was drunk'. The judge also asked Ms A, who testified that her jeans were around her ankles: 'Why couldn't you just keep your knees together?' Ms A did not reply at first, then said: 'I don't know.' He said she failed to explain 'why she allowed the sex to happen if she didn't want it'. Ms A accepted that she did not resist Wagar, either verbally or physically.
Camp annoyed the prosecution counsel by making the comment, 'Sex is very often a challenge'. But in 'he said/she said' or drunk sex/rape claims, that is a legitimate comment. These difficult scenarios have exercised very many reputable academics and legal practitioners.
Camp acquitted the defendant, concluding that he could not be satisfied beyond reasonable doubt that Ms A did not consent. Wagar's lawyer argued that she evinced consent by her cooperative conduct. Ms A had told Wagar's brother the morning after: 'I didn't care that [Wagar] did that to me, like I wanted him to do it.'
Camp's verdict caused an outcry about alleged victim-blaming. Four law professors reported the judge to the Canadian Judicial Council (CJC), complaining of the way he had questioned Ms A. Two of them started a media blitz by penning an attack on him in the Globe and Mail. The Alberta minister for justice and solicitor general followed with a request for a formal inquiry, which forced the CJC to act. Perhaps unwisely, the judge issued a grovelling public apology which, predictably, his critics seized upon as evidence of guilt.
In an ominous move, which challenges the independence of the judiciary, Camp was disciplined because of his interpretation of the law: the 'rape shield' law which governs what evidence may be adduced of a complainant's sexual activity with others. Ms A was alleged to have been flirtatious with another person at the party. He was also accused of 'belittling' sexual assault, simply because he showed a willingness to question the complainant's version of events.
Even more alarmingly, the judge faced attacks from a horde of activists who were granted intervener status in the inquiry: the Avalon Sexual Assault Centre; the Ending Violence Association of British Columbia; the Institute for the Advancement of Aboriginal Women; the Metropolitan Action Committee on Violence against Women and Children; the West Coast Women's Legal Education and Action Fund; the Women's Legal Education and Action Fund Inc (LEAF); Women Against Violence Against Women; and the Barbra Schlifer Commemorative Clinic.
The CJC's inquiry has now recommended that Camp be stripped of judicial office. It remains to be seen whether this recommendation will be submitted to the justice minister, and if so, whether Camp will challenge this in court. Only two Canadian judges have been relieved of their office since 1971.
The 112-page report on Camp is interesting for its abject deference to feminist ideology. It found Camp guilty of unconscious bias and thoughtcrime, in essence, because he: 'Made comments or asked questions evidencing an antipathy towards laws designed to protect vulnerable witnesses, promote equality, and bring integrity to sexual-assault trials. We also find that the judge relied on discredited myths and stereotypes about women and victim-blaming during the trial and in his Reasons for Judgement.'
It complains that he asked questions of the complainant 'rooted in stereotypical, biased reasoning'. The report claims that he damaged public confidence by evincing 'a profound failure to act with impartiality and to respect equality before the law, in a context laden with significant and widespread concern about the presence of bias and prejudice'. These are astonishing and contemptuous findings to make about a judge.
Disturbingly, Camp was forced to grovel during this process, admitting that some of his comments were 'insensitive' and 'inappropriate'. In an abject display of capitulation to feminist groupthink, he also confessed: 'My thinking was infected.'
As an illustration of his supposedly infected thinking, one of the judicial questions to counsel which he was hauled over the coals for making was: 'Is it unreal for me to accept that a young man and a young woman… want to have sex, particularly if they're drunk?' Meanwhile, the prosecutor, Hyatt Mograbee, was arguing for affirmative consent:
THE COURT: Well, tell me about that. Must he ask?
MS MOGRABEE: He must ask.
THE COURT: Where is that written?
Judge Camp was found guilty for this exchange. The report concluded that he was 'expressing disdain' by being flippant.
This is nonsense. Such judicial interrogation is the meat and drink of courtroom interactions. Crown counsel whose cases have been dismissed should not be allowed to accuse a judge, who rejects their case, of thoughtcrime. The proper and indeed the only way to challenge a judicial decision, which the losing party does not accept, is to appeal. This is a deeply sinister development: the state is attacking the judicial arm of government for failing to adhere to the ideology of the executive arm of government.
Interestingly, this report acknowledged at the outset that there was some evidence supporting the inference that Ms A might have fabricated the allegation of sexual assault, because she believed that Wagar had later had sex with another woman at the party, and because the complainant was upset with the accused's brother for embarrassing her by telling others at the party that she had sex with the accused. Should not that have been a valid reason for the judge to have adopted a questioning approach, testing the prosecution's claims and assumptions, instead of blindly accepting them?
The Crown appealed Wagar's acquittal. In 2014, in Wagar's absence, the Alberta Appeal Court overturned the acquittal, claiming that Camp had failed to address the law on consent correctly. 'We are also persuaded that sexual stereotypes and stereotypical myths, which have long since been discredited, may have found their way into the trial judge's judgement.'
Wagar's retrial took place last November before Judge Jerry LeGrandeur. But in a dramatic twist, on 31 January this year, LeGrandeur acquitted Wagar for the second time, essentially on the same grounds as Camp did. The complainant lacked credibility. The point is: when subjected to forensic scrutiny, this rape complaint just didn't stack up.
But, predictably, the commentariat has been grumbling, and the Crown is talking of yet another appeal. As one experienced commentator says: 'How many kicks at the can do prosecutors get before they find the decision, not to mention the language, they like?'
Barbara Hewson is a barrister. Her views here are personal.
Picture by: Getty
To enquire about republishing spiked's content, a right to reply or to request a correction, please contact the managing editor, Viv Regan.