Anti-Trumpism: an establishment cause
Why the political class loves to loathe The Donald.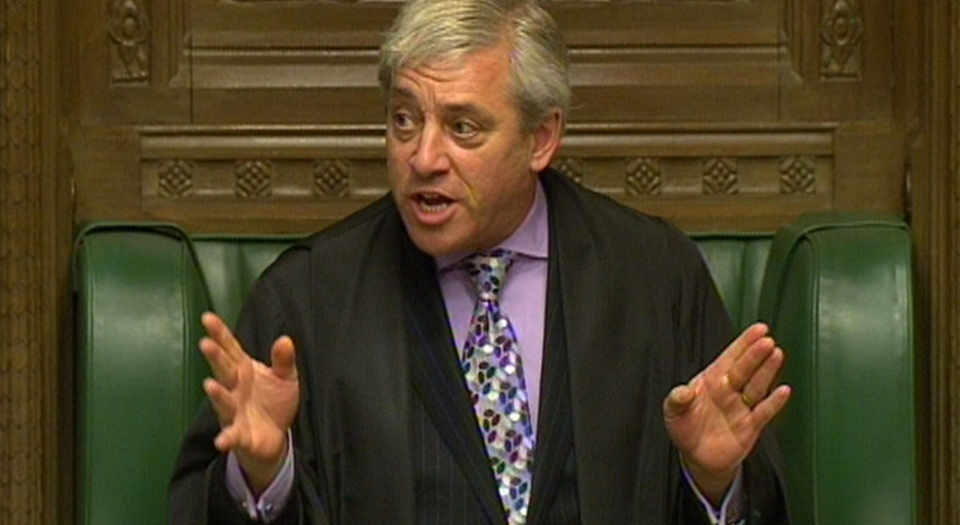 This ought to be obvious. John Bercow, the Speaker of the House of Commons, is in no position to declare that US president Donald Trump, on account of his 'racism and sexism', will not be invited to speak in either Westminster Hall or the Royal Gallery.
Remember, this is John Bercow we're talking about here. The very same John Bercow who, in 1981, despite being a descendant of Romanian Jews, stood for election to the national executive of right-wing Tory pressure group the Monday Club, with a personal manifesto that stated, 'The strengthening of our national identity demands a programme of assisted repatriation'. The same John Bercow who, in 1982, became chairman of the infamous Federation of Conservative Students at around the time it was producing 'Hang Nelson Mandela' paraphernalia. The same John Bercow whose self-proclaimed distance from his past affiliations and positions does nothing to diminish their obnoxiousness. And yet there he sits, a small man upon high, condemning in others what was once so evident in himself.
But his past beliefs are not the main reason Bercow is in no position to prevent Trump addressing parliament. The main reason is that he is literally in no position to do so. He is the speaker, not the gatekeeper or the overlord. His role is to referee the Commons, not to lecture it. As James Forsyth pointed out in the Spectator, 17th-century speaker William Lenthall knew his place when defying Charles I in those revolutionary days: the speaker, Lenthall said, 'has neither eyes to see nor tongue to speak in this place but as this house is pleased to direct me'. Which is precisely the right that Bercow has usurped. He is seeing and he is speaking in the Commons' stead.
That he has done so, and more importantly that he feels able to do so, captures something essential about this odd, febrile moment. It shows that anti-Trumpism trumps everything. It trumps the remit of one's job; it trumps diplomatic protocol; in Bercow's case, it even trumps one's own past. To be anti-Trump is all the rage among the political class right now. It is fast becoming an article of establishment faith, a politician's credo, a source, no matter how specious, of moral right.
And no wonder. At a time when the political class has never been more futureless, more causeless, more lacking in moral or indeed any authority, The Donald has proved invaluable, a really bad thing against which it can desperately affirm itself. That's why rather than oppose Bercow, rather than object to what was clearly an arrogation of parliamentary right, many MPs eagerly and excitedly congratulated him. It shows that for the politician, opposing Trump is now the short-cut to applause, the quick and easy way to earn a sense of legitimacy. If you're against Trump, anything is possible.
You can see this grasping for purpose, for a sense of right, in the endless grandstanding, anti-Trump gestures of Bercow's fellow parliamentarians. It's there in New Labour veteran Harriet Harman's hand-wrung insistence she would walk out of parliament if 'the self-confessed groper' walked in; it's there in Labour leader Jeremy Corbyn's call for Trump's state visit to be 'put on hold'; and it's there in MP Yvette Cooper's excitable denunciations of Trump's travel ban on several predominantly Muslim countries.
Being against Trump has become an existential mission for the UK's political class. It allows the political class to do explicitly what it finds difficult to do with the Brexit vote – oppose the people, challenge the demos, fight 'populism'. Brexit is too close to home, its force at work in MPs' own constituencies. But Trump is different. Trump, despite being elected, despite operating with a popular mandate, is over there. Assailed by an establishment in the US, he is a relatively easy target. He is the goose-stepping spectre the British establishment can invoke in order to preserve itself at home. We may not have much going for us, its members say with every broadside against The Donald, but at least we're not that. At least we're not racist, or sexist, or Islamophobic. And so its members pose, and they pout, denouncing the US president on chat shows, in newspaper columns, and now even from the speaker's chair.
Trump's own posturing policies and pronouncements against Muslims and others are certainly problematic. But more problematic is the political class's virulent anti-Trumpism. It is being used for its own ends, not ours, and it is warping political debate.
Tim Black is a spiked columnist.
To enquire about republishing spiked's content, a right to reply or to request a correction, please contact the managing editor, Viv Regan.