In praise of Ryan Lock
Let's celebrate the British chef who died fighting for the Kurds.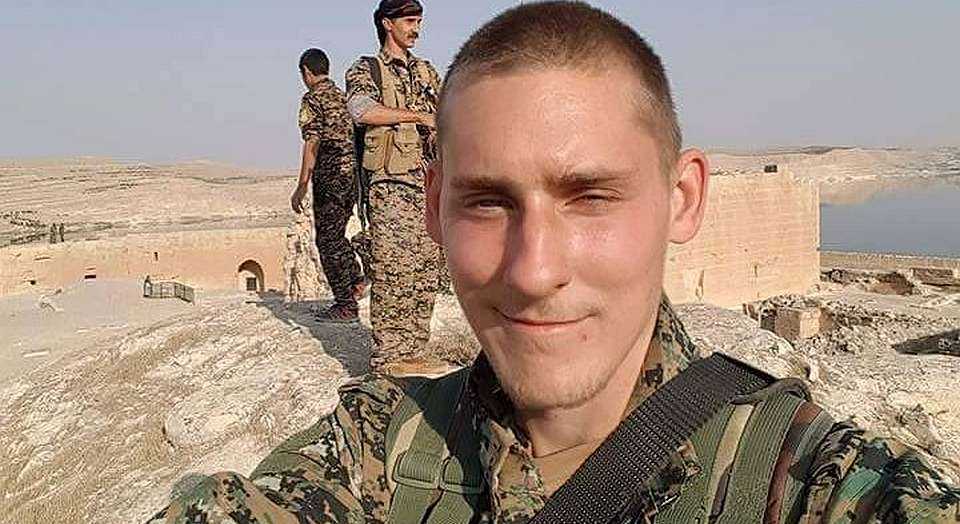 Ryan Lock, a 20-year-old former chef with no prior military experience, left his UK home in August to fight against ISIS alongside Kurdish forces in Syria. He died in the assault on the ISIS stronghold of Raqqa in December. It was revealed this week that he killed himself to avoid being taken hostage by ISIS militants.
This revelation only enhances Lock's heroism. If we are to call it a suicide (and if the information we are receiving is correct, we must), it was truly a good suicide. If we accept that the barbaric ISIS – which encourages children to kill, revels in destruction of human life and art, and films its gruesome beheadings – embodies evil, Lock was on the side of good. And Lock's decision, taking his own life for the sake of others, was brave. Where some suicides are cowardly escapes, this was an awe-inspiring, life-affirming death.
Lock's action should remind us of the extraordinary actions ordinary people are capable of. It was an expression of courage, self-sacrifice, a love of one's fellows above oneself. Lock was not 'tired of life'; he took his life to prevent his comrades from being betrayed, to stop his loved ones from waiting in vain for him to be released, to rob his nihilistic enemies of his death, and to prevent the world from having to witness his execution.
Doubtless, the desert heat and cold, the dust and blood of the campaign he chose to join, would have sapped his spirit occasionally. Doubtless, Lock felt fear and pain. But his final choice indicates the triumph of his will over the instinct for self-preservation. He did not revert to being a scared youngster, despite being only 20 years old. He acted as a man.
Lock took his life for the highest of reasons. And his self-sacrifice stands in stark contrast to the arguments made in favour of assisted suicide and euthanasia. Very few would be able to empathise with Lock's situation, even if we hope that we would respond as he did if we were in his shoes. But everyone will at some point imagine themselves in the position of very ill or disabled person and think, 'I would not want to live like that'. Such is our culture of empathy. It is not really about others at all. It is all about projecting one's anxieties on to the dying person.
Lock owned the fateful decision he made. He did not wait for people to applaud, to express sympathy for his situation and approval for his action. This was a choice he made. Assisted-suicide advocates wish to reduce choice to menu options. Often, they stress that patients who qualify for assisted suicide really have no choice. They liken them to those jumping out of the Twin Towers to avoid the flames. They claim that to kill oneself in the face of a disease or disability, to give up on continued existence, is not suicide, and that there is no responsibility attached to it.
But isn't this simply moral cowardice? Those qualifying for assisted suicide have many more options than Ryan Lock had, but even he had a choice. As Sartre observed, all have a choice, all the time, if only whether to live or die. Lock made a decision based on his situation. He took responsibility not only for his own fate, but for the fate of many others, sparing the world the repercussions of his capture by an inhuman enemy.
Contrast Lock's story with another from last week – the case of the Dutch doctor who asked the family of a dementia patient to hold her down so she could administer a lethal injection. The patient had previously expressed a desire to have her life ended, but began to struggle after the doctor put a soporific in her coffee prior to the injection. This, surely, encapsulates the morality of empathetic liberalism. The idea being, 'I would feel terrible if I were you and would wish to die, so I'm going to execute you for your own good, despite your cries of protest'.
The self-consciously liberal Netherlands, where euthanasia cases are rising dramatically each year (assisted suicide levelled off some years ago, indicating that letting your doctor do it is easier than participating in your own death), is now hearing parliamentary proposals to extend the 'benefits' of euthanasia to the over-75s. After all, who would want to live past 75?
Instead of dwelling on the sometimes horrifying consequences of the culture of empathy, let us be inspired by Lock. Let's remember the extraordinary and magnanimous courage each of us are capable of. Only those who knew Lock can love him, but the rest of us can love his actions and understand the sacrifice he made. Let's drink a toast to his memory.
Kevin Yuill teaches American studies at the University of Sunderland. His book, Assisted Suicide: The Liberal, Humanist Case Against Legalisation, is published by Palgrave Macmillan. (Buy this book from Amazon (UK).)
To enquire about republishing spiked's content, a right to reply or to request a correction, please contact the managing editor, Viv Regan.