The next president of France? It's anyone's guess
Scandals, Corbynism, the far right — French politics is flailing.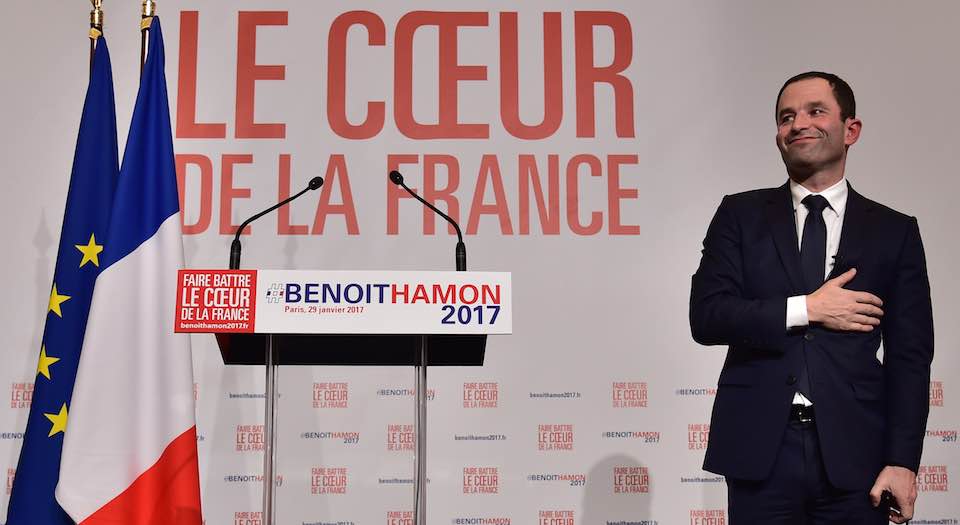 It looks like France could have its very own Jeremy Corbyn. On Sunday, Benoît Hamon seemingly came out of nowhere to win the left primary. With 60 per cent of votes counted, Hamon was winning with 58 per cent, leaving former prime minister Manuel Valls trailing behind with just 41 per cent. It was official: Hamon is the Parti Socialiste's presidential candidate.
The press has made much of this Bernie Sanders, Jeremy Corbynesque figure, who claims to represent a left that can 'hold its head high'. Certainly, he is following in Corbyn's footsteps by leaving a fractured party in his wake. Just hours after his surprise win, the PS MP for Cantal, Alain Calmette, tweeted his support for independent candidate Emmanuel Macron, and several Valls supporters were questioning whether they could support their new leader.
Known in French political circles as 'petit Ben' (little Ben), which gives you a fair idea about how unexpected his quick rise to leadership has been, Hamon served in Francois Hollande's government as education minister. But he resigned in 2014 because he believed Hollande had reneged on the socialist agenda.
Hamon wants to introduce a universal income and a tax on robots which replace workers. He wants to reduce the 35-hour working week, and he believes in legalising cannabis and euthanasia. The groups he appeals to reflect his Corbyn-style popularity. Hamon is a keen environmentalist and wants to see diesel outlawed by 2025. He polls well with greens and those who consider themselves to be more radically left than the current Hollande government. Yet while he shares some similarities with far-left candidate Jean-Luc Melenchon, Hamon's policies are unlikely to be radical enough for Melenchon's supporters.
And there is no reason to doubt Hamon's sincerity. He quit his government position on a matter of principle, and is clearly alert to the mistakes Hollande has made. One of his suggestions is the introduction of a '49.3 citizen' policy — a response, no doubt, to the undemocratic article 49.3 that Hollande used to push his labour-law reforms through parliament without a vote — whereby French citizens would be able to demand a referendum on a bill they disagreed with, if they managed to gather 450,000 signatures (around one per cent of the voting population). The idea is commendable and shows he is savvy to the outrage Hollande caused.
Unfortunately for Hamon, any such original ideas are unlikely to see the light of day, as the latest polls have him coming in fourth place in the first round of the presidential election, after Marine Le Pen, Francois Fillon and Macron. Certainly, if he cannot unite left-wing voters behind him, he will not get far. Hamon is already reaching out to Melenchon and Green presidential candidate Yannick Jadot, presumably in the hope that some kind of left-wing bloc can be formed. He is unlikely to be successful, with Melenchon at least, but even if he were, supporters of PS reformists Hollande and Valls are unlikely to be interested.
This could mean a surge in support for Macron, who has been polling steadily in second or third place. Macron is a bit of a maverick. He has a movement, 'En Marche' (moving forward), but no established party, and he claims to be a centre candidate. A former Rothschild banker, he proposes more liberal labour and business policies, including more flexibility in the 35-hour working week. This could be good for the economy, but difficult for traditional left-wingers — so wedded to their 35-hour week — to back.
In truth, Hamon's win has really only served to highlight how divided the French left is, and how incapable it is of cobbling together any kind of decent opposition to the right.
Still, the first round of the presidential election isn't until April, which leaves plenty of time for more surprises, in an election process where, already, the unexpected appears to be the theme. Hollande's decision not to run for a second term was probably wise, but is generally unheard of for a French president who has only served one term in office. At the end of last year, Fillon came out of the shadows and beat favourite Alain Juppé and former president Nicolas Sarkozy to win the right-wing primary. Since then he has been tipped to be the Republic's next president… until last week that is, when he and his wife Penelope became embroiled in a scandal. It's been alleged that Fillon's wife earned almost 500,000 euros as her husband's parliamentary assistant (politicians hiring family is legal in France), over three periods from 1998 to 2012, but there are questions over whether or not she actually carried out the work. Fillon has denied any wrongdoing, and is currently still in the running for president. But the consequences of the scandal could see him drop out altogether from the presidential race.
Shockingly, it is Le Pen who is polling most steadily — leading the polls at 25 per cent — and who seems to have the least amount of drama surrounding her candidacy. This is worrying. Le Pen has done a good job of distancing her party from its Vichy nostalgia and anti-Semitic origins, but those origins should not be forgotten; and it remains to be seen what the Front National would do, given real power, and given its hostility to immigration.
Historically France has a low turnout rate at elections. Faced with a choice between Le Pen, a possibly corrupt right-wing candidate and a divided left, it's possible many may once again opt to abstain. Which means the question of who will be the new president come May is anyone's guess.
To enquire about republishing spiked's content, a right to reply or to request a correction, please contact the managing editor, Viv Regan.