We have reached peak 'you're racist!'
The charge of racism is now used to silence people we disagree with.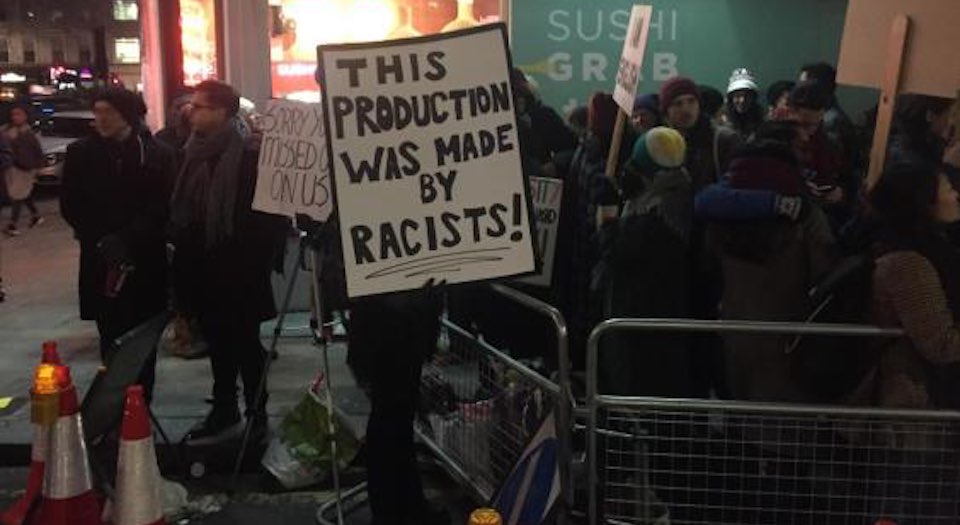 Which section of society would you say is the most achingly right-on, possessing all the mandatory 'compassionate' opinions about worldly matters? Social workers? Teachers? Pop stars? Stand-up comedians? No, this accolade undoubtedly belongs to actors and actresses, that most 'caring', luvvied-up portion of the populace. Team America: World Police (2004) remains testament to their supremacy in this field. 'Matt Da-Mon!'
Only this month we've had Meryl Streep's invective against Donald Trump at the Golden Globes. In a six-minute speech she inveighed against the horrid man, concluding: 'Disrespect invites disrespect, violence incites violence. When the powerful use their position to bully others we all lose.' Then, this Tuesday, Ewan McGregor declared that he was pulling out of a TV interview with Piers Morgan, another brute, because of Morgan's irreverent remarks about the 'women's march'. McGregor had previously tweeted: 'I'm with you in spirit today women of the world. My daughters are marching. I'm so proud to see this extraordinary power.'
But wait. It transpires that not all of the thespian fraternity and sorority is on the same page. A theatre in west London, The Print Room, has become embroiled in a racism row on account of its decision to cast white actors in the play In The Depths of Dead Love, set in China. As a consequence, last Friday, about 100 people went to protest outside The Print Room. The group included Gemma Chan, the actress best known for Channel 4's sci-fi drama Humans. She said that any form of 'yellowface', a term to describe white actors playing East Asians, was unacceptable. Demonstrators held aloft placards bearing the words 'Narnia is imaginary, China is real' and 'This production was made by racists'.
When theatre types are the latest group to be charged with racism, you know we've reached peak 'you're racist'. It's now only a matter of time before Guardian leader writers or the elders on Haringey Council are tainted by this accusation.
No one for a minute believes that theatre people are racist – they are quite the opposite, and usually ostentatiously so. Yet this latest slander exposes how the accusation 'racist' functions today. It has become less a means to expose real racism, and more a word employed by people to belittle and silence others and self-aggrandise themselves.
Ever since the Macpherson Report, racism has become 'unconscious', 'unwitting' and 'perceived'. It has been banished beyond the realms of empirical falsification. It cannot be logically refuted. As Courtney Hamilton wrote on spiked this week, 'no one can defend themselves against accusations of holding dodgy views subconsciously'. Now that racism has become a subjective, irrefutable experience, and an entity with sorcerous qualities, the allure of charging others with it proves all too seductive for some.
The deployment of the word now does for its bearers what the Ring does to Gollum or the Dark Side does to those in Star Wars: it bequeaths to them an intoxicating feeling of malevolent power. 'You're racist' is an invincible weapon. It's the ultimate macroaggression, often aimed at the innocent or culturally naive who have done no wrong or intended no offence. Their only recourse is to apologise, to abase themselves, for something they haven't done.
'Racist' has become semantic thuggery, nourishing the ego of its utterer, whose desire to dominate and humiliate others is never satiated. It's the crack-cocaine of political discourse. As Nietzsche warned, 'the love of power is the demon of men. Let them have everything – health, food, a place to live, entertainment – they are and remain unhappy and low-spirited: for the demon waits and waits and will be satisfied.'
---
Next time, hold a march before the election
Talking of placards, the women's march was awash with them. They seemed to fall into three categories. First, there was the partisan: the placards drawing attention to various causes, like anti-racism, pro-choice, intersectionality, Black Lives Matter, Sharia law, prostitutes, and so on. Second, was the entertaining: the placards with arresting and amusing wordplay: 'We shall overcomb'; 'Damn right we're snowflakes, winter is coming'; 'There will be hell toupee'. Such placards not only serve to make the bearer pleased with herself, but also to accentuate the contrasting harsh, crass and brutish rhetoric of the new president. Third, there was the blatantly self-regarding: placards that stated 'My Voice, My Story, My Body, Unite for Hope', or others which referred to the holder's vagina.
Most of the ordinary marchers seemed sincere and amiable. Indeed, most of us will know someone who attended the global event. Yet a more effective means of warding off Trump would have been to hold a march before the election, not pointlessly afterwards. It would have been better also to unite around one simple slogan, rather than drown in a cacophony of many diffuse ones.
Furthermore, only adolescents think uncouth language constitutes genuine subversive and radical political action. The Suffragettes didn't debase themselves in such a self-regarding fashion by talking about their pussies, and the Winter Palace wasn't stormed by revolutionaries proclaiming 'Look at our knobs!'. But then, that was before the personal became political.
---
Fracking is not a church matter
The Church of England has come out in favour of fracking. After years of internal debate on the issue, the church has published a briefing paper giving cautious support to the process. According to The Times last Thursday, the report says fracking can be 'a morally acceptable practice'.
To most people, fracking is an issue related to the environment, the economy, geology, science, pollution, house prices and local welfare. It seems bizarre to turn it into a moral matter. So what does the Church of England think of HS2 or staff at Southern Trains going on strike? Are these moral issues, too? What about the pedestrianisation of Norwich city centre?
How strange that the CofE can turn such an earthly, prosaic matter into a moral one. Maybe it's because under its 'inclusive', 'non-judgemental' stewardship for so many decades, it has been too timid to speak out with authority and decisiveness on genuine moral matters.
Patrick West is a spiked columnist. His new book, Get Over Yourself: Nietzsche For Our Times, will be published later this year by Imprint Academic. Follow him on Twitter: @patrickxwest
To enquire about republishing spiked's content, a right to reply or to request a correction, please contact the managing editor, Viv Regan.