Keeping the zombie economy on its feet
May's industrial strategy isn't enough to boost productivity.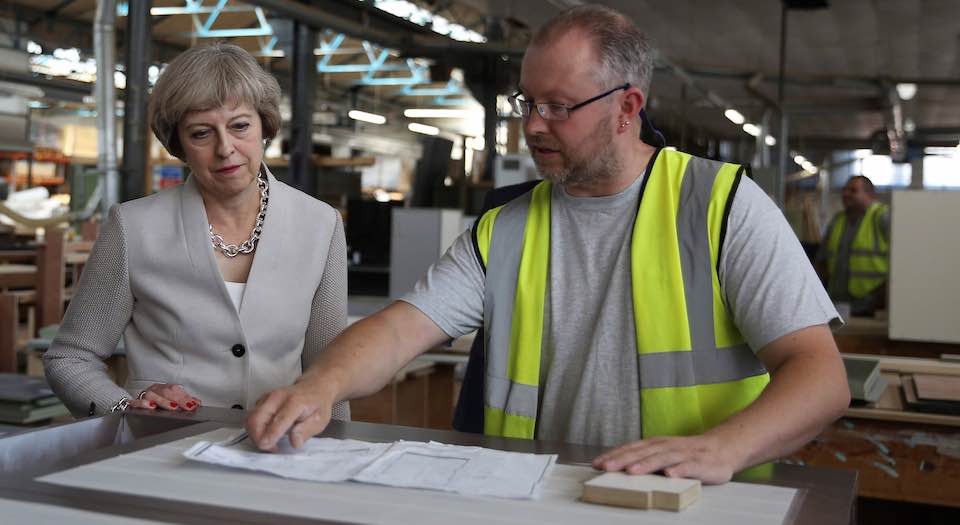 After months of tantalising us about her intended distinctive approach, prime minister Theresa May's launch of her 'modern' industrial strategy has been another damp squib. Fine words were issued about the government 'stepping up to a new, active role' to raise productivity across every sector and in every corner of the country. Such a focus on productivity is well justified and long overdue. Increasing what each worker can produce in the same time is the only durable way of increasing people's living standards. And according to the Office for National Statistics, Britain's productivity remains at pretty much the same level it had reached in 2007. There is no better illustration of the lost economic decade.
But May's words have not been backed by meaningful actions — so far at least.
Plus ca change, plus c'est la même chose. Every couple of years over the past quarter of a century, governments of all stripes have acted as if they had just discovered that governments were responsible for promoting economic growth. A new, more activist economic policy is flagged. Another 'innovation fund' is announced, with a slightly different name from its predecessor, as if to show how innovative the government's thinking is.
Then, before too long, the managerial instinct takes over again. Other thoughts dominate. Change might unsettle things. Let's not do anything too disruptive. Instead, let's pull together what's already underway and repackage that as our novel plan. Hence how the Financial Times described the latest offering: much of the content within the 132-page green paper was 'a recap of existing government programmes, initiatives and funding streams'.
One of the headline initiatives was £170million of funding for new institutes of technology. To you and me that probably sounds like a good amount of cash. And who would argue with spending more on technology skills? But what's being pledged here is probably less than the cost of one of the higher-education institutions that China is opening each week.
No doubt many more hundreds of millions of pounds of funding will be re-announced as the weeks and months go by, not least to provide some cover to avoid prime ministerial embarrassment. But even the full £5 billion per year anticipated in the recent Autumn Statement for the revamped 'National Productivity Investment Fund', from which the new industrial policies will be financed, amounts to less than half a per cent of annual output. Government spending of this order is never going to create an economy that can prosper in the 21st century.
Leave aside the miserable amounts being committed; far more important is gaining some clarity about the sources of dismal productivity that the industrial plan is designed to address. In fact, until this is achieved, spending more on 'industrial policy' risks making a bad situation worse.
The big question is what is holding productivity down? Why has productivity in the most developed countries been on a descending trend for four decades? Why has Britain been close to the bottom of this league, especially in the decade since the financial crash? The explanations the government provide are numerous. Inadequate skills. Costly energy. A failing transport infrastructure. A lack of venture-capital-style funding. Poor management. Too little, and therefore too expensive, housing. Not enough spending on research and development (R&D).
Some of these do play contributing roles to the decay in productivity. A few of them matter a lot more than others. For instance, the declining spend on R&D by both governments and business since the 1980s is a significant constraint. This limits the discoveries, inventions and therefore the follow-on innovations necessary for growth in the longer-term future.
However, the focus on these fashionable explanations can come at the expense of prioritising the most important cause of the productivity pickle today: there is not enough business investment in the advanced technologies that embody innovation. The green paper at least recognises this is as a long-running problem: the UK has ranked in the lowest 25 per cent of all developed countries for investment in 48 out of the past 55 years, and in the lowest 10 per cent for 16 of the past 21 years. Unfortunately, this brutal reality is then dissipated into a narrow discussion about the availability of the right sorts of finance for businesses at different stages. But the dearth of productivity growth runs much deeper than access to funds.
In practice, economy-wide productivity growth is the result of three interacting forces, all of which rely on business investment: innovation by the leading companies; the diffusion of these new technologies across the rest of the economy; and business turnover or churn, as the less productive firms downsize or close and more productive ones expand. The productivity barriers today lie more in the second and third of these areas than the first. There are still sufficient frontier firms coming up with innovations, especially on a global level. The specific problem lies in the weakness of diffusion and the unusually low levels of churn.
Business insolvencies are down in Britain, and in many other developed economies, despite slow growth. There are more loss-making businesses but many more are surviving, aided by a supportive state. This is clogging up the economy with zombie businesses. It drains the life needed to push innovation across the whole economy, beyond the few pockets of existing success and into new sectors. As a consequence, overall investment is constrained, innovation is held back, and productivity languishes.
The irony about the fashion for resurrecting industrial policy, in Britain and across the developed world, is that economic intervention by the state never disappeared after the 1980s. It just became one-sidedly supportive of the status quo. Preservation took precedence over the disruption necessary to ensure growth. Economic policy measures became more about supporting existing businesses than facilitating innovative activities. The application of regulations, government spending and state-procurement policies, changes to insolvency rules, easier monetary policies… all these and more acted to support incumbent businesses and conserve the economy as it is. Mostly unintentionally, the result is a policy-augmented zombie economy.
The very term 'industrial policy' has now become synonymous with almost any state economic intervention. Policy that broadly includes, as the new green paper sets out, multiple decisions or actions that encourage ongoing activity blurs the crucial distinctions between propping up and restructuring, between saving old industries and firms and investing in new ones. But market economies cannot flourish without change and ongoing replacement and renewal.
An effective industrial strategy, in the sense of one that revives productivity growth, is one that shakes the economy up, not preserves it. Depressed economies need disrupting, not sustaining. Economic revival necessitates closing down low-productivity, low-profit businesses to make way for new industries and new sectors. Introducing a set of industrial policies that act to sustain existing businesses and the status-quo economy is worse than doing nothing. The alternative to restructuring is not prosperity and stability, but continued decay and degradation. The political challenge is to recognise and explain that saving the old economy is not only futile, but is a barrier to durable prosperity.
A glimmer of hope from this week's strategy launch came in a statement made by business secretary Greg Clark. He lamented that 'too often [past industrial strategies] became strategies of incumbency'. Existing firms and industries were propped up at the expense of new and growing ones. The economic test for this government is whether or not it will put an end to current policies that do precisely this today, including many that do not figure as the suggested components of a 'modern industrial strategy'. This is where economic renaissance needs to begin.
To enquire about republishing spiked's content, a right to reply or to request a correction, please contact the managing editor, Viv Regan.