'I had no option but to fight for the truth'
Deborah Lipstadt on Denial, David Irving and free speech.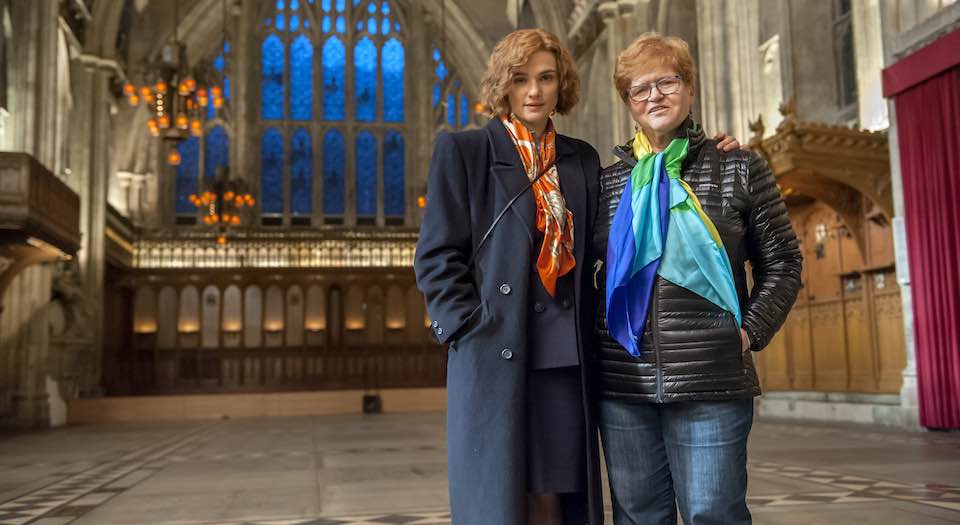 'The minute we are deciding who has freedom of speech and who doesn't, you're on a slippery slope, and you may find yourself on that slope sliding down.'
Deborah Lipstadt, one of today's great champions of free speech, is in London promoting the film adaptation of her court case battle and victory against David Irving, who attempted to sue her for libel after she accused him of denying the Holocaust. The film, Denial, is due for release on Friday – a symbolic date, as it is Holocaust Memorial Day – and appears already to have sparked some strong reactions. Over the weekend, a defaced poster for the film was removed by police from a London Tube station. A Star of David and the word 'B-witch' were daubed across the face of actress Rachel Weisz, who plays Lipstadt.
'It's a badge of honour', declares Lipstadt, and chuckles, soon after I meet her in a hotel in Soho.
The American historian was sued for libel by British historian Irving after she branded him a Holocaust denier in her 1993 book Denying the Holocaust: The Growing Assault on Truth and Memory. The film is an adaptation of a later book she wrote about her court case experience, Denial: Holocaust History on Trial.
'It must be an important film if they care enough to go deface a poster', she says, matter-of-factly. She's right, and it is an illuminating way to look at the situation. But then, I would expect nothing less from the woman who spent years fighting for truth and free speech.
Lipstadt and her publisher Penguin were sued by Irving in 1996. The subsequent lengthy legal battle culminated in a famous 32-day court case in London in which facts about the Nazis, the Holocaust and truth itself seemed to be on trial. Irving lost and was branded 'an active Holocaust denier', 'anti-Semitic and racist' by Judge Charles Gray.
The film offers an insight into the bigger issues behind the case, allowing the viewer to see exactly what was at stake.
When I saw the film I hadn't yet met Lipstadt, but in the short amount of time I got to spend with her I can see Weisz captured her almost perfectly: the New York accent, the forthrightness, the lack of superficiality; her rapid, yet clear way of speaking, denoting a woman who is sure of herself and her principles. There is no waffle with Lipstadt. She seems only to say things worth saying.
She wades straight into the important questions. As I enter the room she's recalling a previous interview with spiked and an article she wrote for us on Holocaust denial laws, and telling me she stills feels the same way about Holocaust denial being illegal: she's against it.
'I'm a firm believer in free speech', she says. 'I think that laws outlawing things turn them into forbidden fruit and make them all the more attractive. I don't want politicians deciding what I can and cannot say. I don't want politicians saying: this is racist, but that's not; this is anti-Semitic, but that's not; this is homophobic, but that's not. I think it is very dangerous.'
She tells me people find it surprising that she is against laws outlawing Holocaust denial. 'Because they assume that, of course I'll be for those laws; of course I'll want those kinds of limits on free speech, but it's not true. It is a dangerous thing.'
Lipstadt is more comprehending of similar legislation in countries like Germany and Austria – places which are so much more closely bound to the Nazi atrocities. 'I understand. I am not for them there, but I understand. I can understand why a Germany, why an Austria, why a Poland would pass such laws. But I still think it is dangerous to allow politicians to adjudicate what can and cannot be said.'
Lipstadt was born in New York and lives in Atlanta, Georgia. There is a great scene in the film where Lipstadt is left dumbfounded at learning how the English libel system differs from that of America, in that the burden of proof lies with the defendant to prove what they have said is true – inverting the 'innocent until proven guilty' ethos. When I ask Lipstadt about it now, she sums up the system perfectly, in one word: 'Backwards.'
'I was shocked. I immediately realised it closed my options. There were people who said to me, don't fight this, settle… But what was clear to me is that I didn't have an option. Some people said to me, you were so heroic to fight this etcetera. And I said, it wasn't heroism. I had no option. He came after me. I put up a very good fight and we won a very good battle, and I had great lawyers and a great team representing me. But it meant I had no option. It meant I had to fight.'
Lipstadt never testified during the trial, at the instruction of her lawyers – led by solicitor Anthony Julius and barrister Richard Rampton. In the film, Weisz fizzes with frustration, practically exploding with her need to say her piece. After only a few minutes with the real Lipstadt, I can see this must have been difficult for the woman herself. Lipstadt puts it bluntly: 'I have friends who say it was a miracle. The miracle of this case was that I kept my mouth shut. And that for Deborah Lipstadt to keep her mouth shut like that was an unnatural act. It was very hard, because here was everything about my life, everything about my work, and a bigger issue, and I couldn't talk… It was very, very difficult, but it was the right thing to do.'
Similarly, no Holocaust survivors took the witness stand, and there is a touching scene in the film where a survivor, who has been sitting in the court's public gallery, approaches Lipstadt and beseeches her to let her testify. Lipstadt says in reality more than one survivor approached her and it was very hard to say no to them.
'I couldn't say to them why we didn't want them testifying. But basically we didn't want them testifying because, number one, they wouldn't have been witnesses of fact… We didn't want to suggest to the judge that we needed people to talk about the facts of the Holocaust. We didn't want to put the Holocaust on trial. We didn't want to suggest to the judge that there was some question about this.'
'Number two, he [Irving] was representing himself. And we assumed…' And here Lipstadt interrupts herself and makes a point of adding, 'and I'm stressing "we assumed", because it makes it a libel-proof statement', before continuing: 'We assumed his intention was to ridicule, make fun of, humiliate the survivors, and we didn't want to win the case that way.
'And finally we wanted to show – I mean this wasn't our objective, but this was a consequence and a good consequence. People worry about what will happen when the survivors are gone. Will deniers then have free reign? And what we showed is that based on testimony of perpetrators, based on testimony of survivors, given from the 1940s – so deniers couldn't say, "oh, that was corrupted, they saw Schindler's List", which is early on what they were saying. And from the documents, when you triangulate perpetrators, victims, documents, and they are all pointing to the same thing, you have a tight case.'
Lipstadt is a firm believer in the truth and facts, unsurprisingly considering her longstanding position as Dorot Professor of Modern Jewish and Holocaust Studies at Emory University in Atlanta. Her belief in the importance of truth underpins her staunch refusal to share a platform with Holocaust deniers. She shakes her head emphatically: 'Would you ask an Earth scientist to share a platform with someone who says the Earth is flat?'
'When someone has a lie, you don't debate a lie. I will debate someone with whom I disagree 100 per cent – if they're telling the truth. But if they lie, it's like trying to nail a blob of jelly to the wall.'
At the beginning of the film, a crucial scene shows Irving interrupting one of Lipstadt's lectures and challenging her, in a planned stunt. This actually happened, Lipstadt tells me: 'I was like a deer in headlights. It was a terrible, terrible moment.'
'I was giving a lecture at a local community college. It was students who knew very little about the Holocaust and he suddenly surprised me. I faced a dilemma. I didn't want to get into a debate with him, so the students would say: she says this, he says that. But if I didn't debate him, it sounded like, oh she's afraid, she doesn't know. It was a lose-lose situation for me.'
Luckily, as Lipstadt points out, she eventually 'turned it around', deservedly disgracing Irving and his work in their courtroom battle.
In one of the final scenes of the film, and following the verdict of the trial, Weisz as Lipstadt gives an impassioned speech to the press on the importance of free speech and truth. The speech was an adaptation of what Lipstadt said at the time. Now, Lipstadt sums up the power of truth.
'There are certain facts that are true', she tells me. 'You know, sometimes, we in the academic world, we in the university world, say, you go and… explore every idea. You can explore everything.' She taps a hand on the coffee table next to her, 'Is this table really a table? Well this table really is a table. You may call it something else, but it's here. The Earth is not flat. There are facts that are true, and there are opinions, and there are lies.'
Lipstadt recalls when Denial screenplay writer David Hare was working out how to approach the story, and she says that in his notes 'he included a quote from Bertolt Brecht's The Life of Galileo. You know, the Earth, it still moves. The people who were oppressing Galileo could say the sun moves around the Earth; but all that they said, and all the threats they could bring on Galileo, didn't make it true.'
Naomi Firsht is staff writer at spiked and co-author of The Parisians' Guide to Cafés, Bars and Restaurants. Follow her on Twitter: @Naomi_theFirsht
Picture by: Entertainment One.
Watch the trailer for Denial:

To enquire about republishing spiked's content, a right to reply or to request a correction, please contact the managing editor, Viv Regan.