March of the nice people
The Seneca Falls Women's March was kind and funny, but was it political?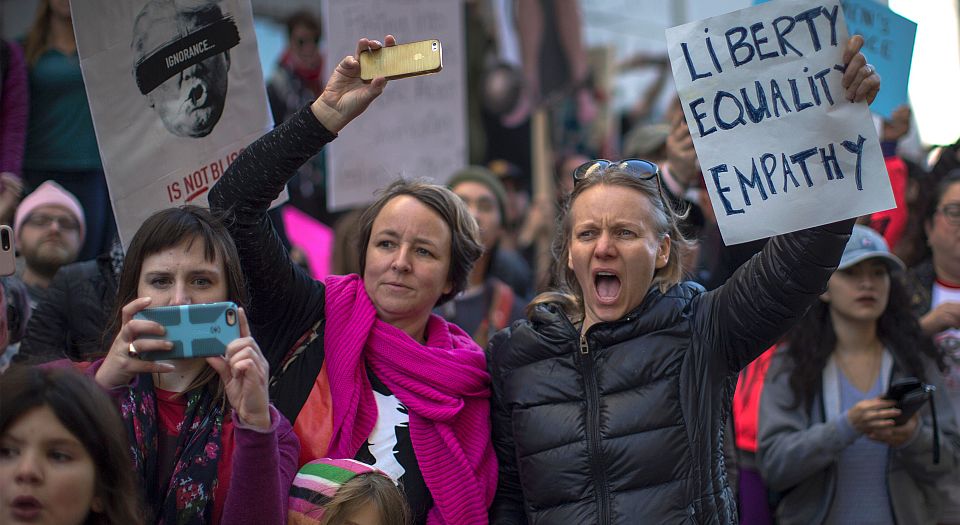 I wasn't sure what to expect when I pulled into the parking lot outside of town and got into line to wait for the shuttle taking people to the Women's March in Seneca Falls, New York. Unlike some of my friends, who had spent the week enthusiastically knitting pink pussy hats or making posters, I wasn't certain about attending the Women's March. A few close friends echoed my doubts. 'I'm just afraid it will be an echo chamber of privileged women', one said. 'I guess it's better than doing nothing, but I don't see what it's supposed to accomplish', said another. 'The aims seem so vague. It'll end up being just like Occupy: here today, gone tomorrow', one worried. In the end, I decided to go and see for myself, and Seneca Falls is the historic site of the first American women's rights convention, in 1848, so it seemed as good a place as any for this kind of gathering.
Unlike the march in Washington, where the colour pink and pussy imagery seemed to be de rigueur, the organisers of the Seneca Falls event requested that we dress in the traditional American Suffragette colors of purple, gold and white. This meant a surprising number of attendees were sporting Minnesota Vikings shirts, which come in the same hues. Women of all ages, along with a few men and children, chatted and took selfies, showed off their handmade signs. When it turned out that the shuttle was only able to carry 20 people at a time, the able-bodied among us decided to walk the 45 minutes to the site of the rally.
The marchers were amiable, the weather was unseasonably warm and the mood was light. When we passed a ramshackle house with three men sitting outside, one of them sporting a giant cut-out of Trump's head, we smiled and waved at them and they did the same – there was none of the animosity there had been in November. Cars honked out greetings and the walkers held up their signs in response. Most of the marchers were from out of town, which made sense: Seneca Falls is a small town with a population of 7,000, most of whom seemed, at least in the shopping centres outside of town, to be going about their usual business
Marchers came from all the little towns in the Finger Lakes and some from as far away as Syracuse or Oneonta in the Southern Tier region. Some came because they couldn't go to Washington, DC or New York City, and some just wanted to be in Seneca Falls because of its history. By the time the rally started in the First Amendment Declaration Park, next to the Women's Rights National Historical Park, the town was heaving with an estimated 8,000 protesters.
Why were they marching? One sign read, 'Seriously, there are SO MANY REASONS why I'm here (and the sign is only so big)'. Looking around, I realised this was true. There were placards about the environment, about race, about immigration. There were exhortations to 'Make America kind again' and 'Love thy neighbour'. There were a few angry vaginas, signs for Planned Parenthood, gay rights, science generally, climate change. And yet the march didn't really seem to be about any of these things as much as it was against Trump. 'It's nice to be important, but it's important to be nice', one placard declared. And everyone was. They were kind and funny and considerate.
And yet, as I made my way back to my car past a shuttered factory and houses with peeling paint, past the now abandoned porch where the men with the Trump head had been sitting, I couldn't help but wonder if the march had really done anything to create an alternative to Trump. Rather, it felt like disappointment and rage at certain sections of America, like those in Seneca Falls who voted for Trump, were being expressed against Trump himself. Yes, it's important to be nice, but if we want to challenge Trump we need to make the needs of the people who elected him important.
Nancy McDermott is a writer based in New York.
To enquire about republishing spiked's content, a right to reply or to request a correction, please contact the managing editor, Viv Regan.