At last – a president who doesn't claim to be Irish
Trump has broken with the blarney of claiming green roots.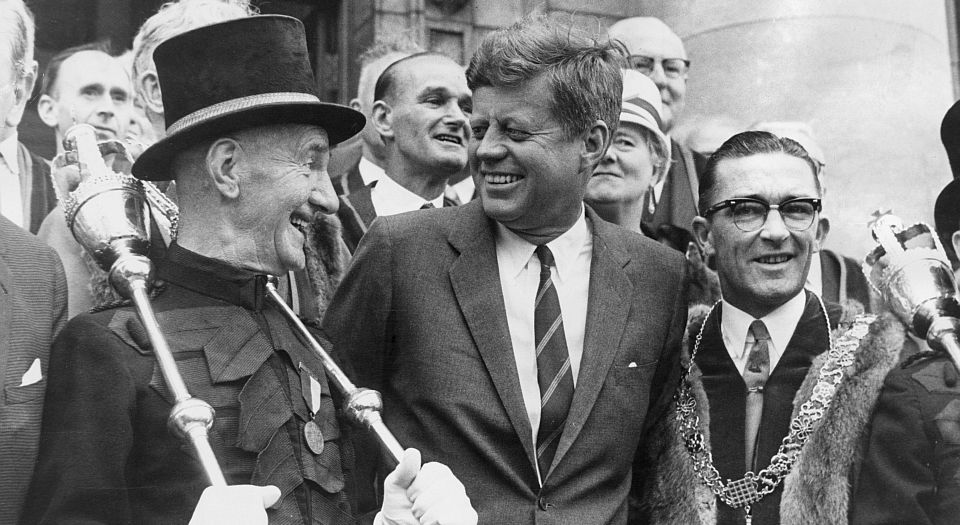 There once was a time when it was mandatory for any US president to dig out proof of Irish ancestry, to demonstrate that he possessed some Fighting Irish spirit. It began with John F Kennedy, who actually was Irish, but it had become standard by the 1980s. Most famously, during his 1984 visit to Ireland, Ronald Reagan spoke movingly about the connection he felt for the Tipperary home of his great-grandfather, Michael Reagan. Subsequently, Bill Clinton, George W Bush and Barack Obama all made the trek to the Emerald Isle ritually to pronounce their Irish heritage. In Obama's case, this involved a visit in 2011 to an Offaly village where his great-great-great-great-grandfather made shoes.
The motivation to boast about one's green blood was obvious. To be Irish is to be a funny, spirited, big-hearted rebel. Rebellion against British tyranny is intrinsic to the American story, so it was logical to co-opt a comparative narrative from a nation that had not only suffered under the yoke of the British, but had sent so many of its sons and daughters to America. It's also simple politicking. The Irishman in America is a kind of all-purpose immigrant, and by pointing to their Irish roots, American presidents were making a play for ethnic-minority votes.
To be an Irish-American in the late-20th century worked on a similar internal level. It placed you in contradistinction to the dull, hypocritical, moneyed WASPish class, the hegemony of yesterday. Such a clash was epitomised most evidently in the 1997 film Titanic, in which we have free-spirited, warm, poor-but-happy Irishman Jack (Leonardo DiCaprio) ultimately pitted against the arrogant and snobbish Pittsburgh steel industrialist Cal Hockley (Billy Zane).
By the time that film was released, the global fashion and voguishness for all things Irish was at its height. The 1990s was the decade of Irish theme pubs, Riverdance, Eurovision, the Celtic Tiger, Father Ted, Enya, the cult of 'Celtic spirituality', the decade in which all of a sudden everyone wanted to discover their Irish roots.
Irishness appealed to the late-20th century fetish for all things 'spiritual', while the 1990s was also the decade that saw the blossoming of the cult of lachrymal victimhood. As they put it in the 1991 film, The Commitments, the Irish were 'the blacks of Europe'. Everyone wanted to be a plucky, proverbial Titanic victim – so much so that in August 1998 presidential candidate Newt Gingrich made a desperate pilgrimage to his ancestral homeland, only to be told that he had no Irish roots at all.
No one, of course, wanted to be a plain and prosaic Anglo-Saxon or the bad Brit. The Bush family, WASP dynasty par excellence, have far stronger and eminently demonstrable roots to 17th-century Essex yeomanry, yet father and son have never sought to make any capital of it. Indeed, they have always kept their English roots decidedly hush-hush.
Obama, the outgoing president, is thought to be the 22nd US president to have or claimed Irish family. And here's the news: the incoming president, Donald Trump, has not only failed to make a song and dance about any Irish roots, but has done the unthinkable: he's proclaimed pride in his British heritage, adding that he's a 'big fan of the UK'.
It's a remarkable break with tradition. It teaches us that there are actually virtues in being blunt, outspoken, coarse – characteristics Trump has in abundance. Sometimes, there's something to be said for being unfiltered, free of spin and wholly lacking in the bullshit and the blarney. Trump's breach with one of the most enduring and least sincere rituals of the US presidency may be a curious aside. But it may be an indicator of the character of the man.
---
Bauman vs Enlightenment
The philosopher and social theorist Zygmunt Bauman, who died this month, most famously argued that the gas chambers of Auschwitz didn't represent a breakdown in civilisation, or an aberrational return to barbarism, but rather represented the logical result of the Enlightenment project, with its impulse to classify, divide and dominate. Such industrial, bureaucratic murder was the culmination of modernity.
It was a shocking and simplistic conclusion. Yet to my mind it was over-simplistic, because it relied on a caricature of the Enlightenment, which didn't change the way humans behaved as much as postmodernists imagine. The impulse to divide and separate the 'other' from the 'self' – a charge levelled specifically at the Enlightenment – wasn't conjured from nothing in the 18th century; human beings by nature make distinctions between those who belong to the 'in group' and those who are in the 'out group', and always have. The impulse to categorise and classify is age-old, too, as a glance at every single language, living or dead, will readily show. As for the association between technology and impersonal killing, this began with the invention of the spear, which allowed humans to kill others without seeing their faces.
The real, tangible development of the Enlightenment was to introduce a spirit of curiosity, irreverence and experimentation to humanity. The Enlightenment was about breaking down dogmas and truths dependent on faith and irrationality. The Enlightenment of Diderot and Voltaire was about creating contingently held truths, which one would replace when better evidence came along. When postmodernists inveigh against the clinical, cleansing and totalising, Other-extinguishing brutalism of 'the Enlightenment', what they are really referring to is the Positivism of August Comte, with its depersonalised theology and belief in the iron laws of progress.
The Enlightenment and Positivism were opposites. Doubt versus dogma. It was a pity Bauman failed to recognise this crucial distinction.
---
Brexit slanders
According to one argument, people voted Brexit because they were ignorant, xenophobic, feeble-minded morons who were duped by the Murdoch and Dacre press.
According to a different argument, people voted Remain because they didn't know the basic difference between Europe the geographical and historical entity and 'the European Union', the political body. Remainers had a hitherto shallow understanding and scant interest in politics and only thought of Europe in terms of second homes, flights to France and Italy, cheap wine and not having to pay mobile-phone charges. Remainers only protested how 'pro-EU' they were to make themselves look virtuous among their peers and to distinguish themselves from the hoi polloi. These bovine Remainers were brainwashed by the Guardian and the BBC.
Both theories are, of course, scurrilous ad hominem slander.
Patrick West is a spiked columnist. His new book, Get Over Yourself: Nietzsche For Our Times, will be published later this year by Imprint Academic. Follow him on Twitter: @patrickxwest
Picture by: AP/Press Association Images
To enquire about republishing spiked's content, a right to reply or to request a correction, please contact the managing editor, Viv Regan.