For Hunt, the party's over
But the Corbynistas are as aloof as the 'Blairites'.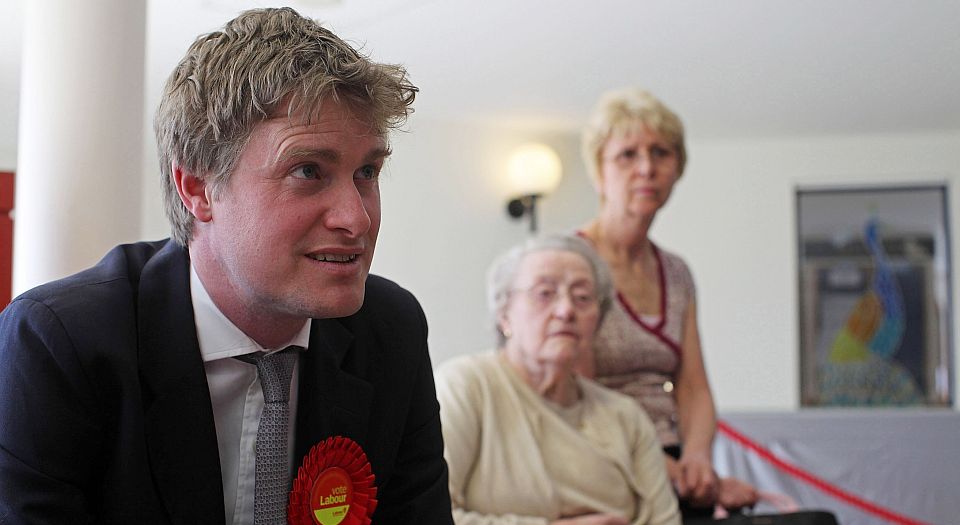 Tristram Hunt's decision to resign as Labour MP for Stoke-on-Trent Central to take up the directorship of the Victoria and Albert Museum in London has been greeted by some in the Labour Party with a barely concealed good riddance. He was always just too posh for Labour, they surmise. He was always too right-wing, too Blairite, too anti-Corbyn. He was part of Labour's problem, a symptom of its estrangement from any residual support base. After all, how could this privately educated son of a baron, with his tousled hair unable to soften his academic's demeanour, ever hope to connect with disillusioned working-class voters?
Perhaps in the New Labour boom years, when the economy's listlessness was obscured by assorted credit bubbles, Hunt might have done well, argued Ken Livingstone, the supposed keeper of Labour's left-wing flame. He might even have been prime minister. But not now. That 'small elite', continued Livingstone, 'that dominated the Labour Party during the Blair-Brown years [and] forgot the needs of ordinary working-class and middle-class families, that era is gone'. Others, such as Labour MP Paul Flynn, joined in the assault, tweeting that Hunt, 'baffled' by the 'vulgar alien world of politics', had 'retreat[ed] back into his natural habitat of academia'.
But Hunt's critics miss the point. They seem to think that they just need to parachute a less posh, more Corbynite candidate into Stoke and those mythical Labour voters will start returning home. But that won't happen, because the problem for Labour is not that Hunt is too posh, or too redolent of New Labour's tarnished era; it's that he's too typical of the political class as a whole. His Labour Party critics, indeed his political-class critics, don't seem to be able to grasp that Hunt's dislocation is their dislocation, too. Where he writes perceptively, in his resignation letter, of 'the social, cultural and economic forces that have rocked mainstream social democratic and socialist parties', he touches not just on his own estrangement from the electorate, but on the estrangement of the political class as a whole.
At some level, Hunt recognises what his critics do not: that the Brexit vote has profoundly altered the political landscape. At the 2015 General Election, Hunt won Stoke Central with 12,220 votes, 5,000 ahead of his nearest challenger. From the outside it looked like a safe Labour seat. But delve a little deeper, and the new forces now casting the UK's political arrangement asunder can be glimpsed. For a start, just 49 per cent turned out to vote in 2015. In other words, more than half of Stoke Central constituents decided that no one was worth voting for. A year later, in the EU referendum, turnout was at 66 per cent. And despite Hunt and the Labour Party, and the political establishment as a whole, campaigning to remain in the EU, 82,000 voted to leave – that was a massive 70 to 30 per cent in favour of exiting the EU.
Hunt, like many of his colleagues who are rumoured to be thinking of ditching party politics, are responding to this historical shift. They are responding to a post-Brexit environment in which a party-less majority is pitched, not against a particular government or party, but against the political establishment in its entirety; against its shared values, against its common outlook, against its disdain and fear of the people.
To those outside the political echo chamber of London, and the Labour Party, Corbyn and his acolytes don't appear as an antidote to the aloofness and disconnectedness of the political class. On the contrary, they appear as out of touch as Hunt does. They are as London-centric, as pro-EU, as shallowly cosmopolitan as anything from the time of Blair and Brown. Hence in September, pollsters for the Independent revealed that almost half of unskilled workers and manual labourers – Labour's supposed core supporters – believe Corbyn to be 'out of touch', as opposed to middle-class voters, many of whom thought favourably of Corbyn. As one Labour councillor told the New Statesman: 'Talking to colleagues across the country, it certainly appears that the Labour Party across England is becoming more like the party in London. The vast majority of new members come from the middle classes, the public sector… all sharing a distinctly cosmopolitan outlook. This makes perfect sense, of course – polling suggests these groups are least likely to be concerned about immigration and most concerned by cuts to the public sector. So they're much more likely to be attracted to Jeremy Corbyn's clear policy approach in these areas.' Or to put it another way, Labour is not reviving under Corbyn; it is becoming a refuge for those who share the elitist sentiments of the political class.
Hunt's departure from party political life, like that of ex-Tory prime minister David Cameron himself, may be a new beginning for the political careerist. But this steady exodus, no matter what Labour's deluded cheerleaders think, may mark the beginning of the end for the party-political status quo.
Tim Black is a spiked columnist and editor of the spiked review.
Picture by: Getty
To enquire about republishing spiked's content, a right to reply or to request a correction, please contact the managing editor, Viv Regan.