The Passion of Scorsese
Silence has its flaws, but it speaks to Scorsese's greatness.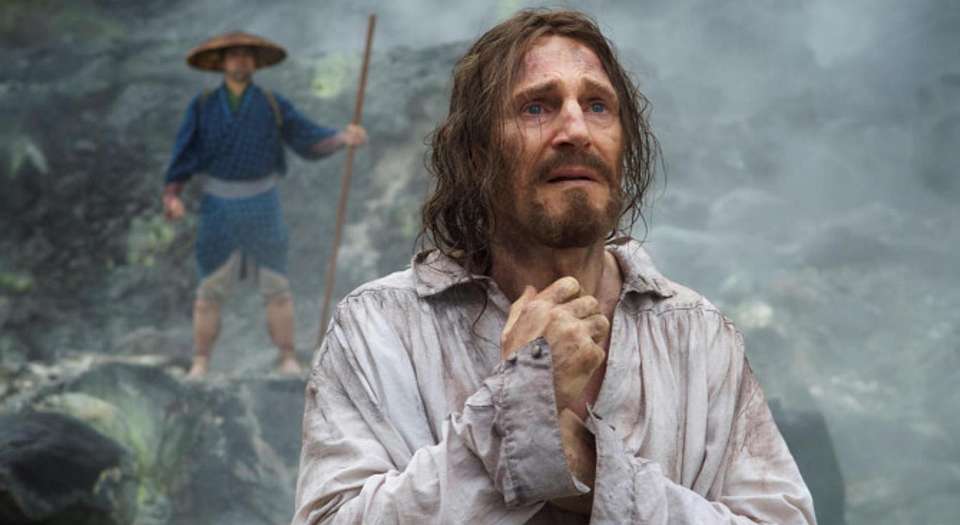 'Passion project' is a term used to market uncommercial films that the director struggled to get made. Following the financial success of The Wolf of Wall Street, Martin Scorsese's new flick, Silence, is being called a passion project, one he's been working on for more than 25 years. Set in 17th-century Japan, it follows two Portuguese priests (Andrew Garfield and Adam Driver) who venture to the land of the rising sun to find their mentor (Liam Neeson) who is rumoured to have denounced God. Christians in Japan are suffering terrible persecution and repression. The 'silence' of the title refers to the silence of God.
Religion has always been a point of interest in Scorsese's life. He was raised in the Catholic faith and even considered becoming a priest before pursuing a career in film. Catholicism is dealt with explicitly in his film Mean Streets, and obliquely in Taxi Driver, with its theme of redemption. His most important passion project was The Last Temptation of Christ, for which it proved so difficult to raise funds that Scorsese could only afford three takes of each shot. Screenings of the film were picketed by Christian factions, and there was even an attack on one cinema.
However, Silence's reputation as a passion project is a little ill-founded. Many entertain the romantic notion that Scorsese also struggled to get this film going. In fact, the reason Silence was in development for so long is that Scorsese repeatedly broke the contract to make it so that he could produce other movies instead. This apparently led to his paying a production company millions of dollars in compensation to not make the film. Some passion.
The finished film is pretty long: two hours and 41 minutes. And tragically, the first hour is rather pointless. Garfield's character makes stupid decisions that have no consequences; his voiceover adds nothing to the story, except the bleeding obvious; and he does nothing to make the audience like him. I suppose the film needs to take time to show Garfield's devotion to his faith so that his later doubts have some meaning — but nothing really changes in the first hour, and there's very little suspense.
The best thing in the first hour is the character of Kichijiro, played by Yosuke Kubozuka. Starting the story as a guide for the priests, and popping in and out of the film thereafter, he's a Christian who believes it is okay to spit on a crucifix and commit acts of betrayal — as are demanded of the Japanese persecutors of Christians — because he can just go to confession afterwards and repent. An allusive character, he hints at the murky arenas of morality and Christianity that are more fully explored later in the film.
Scorsese said his motivation for making the film was to explore how a priest's ego and pride affect his mission. This emotional and intellectual core to the film only becomes apparent when Garfield is captured by the Samurai about an hour in. Suddenly, Silence steps up a level, and we're introduced to a whole new set of interesting characters. The Samurai, having been a vague, faraway danger at the start, now directly interact with Garfield's character.
The Samurai believe it's more effective to make priests apostatise rather than to kill them, because then Japanese Christians might lose their faith in these men of the cloth. The dialogue is very good at showing the Inquisitor (Issey Ogata) and his Interpreter (Tadanobu Asano) making humanist arguments about what all religions have in common, and about the importance of ending suffering, while at the same time carrying out horrific acts of torture and murder.
Garfield has much more opportunity to show off his acting chops in these sequences, and to display the essential irony of his character. For example, he urges the Japanese Christians to trample on an image of Christ to save their lives, but he refuses to do it himself to save others. It all climaxes in a final shot that has immense emotional power, even if it doesn't hold up to much scrutiny.
Silence bears that sense of contradiction that marks so many classic Scorsese films: the hero in revolt at the culture that surrounds him yet who ends up internalising its norms. It's always great when Scorsese steps away from the crime genre, as he last did with the marvellous family adventure film Hugo; but it's hard to recommend Silence because of its lacklustre first hour. Still, there is much that is excellent in it, and it stands as a testament to the greatness of Scorsese's craft and his continuing relevance 50 years after his first feature.
Christian Butler is a writer based in London. Follow him on Twitter: @CPAButler
Watch the trailer for Silence:
To enquire about republishing spiked's content, a right to reply or to request a correction, please contact the managing editor, Viv Regan.