Yes, Obama, democracy is in danger – but not from voters
His speech put a 'democratic' spin on age-old elite prejudices.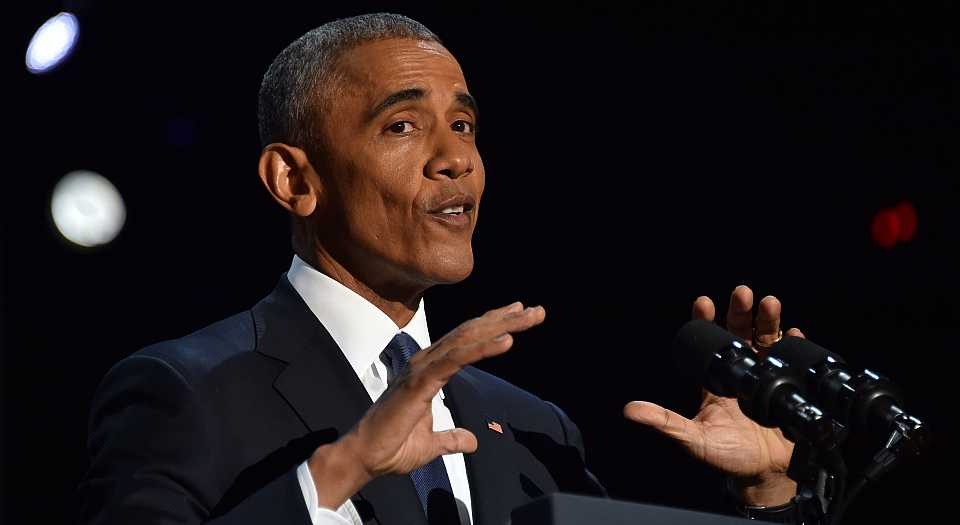 Barack Obama was right to say, in his farewell address, that democracy is in danger. But to identify the most important threat facing Western democracy today, the outgoing US president might have looked a little closer to home, at the political elite.
President Obama was cheered to the rafters by his fans and received rave reviews from the global media for that final big speech in which, as one headline put it, 'Tearful president warns of threat to democracy under Donald Trump' (though Obama did not point the finger directly at the president-elect).
Obama did indeed make many of the right noises, about the fact that democracy should never be taken for granted, and the need for Americans to become more active as citizens and fight to defend democratic freedoms (the same goes for the rest of us in the West, too).
Strangely, however, when identifying the factors undermining democracy, he somehow missed the main anti-democratic menace of the modern age: elite disdain for the demos, the people.
Obama outlined three broad threats to democracy: growing economic inequality; ongoing racial divisions (though he acknowledged that race relations in America are far better than 30, 20 or even 10 years ago); and the fragmentation of a political culture in which many feel it's 'safer to retreat into our own bubbles', especially on social media, 'surrounded by people who look like us and share the same political outlook and never challenge our assumptions…And increasingly we become so secure in our bubbles that we start accepting only information, whether it's true or not, that fits our opinions, instead of basing our opinions on the evidence that is out there.'
Let's leave aside for a moment the small matter of whether a president who has been in office for eight years might not bear some responsibility for the political and social problems he now identifies. Let's ignore for now more specific questions about, for example, the role of the identity politics that have dominated the Obama era in creating and reinforcing divisions.
Behind his high-minded, people-friendly rhetoric, what was Obama really saying about democracy? He effectively argued that the danger to democracy comes from voters who vote for the wrong things and candidates – such as Trump. That people under economic pressure, living in a bubble, can be influenced by racial prejudice and misled by the 'post-truth politics' of demagogues to ignore the Truth handed to them by experts and officials from above.
In other words, Obama's message was that the big threat to democracy is posed by the demos. Little wonder that his speech was so well received by the liberal media. These sound like very old elitist prejudices about the ignorant and gullible masses, popular with every anti-democrat since Plato, now recycled in the more touchy-feely language of the 21st century. It is that fear and loathing of the 'herd' which threatens democracy most directly today.
Of course the illiberal Trump is no hero of American democracy. But the vote for him was largely a revolt against the contempt shown by the political, economic and cultural elites towards millions of Americans they have branded as the 'low-information' (code for low-intelligence) occupants of some alien land called 'flyover country'.
The horrified post-election reaction to 62million Trump voters, captured by Meryl Streep's expression of disdain for those uncouth enough to watch football and MMA, has further exemplified the elitist prejudice against which those voters revolted in the first place.
If Obama was seeking anti-democratic currents in US politics, he need have looked no further than the campaign to elect his successor, when Democratic Party candidate Hillary announced that 'you could put half of Trump's supporters into what I call the "basket of deplorables"' – and was criticised by leading Democrat commentators for only dumping on half of them.
The obsession with 'deplorable' voters being bad for democracy was growing in US politics long before the awful Mr Trump appeared on the stage. Obama might also have recalled the outburst of a young presidential hopeful in 2008, recorded telling another private fundraiser that small-town Americans 'get bitter' about the world, which is why 'they cling to guns or religion or antipathy towards people who are not like them, or [to] anti-immigrant sentiment'. Ironically on that occasion Hillary Clinton condemned as 'elitist' the remarks made by Barack Obama – for it was he.
Obama might also have mentioned the contribution of a former member of his own administration, who called for more power to be given over to appointed commissions of experts, because you can have 'too much of a good thing' (ie, elections) and America 'might be a healthier democracy if it we were a slightly less democratic one'.
Or the widely praised pre-election essay by liberal Republican writer Andrew Sullivan, who argued that 'democracies end when they are too democratic' and called on decent Americans to rally to defend 'the elites' and 'the political Establishment' who 'provide the critical ingredient to save democracy from itself'.
Or the post-election conclusions of celebrity political science professor Jason Brennan, author of Against Democracy, who spelt out what many others were too shy to say and declared that Trump's election was 'the dance of the dunces' caused by giving too much power to 'low-information white people', which placed a question mark over democracy itself: 'Democracy is supposed to enact the will of the people. But what if the people have no clue what they're doing?'
And so it goes on, not just in the US but also in the backlash against Brexit in the UK and against 'populism' across Europe. As in every democratic society since Ancient Athens, the most potent threat to democracy today comes from above, from elites appalled at the idea of power being in the hands of the vulgar masses.
Those who want to take Obama's call to defend democracy and encourage active citizenship more seriously than him will need to find fresh ways to ignite the democratic spirit, take a stand against the new elitism, and put the demos back at the heart of Western democracy.
Mick Hume is spiked's editor-at-large. His new book, Revolting! How the Establishment is Undermining Democracy – and what they're afraid of, published by William Collins, is due out in early 2017.
Picture by: Getty
To enquire about republishing spiked's content, a right to reply or to request a correction, please contact the managing editor, Viv Regan.