Taking on the tabloid-bashers
Queen Mary student Emily Dinsmore on why she made a stand for press freedom.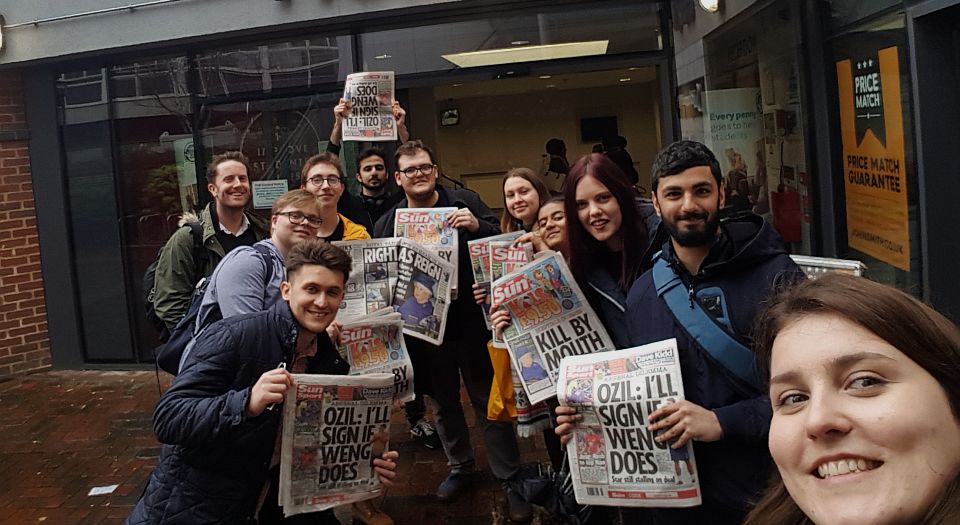 When a bunch of censorious student-council members at Queen Mary University voted to ban the sale of tabloids in union venues before the Christmas break, they probably weren't expecting to find Queen Mary students distributing 250 copies of the Sun all over campus on the first day back. But that's what I, alongside another dozen free-speech-supporting students, did yesterday.
We were standing up not just to the SU censors, but also to those like state-backed press regulator Impress who are pushing for the implementation of Section 40 and Leveson 2. As pointed out on spiked, these schemes would spell the end of press freedom in Britain, and are being argued for by the sort of snobs who would be very much at home in an SU meeting. (The government consultation on Section 40 and Leveson 2 ends today – make sure you say NO to both here before 5pm.)
In an attempt to undermine the crazy ban, and encourage students to respond to the consultation and sign up to the #FreeThePress campaign, we visited all the union venues on campus to hand out copies of the Sun, talk to students about press freedom and encourage them to take a stand against censorship.
Many Queen Mary students didn't even realise a ban on the sale of three tabloids – the Sun, the Express and the Mail – had been implemented, which is hardly surprising given it was quietly voted in by a whopping 13 students in December. Many students were surprised and concerned by the union's anti-tabloid stance. Seemingly, only those newspapers rubber-stamped by SU representatives can be sold in union venues.
Not all of them were on the side of press freedom. Some students showed resistance to our stunt, reflecting a sneering, hostile attitude towards the tabloid press. 'Racist scumbags', one right-on, plummy-voiced undergraduate hissed as we approached with the papers. 'Waste of time', a haughty student-council representative huffed on Twitter.
This sentiment is precisely why we held this stunt. We wanted to make the point that standing up for press freedom, and the right of people to read what they like, does not mean endorsing a particular newspaper or political viewpoint. Students' union representatives were quick to ask if we were promoting the Sun, failing to realise that we were promoting the freedom to express any opinion – not just those printed by one tabloid paper.
In our last act of defiance of the day, we covered the students' union building with the remaining papers. Living up to our expectations, students' union representatives were quick to pull down the papers stuck to the walls and remove them from the newspaper racks. I suppose they were upholding their belief that there is 'no place for hate' in our union. I think what they really mean is that there is no place for opinions they don't like in their union.
250 papers were distributed on Queen Mary's campus yesterday, against the 13 council members who voted for the ban last month. And whether or not the Sun is their paper of choice, there are many students who recognise that this creeping censorship – on campus and beyond – must be challenged. No students' union, or would-be press regulator, should be able to dictate what we are allowed to read.
Emily Dinsmore is a writer and student. Follow her on Twitter: @EmilyRDinsmore
Respond to the consultation here. And share the page using the hashtag #FreeThePress.
To enquire about republishing spiked's content, a right to reply or to request a correction, please contact the managing editor, Viv Regan.