And the award for most patronising speech goes to…
Meryl and Co, spare us the preaching.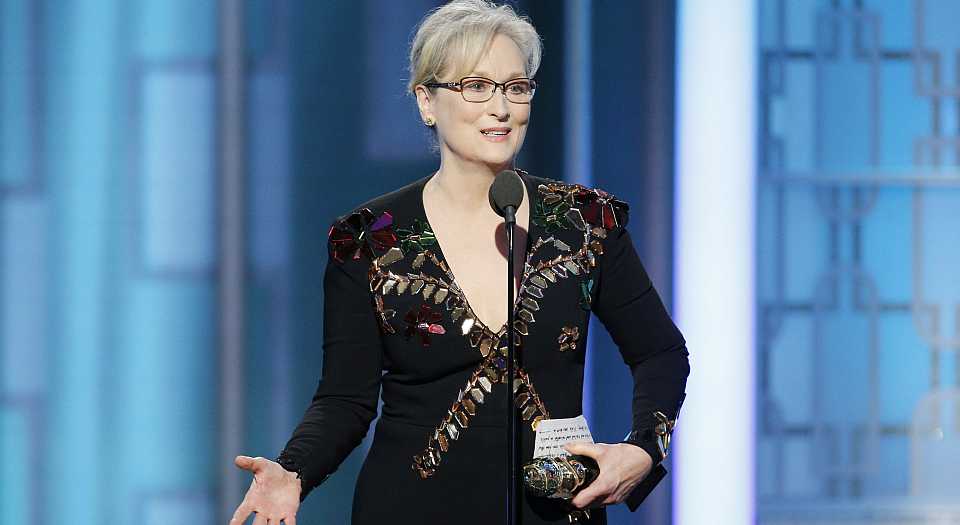 We all know what to expect from the Hollywood love-in that is awards season: plenty of sparkly gowns, some cringe-worthy hosts and a fair sprinkling of nauseatingly gushy acceptance speeches. But this year's Golden Globes will have induced, I suspect, a higher-than-average gag reflex from the average viewer: not for the first time, the stars decided to go political, unsurprisingly turning their aim on the president-elect Donald Trump.
Hollywood doyenne Meryl Streep led the way with her subtle-as-a-sledgehammer tirade against Trump. During a six-minute acceptance speech for the lifetime achievement award, Streep became teary-eyed while speaking about Trump allegedly mocking a disabled reporter, and claimed she and her fellow Hollywood colleagues were currently among the 'most vilified segments in American society'. Bizarrely, she also took aim at football and mixed martial arts, claiming that if all the foreigners working in the Hollywood industry got kicked out, that's all America would be left with in the way of entertainment. To emphasise her point she reeled off the names and birthplaces of stars in the audience, around half of whom came not from other countries, but from states outside California (that's not foreign, Meryl).
'When the powerful use their position to bully others, we all lose', opined Streep. It takes a special kind of obnoxiousness not to notice the irony of pertaining to defend the rights of the little people while simultaneously deriding the millions of little people who voted for Trump.
Big-name celebs were quick to praise Streep for her 'brave' speech. 'We will need a lot of people as clear and brave as Meryl if we are to fight the corruption, bad ideas and lies of Donald Trump,' tweeted Judd Apatow. We're setting the bar fairly low for bravery, I think, if we call a millionaire brave for standing in a room full of other millionaires, claiming they are all victims, and repeating her already widely known opinions on the president-elect.
We will need a lot of people as clear and brave as Meryl Streep if we are to fight the corruption, bad ideas and lies of Donald Trump.
— Judd Apatow (@JuddApatow) January 9, 2017

Streep was not alone in her determination to lecture the unenlightened masses on correct political thinking. Golden Globes host Jimmy Fallon, in his opening spiel, described the Globes ceremony as 'one of the few places left where America still honours the popular vote'. Hugh Laurie, while picking up his award for The Night Manager, quipped, 'I'll be able to say I won this at the last-ever Golden Globes… I don't mean to be gloomy, but it has the words "Hollywood", "Foreign" and "Press" in the title'.
Even one of the directors of schmaltzy kids film Zootopia, Bryon Howard, got in on the act. In what appeared to be a veiled reference to Trump, he said: 'We wanted Zootopia to be a film that not only entertained kids but also spoke to adults about embracing diversity, even when there are people in the world who want to divide us by using fear.' According to Howard, ordinary people are so stubbornly hateful, they need a squeaky-voiced bunny in a kids' film to tell them how to play nice.
Celebrity condescension towards ordinary people is of course nothing new. For years now we have had to suffer through celebrity videos encouraging people to vote in the run-up to elections. Before the EU referendum, Keira Knightley advised us to 'stop others fucking with your future'. Lily Allen went to Calais and wept in the refugee camp, so desperate was she to let us know what she thought about the refugee crisis. And barely a day passes without us hearing what Bob Geldof thinks of global warming, Brexit, or any other trendy cause. But celebrity ego isn't the only factor here.
For decades, politicians have actively courted celebrities, looking for endorsements to try to gain wider appeal with the public from whom they have become so distant. Tony Blair invited Oasis to Downing Street. Hillary Clinton's campaign was backed by a whole gaggle of stars, including Lena Dunham, Katy Perry, and, yes, Streep. The United Nations has even invented token ambassadorial positions for celebrities. As goodwill ambassador, Emma Watson has lectured UN diplomats twice on feminism and gender inequality. It is politicians who have made the Hollywood clique think people care what they think about geopolitics or the environment. Is it any wonder the celebs have become so insufferable? Look at the song and dance various entertainers have made over self-importantly turning down invitations to perform at Trump's inauguration next week – it's as if they are taking away their aristocratic blessings.
The Brexit vote and Trump's election have aptly demonstrated that people are sick and tired of being lectured at, being told what's good for them by an aloof elite. Streep using her acceptance speech to preach her worldview only serves to emphasise just how wide the gap is between those in the Hollywood bubble and those outside of it. Perhaps they should follow the advice of actor Mark Wahlberg: '[People] might buy your CD or watch your movie, but you don't put food on their table. You don't pay their bills. A lot of Hollywood is living in a bubble. They're pretty out of touch with the common person, the everyday guy out there providing for their family.'
The recent political upheavals suggest people have no more patience for elite arrogance, be it from politicians or celebrities. This will hopefully serve as a wake-up call for any wannabe actors-cum-political orators and lead to a decline in vomit-inducing on-message acceptance speeches. On the other hand, celebrity magazines are already forecasting a slew of political films in the coming year. Heavens save us.
To enquire about republishing spiked's content, a right to reply or to request a correction, please contact the managing editor, Viv Regan.