Why the alt-right and the illiberals need each other
The response to Milo's book deal is the reason he has a book deal.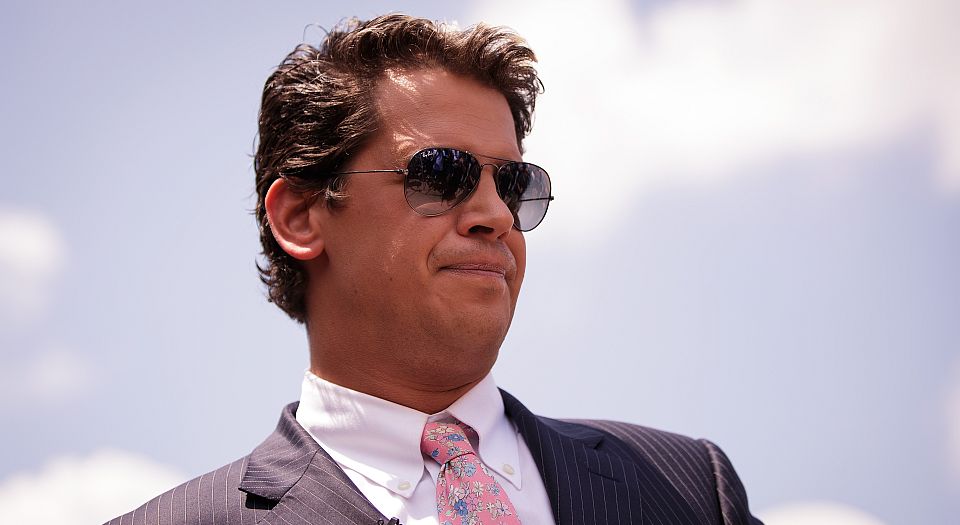 'There is more than one way to burn a book', wrote Ray Bradbury. There's also more than one way to sell one. And the all-too-predictable backlash against Milo Yiannopoulos' book deal shows yet again that outrage and sales go very much hand-in-hand. News broke before New Year that the Breitbart writer, Trump supporter and self-touting 'dangerous faggot' had scored a $250,000 deal with Simon & Schuster. Dangerous, to be published on S&S's conservative imprint Threshold, isn't even out yet, and it's already both a bestseller on Amazon and the subject of illiberal-liberal boycotts.
In the space of just a few years Yiannopoulos has transformed himself from a little-known tech journalist into the internet's premier right-wing provocateur. He rages against feminism, Islam and transgenderism. And over the past year he's become infamous for his joking-not-joking support for the alt-right, a promiscuous word used to refer to both a handful of white supremacists and droves of internet shitposters who think sending Jewish journalists Nazi memes is funny. Yiannopoulos was banned from Twitter last year after some of his followers bombarded the Ghostbusters actress Leslie Jones with vile racist tweets.
Needless to say, the book deal hasn't gone down well with media types. The Chicago Review of Books has refused to review any of S&S's titles across all its imprints. '[Yiannopoulos] is a clickbait grifter who has made a name for himself spewing hate speech', wrote the magazine's editor-in-chief, Adam Morgan, in the Guardian. 'The literary community must stand against anyone – author or publisher – who peddles hate speech for profit.' Leslie Jones has similarly accused S&S of 'spreading hate', and author Karen Hunter has said that she's 'rethinking' her relationship with the publisher.
Before we go on, let's get a couple of things straight. First, Yiannopoulos is not some crazed bigot. Hating feminism doesn't make you a misogynist. Hating Black Lives Matter doesn't make you a racist. And no he shouldn't be held responsible for the abhorrent behaviour of his erstwhile Twitter followers – even if he still doesn't seem that bothered by it. Though his tendency to push provocation to the point of insincerity, and his belief that white nationalists are a necessary corrective in an uptight age, certainly gives anti-PC a bad name, the idea he's a 'neo-Nazi' is ridiculous.
Second, no matter what Morgan et al say, boycotting a book is an attempt at censorship. They may not be calling for the state to step in or ripping copies off the shelves of Barnes & Noble and setting them ablaze, but they are trying to silence and de-legitimise a point of view they dislike. They are trying to marshal social and financial pressure in order to urge S&S to re-think, to self-censor. And why? Because we, the readers, apparently can't be trusted. Because we are only one of Milo's Joan Rivers-lite tirades away from kicking into a goosestep.
That said, what's fascinating about this boycott is how knowingly futile, even counterproductive, it is. 'Every line of attack the forces of political correctness try on me fails pathetically. I'm more powerful, more influential and more fabulous than ever before', Yiannopoulos told the Hollywood Reporter. He's right (if not about the fabulous part) – and his haters must know this. The Chicago Review of Books may not review Dangerous, but it's already given it more publicity than it ever could in its pages. Yiannopoulos' entire raison d'être is winding up liberals; the response to his book deal is the reason he has a book deal.
What this pointless posturing underlines is the grim hate-marriage of convenience that has been forged between the internet prankster end of the alt-right and illiberal liberals. For years, the easily offended have been blighted by diminishing returns, as society becomes ever more tolerant they've had to dig deeper and deeper for bigotry to rail against. The Milo-ites, who see willful, often insincere provocation as a means of having a laugh and cracking the PC ice, are their dream come true – a readymade online hate mob that can be screengrabbed and held up as proof that identity politics is needed more than ever.
Those backing the Simon & Schuster boycott need to have a word with themselves. By feeding an easily offended culture, by sacralising victimhood, they have created these cretins. But the shitposters shouldn't be let off the hook. They aren't challenging PC culture, they're feeding it. The right to offend is the lifeblood of free speech; it's the means through which we rattle orthodoxy and fuel progress. Turning offence-giving into a bit, a performance, is hollow, and deadening. It fosters a climate of bad faith; debate becomes gunged up with liberals taking offence at idiots saying things they don't even mean.
What this latest nontroversy reveals is that the alt-right and the illiberals need each other. We'd be better off getting shot of both of them.
Tom Slater is deputy editor at spiked. Follow him on Twitter: @Tom_Slater_
To enquire about republishing spiked's content, a right to reply or to request a correction, please contact the managing editor, Viv Regan.