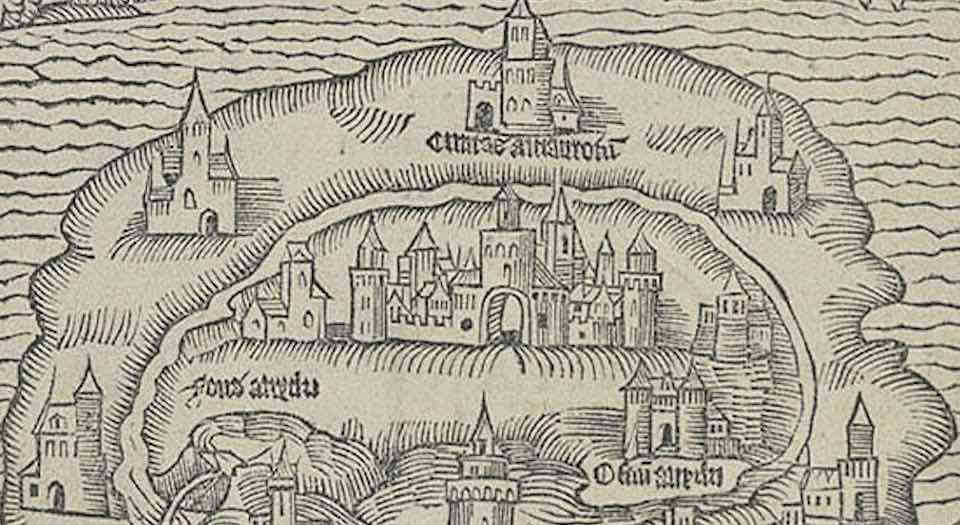 Long-read
The politics of Utopia
A fascinating new study sheds light on Thomas More, the political thinker.
Thomas More (1478-1535) is a famously complex, often contradictory figure. He was granted sainthood by the Catholic Church in 1935, but he has also been seen as some sort of proto-communist, owing to the ideal commonwealth he envisions in his most famous work, Utopia (1516). Others have seen him as a prisoner of conscience, who refused to renounce his allegiance to the pope and Catholicism, and went bravely to his death. Yet this friend of continental, often heretical humanists, such as Erasmus, is also seen as a zealously intolerant figure, who, in his role as Henry VIII's courtier, confidant and, later, lord chancellor, oversaw the persecution and execution of heretics.
So what are we to make of More? Joanne Paul's Thomas More, published to coincide with the 500-year anniversary of the publication Utopia, attempts to rediscover the coherence of More's thought, shedding light on what he valued and believed. Paul shows an impressive mastery of the assorted, disparate aspects of More's work. But she also identifies a common strand running throughout: namely, a defence of what is 'public' or 'common'. As Paul notes, More is worried about the potential 'destruction of what is held "in common"… what is shared, what no one holds to the exclusion of others, and therefore what is "public" or belonging to the corporate community as a whole'.
More, of course, was no friend of the radical egalitarianism of the Reformation, which, through its insistence on sola fide, and the emergence of vernacular translations of the Bible, undercut the authority of the Catholic priesthood. But this was not because he was an apologist for power and hierarchy. The problem for More was that these religious reformers and revolutionaries posed a challenge precisely to what he valued: the common ownership of the church itself. As Paul argues, for More, the Catholic Church was 'the embodiment of what is "common"; it is the common corps of Christendom, the universal body of all believers and the source of all religious doctrinal authority'.
This is why More railed against those who would dare undermine the church. He felt that the authority of the common corps of Christianity was being subverted by those who would replace it with their own exclusive authority, be they Henry VIII, William Tyndale or Martin Luther. In More's eyes, the pride of these individuals was being placed above the common good embodied by the Catholic Church.
This respect for what is common went beyond the church. A contemporary and personal friend of Erasmus, More and his fellow humanists were keen students of classical, largely Roman, republicanism. While this didn't quite translate into a desire to abolish monarchy, it did feed into the general idea that 'the people' or 'the commons' or even 'public opinion' were the ultimate sources of political authority and power. This is partly reflected in Utopia, with the political structure of the island of Utopia heavily resembling the broad political structure of the ancient city-states or Medieval city republics.
As Paul demonstrates, More's concern with the importance of the commons, of public opinion, informed all his work. More, seemingly preempting the arguments of John Locke, even penned an epigram in Latin entitled 'The Consent of the People Both Bestows and Withdraws Sovereignty'. He argued that 'Any man who has command of many men owes his authority to those whom he commands', and, therefore, 'he ought to have command not one instant longer than his subjects wish'. In his Confutation of Tyndale's Answers (1532-33), he notes that 'a governor is made for the people'. He who governs, therefore, belongs to the public, and public opinion holds sway over what is common to all.
More's concern with what is held in common, and his focus on the people as the source of authority, extends to his treatment of language. In his polemics with religious reformers, More makes the case for words being 'public property', with their meaning defined by 'common sense' – that is, how words are popularly understood. For More, words gain their meaning from their 'signification', which emanates from 'common custom'. To attempt to go against this common custom was, as Paul puts it, 'to obstruct truth itself'. In his polemic against William Tyndale, he says that common custom 'is the only thing by which we know the right and proper signification of a word'.
It was along these lines, in a letter to Maarten van Dorp, written in 1515, that More criticised theologians who 'crown themselves victors just because we do not know in what sense, against all common sense, they have secretly agreed to construe their own words'. He goes on to exclaim: 'Damn it, since when can some rule slapped together in some corner by men who themselves barely know how to speak impose new laws of speech on the entire world?' You could be forgiven for thinking More was writing about the current controversies over language on university campuses, not 16th-century theology.
It's clear that More's idea that popular opinion is the source of authority over that which is held in common, be it the shared understanding of words or the person under whose rule people live, has a strongly republican and even democratic kernel. Yet it would be a mistake to see More as a democratic republican in the way we understand these words today, just as it would be a mistake to see Martin Luther as a champion of religious liberty. Yet, as today's elite has proven itself so disdainful towards the public, More's appreciation of what is held in common, and the weight of authority he gives to 'common custom' and public opinion, remains a valuable corrective.
Tom Bailey is a writer based in London.
Thomas More, by Joanne Paul, is published by Polity. (Order this book from Amazon(UK)).
To enquire about republishing spiked's content, a right to reply or to request a correction, please contact the managing editor, Viv Regan.