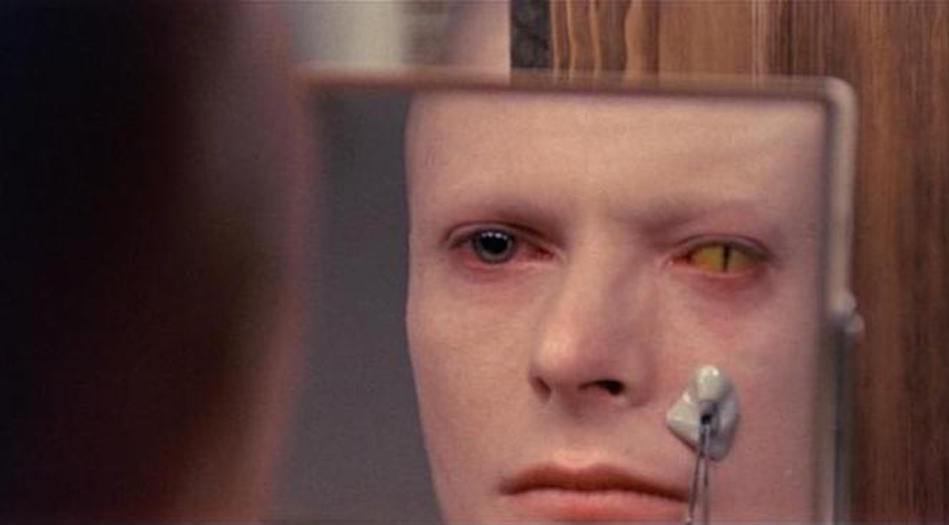 Long-read
Bowie: a ceaseless search for the new
Paul Morley's biography rushes past the modernist genius of David Bowie.
'It seemed like a risk worth taking', says Paul Morley, remembering the morning in April 2013 he sat down at a desk in the ticket hall of London's Victoria and Albert Museum and began typing. His laptop was hooked up to a large screen hanging in the foyer, so that visitors could read as he wrote – an art installation come to life at the entrance to the V&A's 'David Bowie is' exhibition. Morley's mission, his audience would have read, was to 'complete a book in a weekend'.
He didn't quite pull it off. Still, only seven months on from Bowie's death, we have The Age of Bowie, a near 500-page-long tribute to the man who brought modernism to the music charts. Even though the book more than once brings to mind Mark Twain's remark about having to write a long letter because he hadn't the time to write a short one, it is still an astonishing achievement.
Whether it's a worthwhile one is rather more moot. The blurb calls Morley's book a 'biographical critique' – which isn't, it turns out, quite the same thing as a critical biography. Precious little of Bowie's mammoth oeuvre – 27 studio albums, countless hit singles, 10 major movie roles, a well-received run as the star of a Broadway play – gets any kind of sustained attention, let alone suggestive analysis. But nor is the book the cubist takedown of the biographical form that the arch avant-gardist Bowie needs. Repetitious and rambling though it is – there's a preface and an introduction and a memoir-heavy first chapter to wade through before you hit page 66 and the information that 'David Bowie is born as David Robert Jones, on Wednesday, 8 January 1947' – the book tells Bowie's story using exactly the kind of chronological structure his cut-up lyric-writing technique was designed to subvert.
The early chapters are the best. Not because Morley has uncovered anything about Bowie's youth that previous biographers have missed. But having been a small-town boy himself, he's alive to what life likely seemed like to young Davy Jones – growing up in the 'drained suburban wasteland' of the London borough of Bromley in those far-off, postwar, pre-rock'n'roll days. I'm not sure the teenage Davy was quite as scathing about his parents' humdrum existence as Morley insists. But there can be no doubt that from the get-go he had his eye on wider horizons. Like most boys, Davy was interested in football. Unlike most boys in Fifties Britain, he was interested in American football – and wrote off to the US Embassy to say so. The embassy wrote back, inviting him over for a training session. At 13 he made his first appearance in print – snapped wearing a caged helmet and shoulder-pads under the headline 'David leads sport revolution'. He'd lead a few more revolutions in years to come.
But before you can break things up you have to know how they're put together. After leaving school at 16 with a single O-level (art), Bowie endured an extraordinarily long musical apprenticeship. Having joined his first group in 1962, Bowie labored through seven lean years before his first UK success (1969's moon-landing inspired 'Space Oddity'). And another three years went by before he hit the real big time with The Rise and Fall of Ziggy Stardust and the Spiders from Mars. In between, he'd learned the rudiments of musical composition, the basics of the saxophone, a few chords on the piano and a few more on the guitar.
He'd also fronted numerous bands, worn numerous silly outfits, and sported even more, even sillier hairdos. Indeed, Bowie's television debut, a couple of months before his 18th birthday, came on the BBC current affairs show Tonight – talking about The Society for the Prevention of Cruelty to Long-Haired Men. The society's founder, chairman, secretary and pretty much only member, Bowie – who like his hero Andy Warhol was always upfront about being on the make – had plainly set the whole thing up as a publicity stunt. Yet Morley reads the episode not as evidence of an attention-seeking chancer but as the expression of a man with, as yet, little to express.
That's because under the postmodern veneer of his prose, Morley, like so many pop writers, is an unreconstructed romantic. Now nearing 60, he still believes that while Broadway shows lack 'artistic integrity', rock'n'roll is intrinsically authentic and axiomatically insurrectionary. Yeah, right. The fact is that far from being in revolt against the system, pop is one of capitalism's purest products. Bowie's first act of genius was to acknowledge that his chosen medium had always been co-opted by The Man. His second was to turn capitalism's ceaseless search for the new into an aesthetic principle. Throughout the Seventies his annual stylistic volte-faces – fey hippy, glam rocker, washed-out soul boy, Dadaist automaton – were both parodies of built-in obsolescence and strategies for increasing market share.
And through it all he produced the decade's most vital art. From 1970 through to 1980 Bowie released 12 albums, seven of them masterpieces, and one – the funereally funky Low – that vies with The Beatles' Sgt Pepper's and Dylan's Blonde on Blonde for the title of greatest of all time. Like the man sang, 'Golden Years'. Yet, after spending several lengthy chapters describing and discussing Bowie's pre-fame Sixties in close detail, Morley glides over the most important 10 years in his subject's career in a grab-bag entitled 'David Bowie's Seventies in 140 scenes featuring certain deletions, omissions and oversights'.
If the inclusion of deletions and omissions and oversights sounds paradoxical, then be warned that the spectres at this feast are those of Jacques Derrida and Jean Baudrillard. Back in the 1980s, Morley made his name by grafting post-structuralist theory on to rock criticism. Hence this section of short, numbered entries – a patchwork of would-be pensèes that read like a writer's notes for future paragraphs: 'He is consulting an invisible mirror.' 'He is watching his entire life fall apart and all he can do is blankly stare.' 'He is letting the pain in his work interfere with his life.' That sound you can hear is the clock ticking down the seconds to Morley's deadline.
An hour into his V&A writer-in-residence slot, Morley was told by a visitor that she thought the show 'pretentious'. Yes, said Morley, but without pretentiousness you can't have the 'risk-taking that can lead to genius'. Even though Bowie himself once joked that he was responsible for whole new schools of pretension, Morley was talking nonsense. Far from begetting creativity, pretentiousness is a prophylactic against it. And while Bowie was forever demonstrating that geniuses take risks, risk-taking cannot bring on genius. For proof, look no further than this perilously rushed book.
Christopher Bray is the author of 1965: The Year Modern Britain was Born, published by Simon & Schuster. (Buy this book from Amazon(UK).)
The Age of Bowie – How David Bowie Made a World of Difference, by Paul Morley, is published by Simon & Schuster. (Buy this book from Amazon(UK).)
To enquire about republishing spiked's content, a right to reply or to request a correction, please contact the managing editor, Viv Regan.