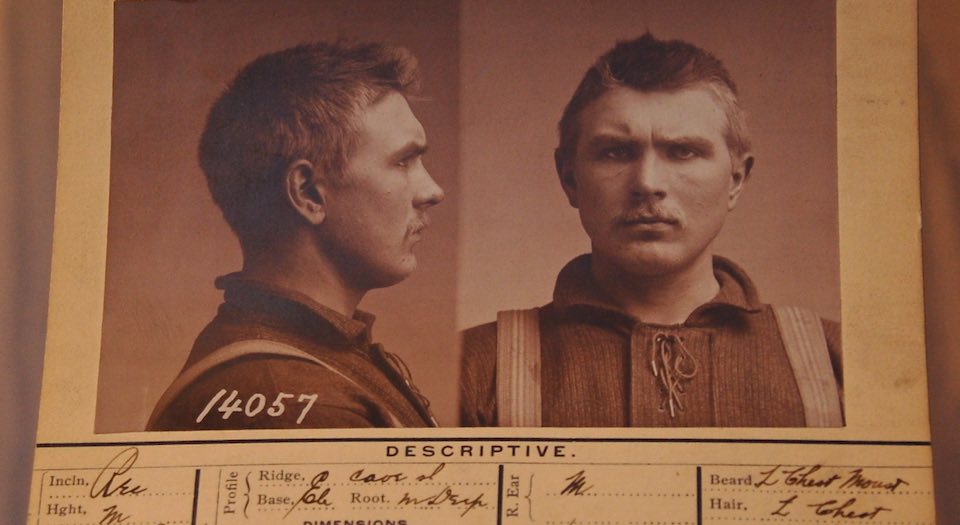 Long-read
A violent obsession
Violent Sensations explores the fascination with sex and murder in 19th-century culture.
Violence has always been a staple of art and literature, but it became an obsession during the 19th century, first with the Romantics and the vogue for Gothic horror, and later still with the development of detective fiction, which started with Wilkie Collins, Charles Dickens and Edgar Allan Poe in the mid-19th century.
But as Scott Spector explains in Violent Sensations: Sex, Crime and Utopia in Vienna and Berlin, 1860-1914, it was anxiety about an apparent rise in violence and sexual degeneracy that made Berlin and Vienna twin centres for advances in the legal and scientific discussion of these topics. More specifically, Spector looks at what motivated people of the era to ask 'Is there something inherent in modernity and urbanisation which causes degeneracy?' Using German-language sources of the time, Spector examines four aspects of this discourse: biological models of criminal profiling; sexual crime; the emergence of the homosexual as a social and criminal phenomenon; and anti-Semitism.
The industrial and scientific hubs of Vienna and Berlin were known not only as beacons for culture and enlightenment, but also as centres of squalor and depravity. For many, the prostitution rife in these two cities was seen as a sign of the innate degeneration caused by metropolitan living. Could it be, some wondered, that modern life, by shielding the populace from the pruning effect of natural selection, was allowing hereditary flaws to weaken the population? Given the endemic nature of prostitution in Vienna, the Austrian obsession with formality, status and propriety seems even more hypocritical once one understands the double standards and self-deception needed to maintain such social mores. It is no wonder that research into neurosis, hysteria and sexual dysfunction developed in Vienna.
The period 1860-1914 is when the concept of biological determinism as the origin of crime, as championed by Cesare Lombroso, took hold. It was the outcome of ethnological anthropology, the collection of sociological data and theories of heredity. Yet, as Spector notes, crime is a social construction that is culturally specific, and so the Lombrosian model (insofar as it ever was a falsifiable theory) was always fatally flawed.
The origins of sexual typing and the systematic study of human sexuality are grounded in the analysis of deviant sexuality. In order to define a sex crime, the precise acts needed to be described. This led jurists to consider what types of normal and abnormal sexuality might exist. Once typing became established, it was inevitable that individuals within deviant types would start to self-identify themselves. Thus we see the emergence of identity defined by sexual orientation and the origins of sexually-oriented communities. Spector notes that when a Viennese newspaper embarked on a campaign against pederasty, it was bombarded by hostile letters from homosexuals. The newspaper responded by publishing the letters unedited in order to allow spelling and grammatical errors to expose their authors to public ridicule.
With the greater professionalisation of the police service and the emergence of the distinct fields of anthropology and sociology, the study of the causes of crime took on more importance. At the same time, the explosion of printed media broadcast the notoriety of the most heinous criminal acts. The Whitechapel murders of 1888 caused a sensation in Germany, as in Britain. Criminologists named the crime of violent sexually motivated attacks as Lustmord (lust murder) and soon cases were identified in the press. As Spector sums up:
'The compulsive murderer [… ]is a loner, a crime artist, ingenious in his methods as he is brutal […] He was a kind of hero, whether his victims were marked as debauched prostitutes or as innocent children; he was a deranged but heroic genius with extraordinary powers to outwit criminal detection forces, whose arsenal of forensic technology was constantly being perfected and yet always seemed a step behind.'
Thinkers of the time claimed that – in some manner undetermined – modern living conditions had produced criminals who were atavistic throwbacks possessed of the superhuman vigour, resourcefulness and courage of primitive hunters. This equal mixture of abhorrence and admiration exists today in the widespread, repulsed fascination with serial killers. Scientists even coined the term hybristophilia to describe the erotic attraction felt by people towards notorious criminals. Likewise, the public has always felt a degree of ambivalence toward some murder victims. Murdered prostitutes have been viewed as double victims (once of society, once of their killer), yet one can detect more than a trace of complacent satisfaction about instances of moral transgressors being punished.
The book concludes with a study of the Damascus affair and examples of murder cases where prosecutors and demagogues cited the fallacious blood-libel of Jewish ritual sacrifices of gentiles. Here the pressure for police and prosecutors to achieve conviction and closure, and popular outrage stoked by newspapers, coalesced in the hounding of Jews. Although Spector does not draw the equivalence outright, the implication is that quasi-scientific thinking of the time would have linked criminal sexuality, Lustmord and alleged Jewish human sacrifice together as manifestations of primitive violence.
Jargon-free and concise, Violent Sensations opens a fascinating window on to a neglected aspect of our social history.
Alexander Adams is an artist and writer. His latest book, Letter About Spain, is published by Aloes.
Violent Sensations: Sex, Crime, and Utopia in Vienna and Berlin, 1860-1914, by Scott Spector, is published by University of Chicago Press. (Order this book from Amazon(UK)).
To enquire about republishing spiked's content, a right to reply or to request a correction, please contact the managing editor, Viv Regan.