The greatest human breakthroughs of 2016
From sky bridges to cures for disease: the best of human endeavour.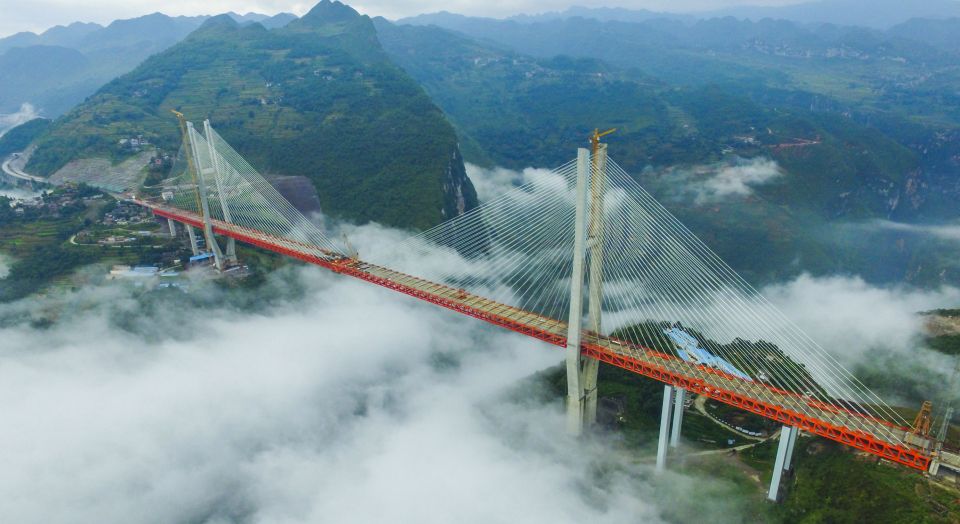 2016 has been an exciting year, full of political change and new possibilities. It has also been a year of great discoveries and impressive endeavours, reminding us what mankind is capable of, and that our pursuit of knowledge is ongoing. Here are some of the finest human achievements of 2016.
The Juno probe arrives at Jupiter
In July, the NASA control room once again burst into cheering and applause as the Juno probe successfully went into orbit around Jupiter. It was the culmination of a five-year journey, involving a highly complex manoeuvre whereby the Juno satellite fired a rocket engine to slow its approach to the planet. This is the closest a spacecraft has ever got to Jupiter. The information collected by the probe will enable scientists to learn more about how Jupiter formed, allowing us in turn to understand better how our own planet came to be.
Three-person babies
This year the first three-person baby was born using a new fertility method. The baby has the usual DNA from its mother and father, but also has an additional piece of genetic code from a third donor. This allowed the baby boy to be born free of a genetic condition carried by his mother. Using the new method, the team of American doctors was able to take all the vital DNA from the mother's egg and combine it with healthy mitochondria from a donor egg. The family in question had already suffered the death of two children because of the genetic disorder – Leigh syndrome. This radical new treatment could herald a new era for families at risk of genetic disease.
China's highest bridge
In September China completed work on the amazing Beipanjiang Bridge, which is so high it rises literally among the clouds. The mountain overpass is 1,850 feet high, cost £88million, and took just three years to construct. It joins together two of southern China's most remote provinces: Yunnan and Guizhou. At a dizzying 565 metres above ground, the bridge is nearly twice the height of the Shard in London; its span is 720 metres. It goes to show that the sky is no longer the limit.
Laser treatment for prostate cancer
Surgeons have described a new method for treating prostate cancer as 'truly transformative'. Using a drug made from deep-sea bacteria, which becomes toxic when light-activated, and lasers, doctors have been able to eliminate tumours without any serious side effects. In trials on 413 men, almost half were left without any trace of the cancer. Currently there are long-term side effects in the treatment of prostate cancer, including erectile and bladder-control problems; so the new treatment could be life-changing for cancer sufferers. The technology was developed at the Weizmann Institute of Science in Israel, alongside Steba Biotech.
Moving towards a cure for HIV
Scientists might be on the verge of curing HIV. Scientists from five British universities have tested a new treatment that combines a vaccine with a drug called Vorinostat, which activates the dormant T-cells so they can be spotted by the immune system, on 50 patients. At the end of the trial, HIV could not be detected at all in the blood of one of the patients, meaning he may have been completely cured. HIV is especially difficult to treat because of how it attacks the immune system. This pioneering research could prove to be life-changing for the world's 35million HIV sufferers.
The discovery of gravitational waves
The detection of gravitational waves has been heralded as one of the great scientific discoveries of our time. The Laser Interferometer Gravitational-Wave Observatory (Ligo) laboratories in Washington and Louisiana traced the warping of space, about 1.3 billion light years from Earth, produced by the collision of two black holes. This has proved Einstein's General Theory of Relativity on ripples in the fabric of spacetime, and potentially brings our understanding of the universe and astronomy into a whole new era.
The part-pig, part-human embryo
As part of ongoing research into organ transplants, researchers at the University of California successfully created embryos that are part-pig, part-human – a fantastic leap forward in making pig organs compatible for human transplants. Scientists used CRISPR, a technique of gene-editing that allows them precisely to delete one gene and insert another. This is a significant step forward in tackling the worldwide shortage of transplant organs.
Sunken cities brought to life
This year, the lost worlds of the Ancient Egyptian cities Thonis-Heracleion and Canopus were brought to life in an awe-inspiring exhibition at the British Museum. Maritime archaeologist Frank Goddio and his team spent 20 years excavating the millennia-old artefacts from the seabed of Abu Qir Bay. The remarkable discoveries included colossal statues of gods, still mostly intact, as well as ritual objects and intricate jewellery. The project also brought to light new information on the relationship between the ancient civilisations of Egypt and Greece. A perfect example of how mankind's thirst for knowledge, combined with the latest technological innovations, can yield spectacular results, casting light on both our past and our future.
To enquire about republishing spiked's content, a right to reply or to request a correction, please contact the managing editor, Viv Regan.