Our cultural highs and lows of 2016
spiked writers on the best and the worst of this year's art and culture.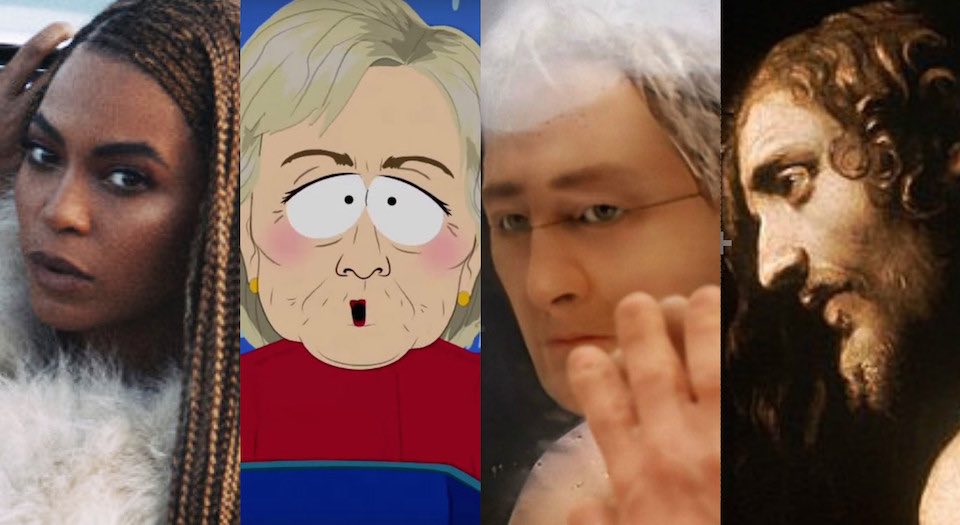 Tom Slater chooses…
High: Lemonade, by Beyoncé
The response to Lemonade could have been my cultural low: it was either hailed as a #BlackLivesMatter state-of-the-nation piece or slammed as an incitement to race riot, depending on your prejudice. But putting aside its Malcolm X-quoting closer 'Formation', this is modern R&B's Here, My Dear, a burned but beautiful record-come-film about love, betrayal and Becky with the good hair.
Low: The death of Prince
In a year of music icon deaths, this one stung the most. His music was full of phunked-up nasty, elfin playfulness and the odd casual reference to incest, but he was more than prince of the freaks. He (and Bowie) were relics of an age when you could be weird on a huge scale, a chart-topper in bikini bottoms. May he rest in Purple.
Tom Slater is deputy editor at spiked.
---
Brendan O'Neill chooses…
High: Beyond Caravaggio, National Gallery
To most people, Caravaggio is a late Renaissance bruiser, as well known for his tempestuous personal life of booze and boys as for his paintings. But this stunning exhibition suggests he was a bloody good teacher too. It features six paintings by Caravaggio and 43 by the Caravaggisti, the Italian, French, Dutch and Flemish artists who fell under his spell. The result is a moving illustration of how profoundly Caravaggio changed Western art, injecting rude humanism and the secular sensibility into religious painting. 'The Taking of the Christ' is here, a painting everyone should see, featuring Caravaggio himself with his face illuminated by the lantern he's holding up to observe the arrest of Christ: man intruding on the divine.
Low: Jack Whitehall
Nothing that is human is alien to me. Apart from the fact that Jack Whitehall makes a living as a comedian.
Brendan O'Neill is editor of spiked.
---
Mick Hume chooses…
High: Napoléon, Royal Festival Hall
An entire Sunday spent with friends watching Abel Gance's epic 1927 silent movie (eight hours including breaks), with a live orchestra playing Carl Davis's score, conducted by the maestro himself. A dazzling chunk of black-and-white cinema history that brought to life revolutionary France and the young Napoleon, 'the spirit of the age on horseback' (Hegel), before he made an emperor and an ass of himself. Magnificent.
Low: The death of satire
Smug British institutions like Private Eye and Have I Got News For You finally became too boring to bother with as the 'comedy' wing of the sneering Remainer elites. Meanwhile, Saturday Night Live all-but told US viewers to vote for Hillary Clinton. You want an ironic news item? How about 'Satirists back Establishment'? (Thank God for South Park.)
Mick Hume is editor-at-large of spiked.
---
Viv Regan chooses…
High: The rise of online boxsets
Have you watched The Young Pope? It's Paolo Sorrentino's drama about the first American pontiff, filmed beautifully with a harebrained script and irreverent performances. Then there's WestWorld, the series that pits robots against human self-loathing in the Wild West, with explosive results. Oh, and there's Stranger Things, Narcos, Divorce, The Affair… the list goes on and on.
Low: American Pastoral, directed by Ewan McGregor
No. Ewan McGregor's directorial debut should never have been released. Philip Roth's novel is a masterpiece. The film is a muted, pasty, disjointed and soulless version. Unacceptable.
Viv Regan is managing editor of spiked.
---
Ella Whelan chooses…
High: Laura Marling, Meltdown Festival
I saw Marling play at Meltdown Festival, a usually drab affair attended by London luvvies. But her soaring voice and heavy guitar style had me entranced. She's the first artist since Joni Mitchell who can sing about men and women and make it convincing, rather than a try-hard exercise in gender-bending.
Low: The Tate Modern extension
The opening of the new Tate Modern was awful. There was a rave in the Turbine Hall full of bopping teenagers and an exhibition made up of post-it notes bearing 'how to change the world through recycling' tips. I'm never going back.
Ella Whelan is assistant editor at spiked.
---
Naomi Firsht chooses…
High: South Park Season 20
Following on from a fantastic 19th season, this year South Park creators Trey Parker and Matt Stone aimed their arrows at the US election candidates, Twitter trolls, men's rights activists and Black Lives Matter. Highlights included JJ Abrams rewriting the national anthem and Eric Cartman showing his feminist side by repeatedly saying, 'Every time Amy Schumer talks about her vagina, I lose my fucking mind'.
Low: Absolutely Fabulous: The Movie
A plodding storyline and cringeworthy dialogue were the sorry outcomes of AbFab's transfer to the silver screen. Jennifer Saunders' bitingly comic TV creation on the world of fashion PR was smothered in this film by celebrity cameos and schmaltz. The Edina and Patsy of old, who paired beautifully timed pratfalls with acerbic one-liners ('She was so anally retentive she couldn't sit down for fear of sucking up the furniture'), were nowhere to be seen.
Naomi Firsht is staff writer at spiked.
---
Luke Gittos chooses…
High: Nocturnal Animals, directed by Tom Ford
Tom Ford's Nocturnal Animals is the most gripping film I've ever seen. A woman receives a copy of a novel written by her ex-lover, in which he imagines her violent murder and goes on a quest to hunt down her killers. It looks amazing and the ending is incredible. This film is even more sophisticated than Ford's line of aftershave, which I myself wear. A triumph.
Low: Comedians
Comedians have been insufferable in 2016. Even the most edgy stand-ups can't reconcile themselves with recent events. Stewart Lee nearly had a breakdown after the Brexit vote. Eddie Izzard went mental, calling all Leave voters stupid – although no one seriously calls him a comedian any more. And everyone is awaiting the misery-fest of Charlie Brooker's 2016 Wipe. Comedians just aren't funny right now. They are establishment bores.
Luke Gittos is law editor at spiked.
---
Joanna Williams chooses…
Highs: Canterbury Shakespeare Festival and Fleabag
Canterbury's inaugural Shakespeare festival was a high point of my summer. The amateur performances might have been a bit hit-and-miss, but seeing Macbeth performed in a ruined castle and The Merchant of Venice by the riverside was quite special. Far grittier was the BBC 3 comedy Fleabag. I made the mistake of binge-watching this on a flight and I'm not sure if the looks I got from fellow passengers were for the on-screen rudeness or my failed attempts at stifling laughter.
Low: Bridget Jones
I enjoyed reading Bridget Jones's Diary when it was first published 20 years ago, but I couldn't even bring myself to see this year's film release about her damned baby. But for the fictional Bridget to be named on BBC Radio 4 Woman's Hour's power list? That's as bonkers as having an all-female power list in the first place.
Joanna Williams is education editor at spiked.
---
Sean Collins chooses…
High: Arrival, directed by Denis Villeneuve
Arrival is gripping and mind-blowing. It's a sci-fi thriller and an alien-invasion movie that manages to explore philosophy and language with suspense and emotion, all anchored by a terrific Amy Adams. Like the best sci-fi, Arrival asks big questions about humanity and takes us on a fun ride.
Low: The new lyrics to 'Baby, it's cold outside', by Lydia Liza and Josiah Lemanski
'Baby, it's cold outside' is a wonderful Christmas classic, a cheeky and joyful song (one of my favorite versions is the Buddy and Jovie duet in the 2003 movie Elf). But a twentysomething Minneapolis couple says it's too rapey, the devil's work, and so they've rewritten the lyrics to 'emphasise consent'. What a downer. These feminists are philistine literalists (read spiked's Nancy McDermott on the song's true meaning) and Christmas killjoys.
Sean Collins is spiked's US correspondent.
---
Jacob Furedi chooses…
High: Saturday Night Live
People who claim 2016 was the year satire died clearly didn't watch SNL. While its parody of Dead Poets Society was a standout moment, its perceptive piss-taking of everything and everyone in the US election was unrivalled. From Kate McKinnon's Clinton impression to a spoof ad for a 'Bubble' where the liberal elite can seek refuge from Trump's presidency, SNL left nothing untouched.
Low: Politicians' Christmas singles
2016 was the year politicians decided to test out their vocal chords. While Corbyn supporters released 'JC 4 PM 4 ME', Labour MPs recorded their own dismal charity single about workers' rights. MPs from across the parties also came together to cover the Stones' 'You Can't Always Get What You Want' to commemorate the life of Jo Cox, a rather morbid choice given one of its principal lyrics is 'You get what you need'.
Jacob Furedi is a writer based in London.
---
Wendy Kaminer chooses…
Highs: Unbreakable Kimmy Schmidt Season Two and Patti Smith at the Nobel Prize ceremony
In its sophomore season, Tina Fey's surreal Netflix comedy about a naïve 29-year-old woman determined to reclaim her life after 15 years in a doomsday cult still sparkles. Embedded in Fey's typically hilarious cultural satires is a sweet but never cloying story about resilience. Binge-watching Kimmy Schmidt is the best antidote I know to post-election despair. Just watching the opening credits makes me feel better: 'Unbreakable… Females are strong as hell.'
I'm not sure whether the awarding of the Nobel to Dylan was a cultural high or low (I'd have given the literature prize to Phillip Roth). But after Patti Smith's emotionally charged, compellingly imperfect performance of 'A Hard Rain's A-Gonna Fall' at the ceremony, the Nobel prize committee could rest its case.
Low: Celebrity
From celebrity campaigns for politicians to the election of a kleptocratic, celebrity president, whose reign the republic will need a great deal of resilience to survive, celebrity reached a new low in 2016.
Wendy Kaminer is a writer, lawyer and civil-libertarian.
---
Neil Davenport chooses…
High: Anomalisa, directed by Charlie Kaufman and Duke Johnson
Charlie Kaufman and Duke Johnson's stop-motion animated film achieved the rare feat of making puppets seem more human and believable than actors in a straight drama. Centered on customer-service guru Michael Stone's visit to Chicago, Anomalisa explores the delusions adults create when desperately seeking intimacy. It's an exacting portrayal of 21st-century dating in all its messy confusions.
Low: The Boomtown Rats, Brentwood Festival
Fresh from mocking pro-Brexit fishermen on the Thames, millionaire Bob Geldof went one better, or worse, and rubbished the entire audience at Brentwood Festival in Essex for wearing 'wall-to-wall Primark'. A mass walkout ensued, but a hailstorm of bottles would have been better. He's a git, but when it comes to exposing the nasty elitism of Remainers, he's the git that keeps on giving.
Neil Davenport is a writer based in London.
---
Wendy Earle chooses…
High: Giselle, English National Ballet
In his first full-length production for the English National Ballet, choreographer Akram Khan takes Giselle, a beautiful classical work based on a romantic folktale, and transforms it into a modern tragedy to stunning effect. This inventive production, with virtuoso performances of enthralling skill, power, grace and expressiveness, was a joy to behold.
Low: The Tate Modern extension
Since the 1960s, art has become increasingly politicised: many artists want to make political statements more than they want to make art. Most of the artworks on show in the new galleries of Tate Modern's extension (opened earlier this year) were curated with diversity and gender in mind, to emphasise and celebrate this trend. The galleries sadly show just how impoverished the visual arts have become.
Wendy Earle is convenor of the Institute of Ideas' Arts and Society Forum.
---
Emily Dinsmore chooses…
High: Leonardo da Vinci: The Mechanics of Genius, Science Museum
Often da Vinci's engineering brilliance rests in the shadow of his paintings, but The Mechanics of Genius at the Science Museum offered an insight into the often-overlooked side of his work. Complete with replicas of his sketches and models, the exhibition captured the workings of a Renaissance scientific mind that was well ahead of its time.
Low: Bristol University bans Aida
There can be no culture as low as no culture at all. Well, not for Bristol University students, who scrapped a performance of Aida this year. The Verdi opera, already warped into an Elton John-esque musical, was cancelled due to fears of 'cultural appropriation'.
Emily Dinsmore is a writer and student.
---
Milja Kljajic chooses…
High: The Night Of, HBO
What does 'innocent until proven guilty' really mean? The Night Of pushes this question to its limits in its depiction of a young man's trial for a murder he supposedly didn't commit. Complex and addictive, this show had some of the best TV acting of the year.
Low: The death of David Bowie
We lost a lot of cultural icons this year but, for me none of them stung like the death of Bowie. Blackstar, his final album, is brilliant and sad – a fitting end to one of the greatest musical careers in history.
Milja Kljajic is a writer based in London.
---
Patrick Marmion chooses…
High: Unreachable, Royal Court Theatre
Defying categorisation and sometimes logic, Anthony Neilson's freewheeling comedy about a film director going into psychological meltdown on set stood out from the piety and conformity that characterises so much of what now passes for groundbreaking theatre. Where timid souls fear giving offence or meeting disapproval, there is a wildness and freedom about Neilson's writing, especially in the role of a grotesque, oversexed Klaus Kinski-like East European actor played by Jonjo O'Neill. And, as the director, Matt Smith once again showed everyone how lucky Doctor Who was to have had him.
Low: A Pacifist's Guide to the War on Cancer, National Theatre
I don't mind incoherence, but piety, self-righteousness and long-windedness I find harder to take. Writer Bryony Kimmings, who staged this musical to relate her trauma after discovering her baby had cancer, contrived to dissipate the boundless sympathy that was otherwise automatically due to them both. It couldn't make up its mind if it was trying to explain cancer or rail against it, attack or defend the NHS, censure or approve of other victims. In the end it did none of those things but still managed to bathe in its own charmless self-importance. Being a victim is increasingly more important than having any vestige of insight.
Patrick Marmion is a playwright, journalist and lecturer.
---
Andrew Doyle chooses…
High: The Go-Between, Apollo Theatre
This musical adaptation of LP Hartley's 1953 novel was a kind of interloper in the West End, a haunting chamber piece that never once fell into the trap of sentimentality. Thanks to Roger Haines' subtle direction, the production somehow managed to feel traditional and innovative at the same time. It deserved a longer run.
Low: The death of Victoria Wood
It was the quality of Wood's writing that elevated her so far above her contemporaries. Her sketches remain unrivalled, in particular her brilliantly observed mockumentaries such as 'To Be An Actress' and 'Just An Ordinary School'. In these sketches she pioneered a format which years later would become the go-to style for British sitcoms.
Andrew Doyle is a stand-up comedian and writer.
---
Christian Butler chooses…
High: Anomalisa, directed by Charlie Kaufman and Duke Johnson
The concept, a man who perceives every person to have the exact same face and voice, is classic Kaufman, but Anomalisa is the most intimate, humane feature of his career. Audaciously animated, achingly romantic… this film proves Kaufman is a master of cinema.
Low: The year the music died?
With the likes of Bowie and Prince passing away, it seemed that in 2016 we were mourning the death of popular music itself, or at least its potential to be edgy in the mainstream. Decades on from these icons' sublime combination of boundary-pushing and pop sensibility, why have we ended up with a pop scene so harmless and juvenile?
Christian Butler is a writer based in London.
---
To enquire about republishing spiked's content, a right to reply or to request a correction, please contact the managing editor, Viv Regan.