The 10 maddest things done by students this year
The campus-censorship craziness got even worse in 2016.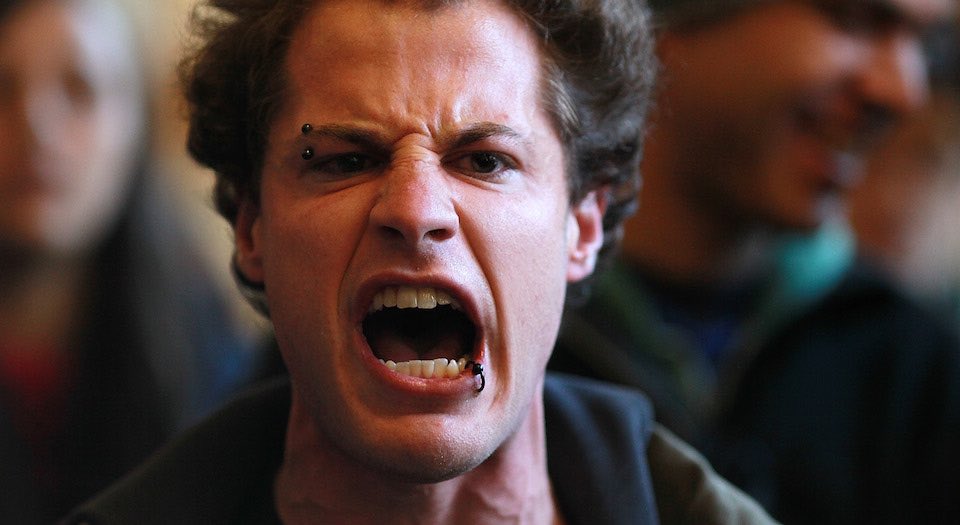 Congratulations, student officials of Britain ' you outdid yourselves in 2016. You clearly didn't get enough kicks from banning Page 3, squishing Robin Thicke's salacious pop song 'Blurred Lines', and No Platforming anyone even remotely controversial, as has happened in previous years. No, over the past year you've also pressured students into creepy consent classes, clamped down on fancy-dress parties, demanded that students use transgender pronouns, and demonised anyone who voted for Brexit. You're really giving young people a bad rep. And here are the worst ways you've done so this year.
Petting zoos for stressed-out students
The students' union at the University of Southampton kicked off a year of campus madness with a series of events in January designed to 'help [students] out'. As if the Christmas holiday was not relaxing enough, students were offered 'wellbeing workshops', a petting zoo and free yoga sessions, all to help them tackle the alleged stresses of university life. What about the stress of being patronised by union bores?
The hand-raising scandal at Edinburgh
A student at the University of Edinburgh felt the wrath of the SU Safe Space policy when she raised her hand in disagreement at a council meeting. Putting your hand up counts as a 'discriminatory action', and so a complaint was made against the student. Her crime was to use a gesture to 'indicate disagreement' – no disagreement is allowed in the starched, censored world of the student official.
Sensitivity training for Salford staff
Staff at the University of Salford were encouraged to criticise students and their work in a 'sensitive' way – following guidelines written by the students themselves. A motion at a students' union meeting called for training for university staff on how to 'incentivise progress'. Too often, staff's language is 'damaging', apparently. We can't allow professors to be firm with students, can we?
Cultural appropriation at Cambridge
In 2016, the cultural-appropriation meltdown went mainstream. At the University of Cambridge it seems students aren't even trusted to attend a fancy-dress party. An 'Around the World in 80 Days' themed party at Pembroke College was cancelled by the Junior Parlour Committee over fears that 'racist' costumes would offend students. You've reached peak authoritarianism when you're policing fancy dress.
Ripping down monuments
Queen Mary University in London took down two historically significant plaques laid by the colonialist King Leopold II of Belgium in 1877, in order to make black students 'feel welcomed, respected, integrated and entitled to a sense of belonging on campus'. This was a patronising initiative dressed up in the language of anti-racism. Strikingly, the student council voted against the removal of the plaques, but the Pan-African Society wasn't happy with the council's 'emotional ignorance', so protesters launched the #LeopoldMustFallQM campaign and demanded the plaques be taken down. Apparently campus must be moulded entirely around the feelings of small numbers of campaigning students.
Union-approved sex
Every aspect of students' lives is now up for scrutiny by students'-union officials, including their sex lives. The University of Sussex Students' Union, as part of its 'I Heart Consent' campaign, was one of several unions to hold consent classes, telling students that sex that falls short of 'enthusiastic' could be a potential assault. Students were encouraged to 'make a t-shirt or card that shows your commitment to consent' and to attend 'zero tolerance' workshops. Just when you thought you had escaped those embarrassing sex-ed classes of your school days.
Ze at Oxford
Earlier this month, Oxford was in the headlines again when it was claimed that students had been told not to utter 'he' or 'she' when referring to their peers and to opt for the gender-neutral 'ze'. The Oxford University Students' Union denied that 'ze' was now mandatory, but only because doing so would offend trans students who wanted to be referred to as 'he' or 'she'. The union nevertheless encourages all students, academics and speakers to state their pronouns in class and on campus. Just picture a professor with a beard having to say: 'Hello, I am male.'
Harrying pro-life groups
Student officials seem to think sticking their fingers in their ears is the best way to win an argument. So they ban things they disagree with. This year the University of Strathclyde Students' Association used its Safe Space policy to prevent a pro-life group from setting up a society. Further proof, if it were needed, that Safe Space is just code for Controlled Space, in which certain ideas may not be expressed.
Top journalism school bans tabloids
Last month, the SU at City University, which is famous for its journalism school, voted in favour of a campus-wide ban on three tabloids – the Sun, the Mail and the Express. Plymouth University and Queen Mary followed close behind, with bans on what they call 'hateful' papers. The bans were advocated in the name of making campus more inclusive – except, that is, for students who like tabloids, or aren't easily offended would-be press censors.
Triggered by bones
The trigger warning trend hit campuses hard in 2016. 'Archaeologies of Conflict', a module at University College London, now comes with a trigger warning telling students they might find the sight of bones and bodies 'distressing'. Students were told they could skip certain lectures, penalty-free. Not trusting archaeology students to do archaeology without having a nervous breakdown? It was a perfect demonstration that censorship has no place on campus. After all, if you think learning is so dangerous, what's the point of going to university?
Emily Dinsmore is a writer and student.
Picture by: Getty Images.
To enquire about republishing spiked's content, a right to reply or to request a correction, please contact the managing editor, Viv Regan.