2016: the fight for abortion rights gets serious
This year women fought brilliantly for bodily autonomy.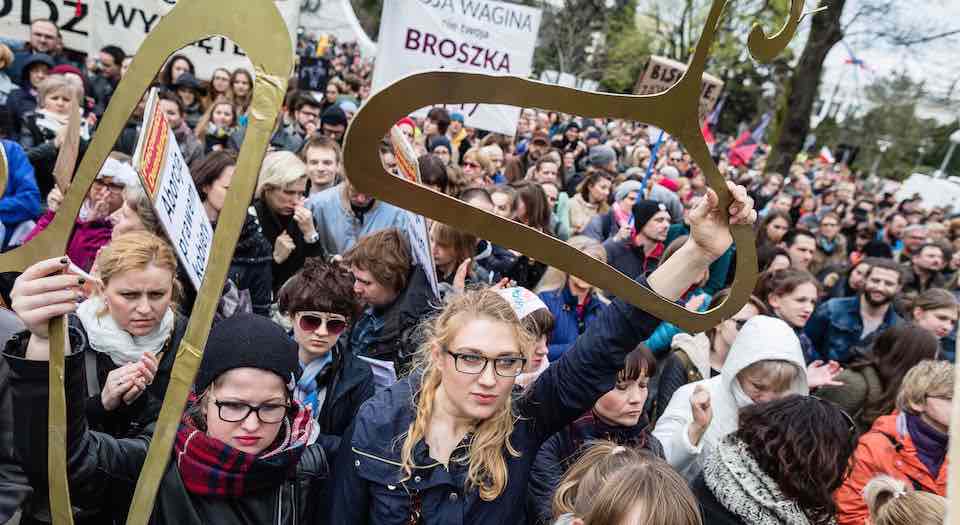 2016 has been a turbulent political year. British voters gave politics a huge shake-up by voting against the EU, and American voters rocked the world by voting against that most establishment figure, Hillary Clinton. People seemed more willing to go off-message and vote according to their conviction, or their feeling of exhaustion with the mainstream. And the same was true in the arena of women's abortion rights, too. In 2016, more and more women stood up for bodily autonomy and the right to gain access to abortion and other reproductive services, shaking up the debate about choice. Here are some of the most inspiring ways in which women defended their freedom in 2016.
Czarny Protest
One of the greatest wins for abortion rights was in Poland. In October, a petition to outlaw abortion entirely was put before the Polish parliament; it would have made abortion a criminal offence, with a sentence of up to five years in prison. In response, more than 100,000 Polish women took to the streets. Called the 'czarny protest', or 'black protest', women wore black to symbolise the potential death of what few reproductive rights they enjoy. They brandished coat hangers to signal the return of a reactionary attitude to abortion. It worked. The Polish parliament voted down the proposal 352-58 on 6 October. The protest gained worldwide attention via social media, and there was great international solidarity with many women across the world wearing black to signify their support for the protesters. It all generated great pressure on the Polish government to ditch its draconian proposal.
Repeal the 8th
In the Republic of Ireland, abortion is illegal under the Eighth Amendment to the Irish Constitution. Women can only legally procure an abortion if there is 'imminent and substantial risk to a woman's life, including suicide'. Back in 2012, the pro-choice movement Repeal The 8th was set up. This year, in the run-up to a referendum, it stepped up its campaigning. It has carried out several stunts that have made global headlines. One activist live-tweeted her journey to England to get an abortion. (In 2014, around 10 women travelled from Ireland to Britain every day for an abortion.) In September, thousands marched in Dublin, and sister protests around the world called on the Irish government to repeal the Eighth Amendment. In response, prime minister Enda Kenny called a citizens' assembly to advise the government on whether a vote should be held on access to abortion – it's been reported that more than 7,000 submissions have been made in defence of abortion rights. The fight isn't over, by a long shot, but it has become clear that Irish women just aren't willing to put up with restrictions on their freedom.
#JustSayNon
The British Pregnancy Advisory Service (bpas) launched a campaign to lower the price of emergency contraception in the UK. 'British women can today pay up to £30 for a pill which costs a fraction of that to produce and have to endure a clinically unnecessary consultation, at their own expense', bpas revealed. The campaign, #JustSayNon, compared access to contraception in the UK with that in France, where women can purchase emergency contraception in pharmacies for just €7. After the campaign made waves on social media, it was reported that an online pharmacy has made a non-branded oral emergency contraceptive pill available to British women for just £4.99. Let's hope pharmacies on the high street follow suit.
Texas' House Bill 2
In 2013, the state of Texas passed a house bill on abortion which required abortion centres to meet the same standards as ambulatory surgical centres. This means they must have 'large operating rooms, wide corridors, and doctors with admitting privileges at a hospital within 30 miles of the clinic'. The end result if this came into force? Many clinics would have to close, and women in Texas would have great difficulty accessing abortion services. Whole Woman's Health, a group of abortion clinics in Texas, took the bill to the Supreme Court. And, in June, following numerous protests by women in Texas and around America, the Supreme Court struck it down.
The fight isn't over yet, however. The Texas government recently voted to implement new rules that would 'require fetal remains to be cremated or buried instead of disposed in sanitary landfills'. This means women will have to pay for the aborted fetus to be cremated, which would effectively rule out legal abortion for those women who simply could not afford that extra cost. In protest, Texas women are posting their used sanitary products to state governor Greg Abbott, who spearheaded the new bill, asking him if their monthly discharge also needs to be cremated. It might sound gross, but it's a dramatic, eye-catching protest – and nowhere near as disgusting as Texas leaders' repeated attempts to restrict women's freedom.
There have been many other developments in the fight for abortion rights: bpas launched the campaign 'We Trust Women' to call for the decriminalisation of abortion in the UK; hundreds of women took to the streets of Santo Domingo in the Dominican Republic to protest against a new criminal code condemning abortion, including in cases of rape or when the woman's life is in danger; and in Ohio women attached coat hangers to the Statehouse fence in protest at a new bill that would make abortion illegal after a fetal heartbeat is detected.
These protesters have been inspiring. And we will need more of the same spirit next year. With Trump's presidency and reproductive illiberalism in many European countries, the fight for abortion rights is going to be tough. But the good news is that women aren't taking these challenges lying down – and here at spiked we salute them.
Ella Whelan is assistant editor at spiked. Follow her on Twitter: @Ella_M_Whelan
Picture by: Getty Images.
To enquire about republishing spiked's content, a right to reply or to request a correction, please contact the managing editor, Viv Regan.