The year education went explicitly political
After Brexit and Trump, academia's bias became crystal clear.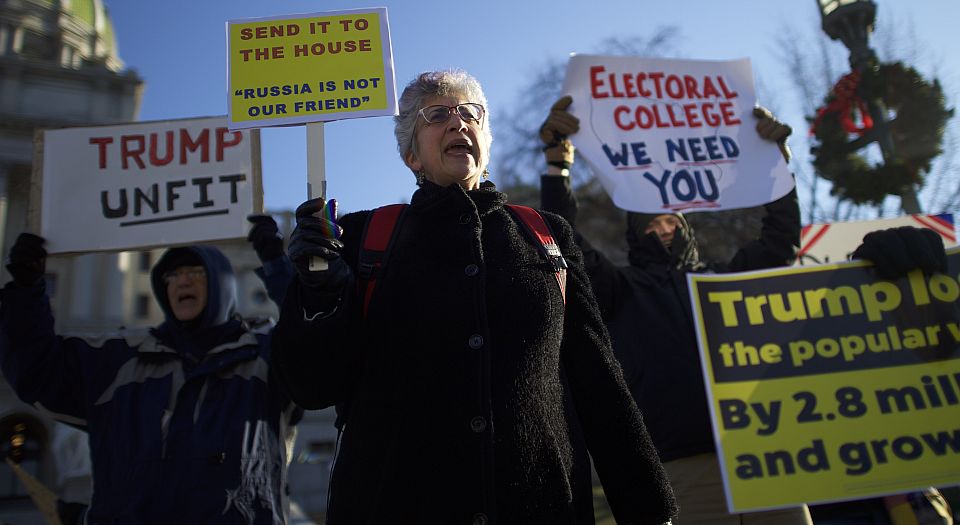 2016 was the year some schools and universities finally felt able to come clean about their mission. For years, the Fairtrade fortnights, walk-to-school Wednesdays, anti-bullying weeks and sex-and-relationships classes have sat alongside SATs tests, league tables and learning outcomes. The instrumentalism of teaching students how to pass exams, or demonstrate a few generic employability skills, has been tempered by a seemingly nicer promotion of values. This year, in the wake of Donald Trump's victory in the US presidential election, and the Brexit vote, discussion about the need for education to socialise children into a certain view of the world, to inculcate a particular political outlook, and to rectify the prejudices picked up at home, has become far more explicit.
In the US, graduates were less likely to have voted for Trump; in the UK, they were more likely to have backed Remain in the EU referendum. Commentators noted the role of schools and universities in promoting tolerance, and called for increased participation in higher education. The chair of the Political Studies Association told universities to 'celebrate the role of education in promoting engaged citizenship and encouraging individuals to look beyond their own community.' The chair of Whole Education urged schools to 'fight against hatred' and 'teach young people that diversity is a strength, not a problem; that immigrants contribute an immense amount to this country; that they are valued and respected as much as any other citizen; and that the world is a safer place when countries work together'. Many involved in education were able, finally, to share openly their belief that what students know is less important than the political views they hold, and the values they espouse.
In 2016, the prioritising of values over knowledge has played out in campaigns to 'decolonise' the curriculum. Students are taught to judge the merit of works of literature or philosophy by the skin colour of the author. By this logic, anything written by a white man is only worth reading to expose the inherent racism and misogyny in the text. This year, promoting tolerance has meant eradicating the past through movements like Rhodes Must Fall at Oxford University and the removal of plaques to long-dead Belgian kings from Queen Mary University in London. Promoting tolerance has meant banning tabloid newspapers, preventing controversial speaker Milo Yiannopoulos from speaking at his old school, and banning pro-life societies. This is a tolerance that demands that everyone step in line, and think the same way.
Academia's response to the Brexit vote, and the election of Trump, shows just how ugly this taught-tolerance can be. Prejudices against the majority of voters have been starkly displayed. One academic labelled Leave voters as being driven by 'primitive emotions'; another described them as 'uncertain, nostalgic, uncomfortable and bewildered'. To others, they are 'dumb', 'misled', 'uninformed'. On US campuses, Trump voters were described as racist, sexist and xenophobic. This barely concealed contempt for the general public has led to people saying, out loud, that voting should come with an intelligence test.
Ironically, the sneering directed at so-called low-information voters has come from the same progressives who derided the teaching of information as only beneficial to people wanting to win pub quizzes. Voters stand accused of ignorance by those who have rejected teaching knowledge as an act of symbolic violence. The disdain at post-truth politics comes from academics who've made careers out of insisting that 'truth' (always with the obligatory scare quotes) is, at best, multiple and subjective. The academics who mocked former education secretary Michael Gove's denigration of experts are the same people who build a tick-box curriculum driven by identity rather than intellectual merit.
The post-Brexit and post-Trump weeping and wailing from within academia has usefully exposed the fact that it is often academics who lead the way in nurturing the cult of vulnerability among students. This year, they have pre-empted and paved the way for student distress by using trigger warnings before students ask for them, as well as cancelling classes and postponing exams in the wake of Trump's victory.
According to the view that education should be about promoting a particular view of the world, and moulding a certain type of citizen, free speech is far too risky – students might pick up the wrong take-home message. The furore that surrounded Yiannopoulos' invite to address sixth-formers at his old school showed that even when teachers do try to present pupils with a range of views, they risk the wrath of the politically outraged.
That education can only be conceived of as serving a social function became apparent in this year's ongoing grammar-school debate. The good thing about grammar schools is that they employ teachers who are evangelical subject specialists, and who usually have high expectations that pupils will master a knowledge-rich curriculum. Every child deserves this. Yet, on both sides, grammar schools have been presented exclusively in instrumental terms – either they are needed to promote social mobility for disadvantaged children, or they are to be banned in the interests of social cohesion.
Unfortunately, 2017 is likely to leave us with more explicit policing of individual behaviour and relationships as universities renew their war against so-called lad culture, and seek to regulate single-sex social clubs and sports teams. There will no doubt be more mandatory consent workshops for university students and compulsory sex education for schoolchildren, covering a broader range of topics than at present, such as domestic abuse and sexting. Lecturers and teachers are redoubling their efforts to make sure students imbibe the correct values.
One positive to take from 2016 is the extent to which students themselves are standing up to bans and restrictions with some degree of success. At Queen Mary, the student council didn't back the campaign to get King Leopold's plaque removed. The open letter written by sixth-form students at Simon Langton school destroyed the arguments of their opponents and, in doing so, demonstrated that the students were more than a match for Yiannopoulos. Even the NUS has shown itself to have more gumption than lecturers by organising a boycott of the National Student Survey to challenge rising fees and the incoming Teaching Excellence Framework – a far more effective strategy than their lecturers' long-lunchbreak strike of 2014.
Joanna Williams is education editor at spiked and the author of Academic Freedom in an Age of Conformity.
Picture by: Getty Images.
To enquire about republishing spiked's content, a right to reply or to request a correction, please contact the managing editor, Viv Regan.