Irish victimhood? Feck off!
After the passing of Father Jack, we should recover Ireland's assertive, creative spirit.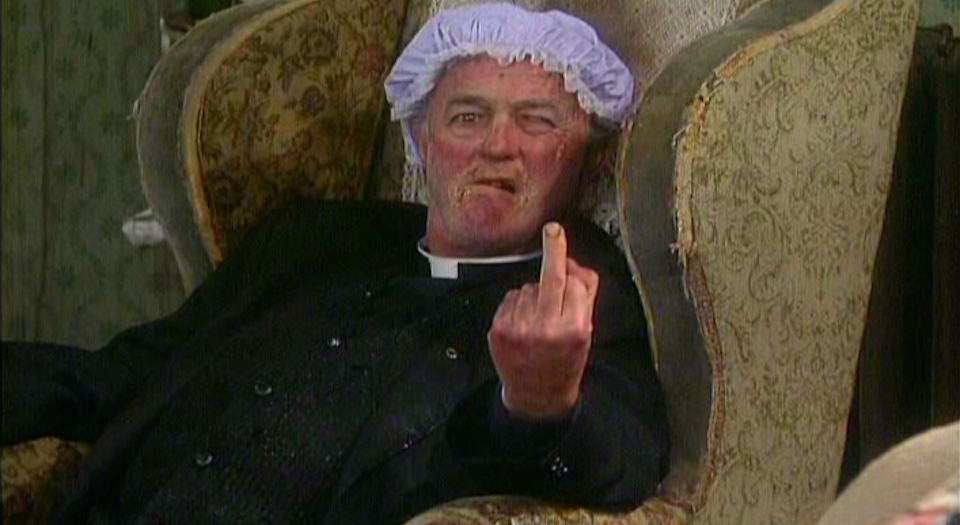 2016 has been a year of incredible historical significance. There was the Brexit vote, and the hilarious weeping of the political elite in response to it. There was the rise of Trump, which caused even more liberal hysteria as graduates grabbed their iPads to declare 2016 the worst year in living memory. (I guess they were not affected by the 2008 financial crash.) But it has also been a year of high-profile deaths, from the important yet controversial Fidel Castro to the 'funky little dude' Prince. And who could forget the millionaire magician Paul Daniels? But one death that was almost overlooked was that of Frank Kelly, most famous for playing the alcoholic Father Jack in the surreal yet brilliant Irish sitcom Father Ted.
I remember the day I heard about his death. I was on the way back from Devon after a weekend away with my partner. We were on a not-so-comfortable coach. My partner suddenly turned to me and said 'oh no, Father Jack has died'. To us, Father Ted has an emotional importance. When we first met I was renting an awful, cramped flat in the heart of Irish London on Kilburn High Road. In the awkward, early stage of dating we ended up watching hours of Father Ted. We started with the legendary five-a-side episode, went through the stolen-whistle incident and even sat through the bizarre third series, which, if we are being honest, smells like a sitcom beginning to run out of ideas.
Father Ted ended in 1998 after the sad death of the show's star, Dermot Morgan. In the near two decades since the show's demise, it has slipped away from the UK's national psyche. It was taken off Netflix over a year ago, and many young people have never heard of it (possibly because Channel 4 still owns the rights to it, and so it is not replayed endlessly on Dave or Gold). But there is still something about Father Ted that resonates – its portrayal of Irishness.
It mocked and celebrated Irish culture simultaneously and seamlessly. There's the not-so-subtle mocking of priests and the Catholic Church; the digs at the eccentric people of the Irish countryside; and the heavy drinking of Father Jack. The stereotypes are there for all to see. But there is also a sense of celebration. In one episode, Father Jack is thought to have died (he's actually just passed out) after drinking alcohol and floor polish. In the form of a eulogy, Ted reads from James Joyce's 'The Dead', and the camera scans over the snow-covered countryside. It's a few-second homage to what Ireland is most loved for: its sensational literature and its beautiful countryside. It ends abruptly when Jack wakes up, shouts 'shut the feck up!' and Ted faints.
Today, Irish people seem obsessed with focusing on Ireland's dark past. While it's important to discuss the oppression Ireland suffered, this should not mean forgetting what Ireland is famous for – its humour, its culture and its fight. The rise of identity politics has not helped with this. I remember watching a debate at my university about whether students with Irish heritage should have access to Safe Spaces reserved for black and Islamic students. There have also been arguments recently over the differences between chattel slavery, suffered by African slaves, and the indentured servitude of the Irish, which is essentially the Irish slavery myth rehashed.
Why are Irish people so attracted to victimhood when there is so much to be proud of at the moment? The Irish football team, led by the steely Martin O'Neil and the always great value Roy Keane, continue to defy the odds, losing narrowly in the quarter-finals of the Euros to France, who hosted the 2016 tournament. The Irish rugby team has had fantastic victories over New Zealand and Australia this month. And the notorious Conor McGregor has continued to dominate the UFC this year.
What is fantastic about McGregor is his unashamedly Irish attitude. He struts around in a ridiculous white fur coat, churning out poetic putdowns in his strong Crumlin accent. At one of his press conferences this year in New York, he declared that the Irish 'had built this city', and that they were back to claim what was theirs. After beating Eddie Alvarez last month, he hilariously bellowed: 'I want to apologise… to absolutely fucking nobody.' It was a moment of angry, boastful comic genius.
The Irish are creative, self-mocking masters of their own destinies, not a downtrodden race. To those of the Twitterati who think Irish people need Safe Spaces, we should remember Father Jack, sip a whisky, and proudly tell them to 'feck off!'.
Michael P Fitzpatrick is a writer and teacher based in London.
To enquire about republishing spiked's content, a right to reply or to request a correction, please contact the managing editor, Viv Regan.