National Action isn't a terrorist organisation
We must not give this vile group the notoriety it craves.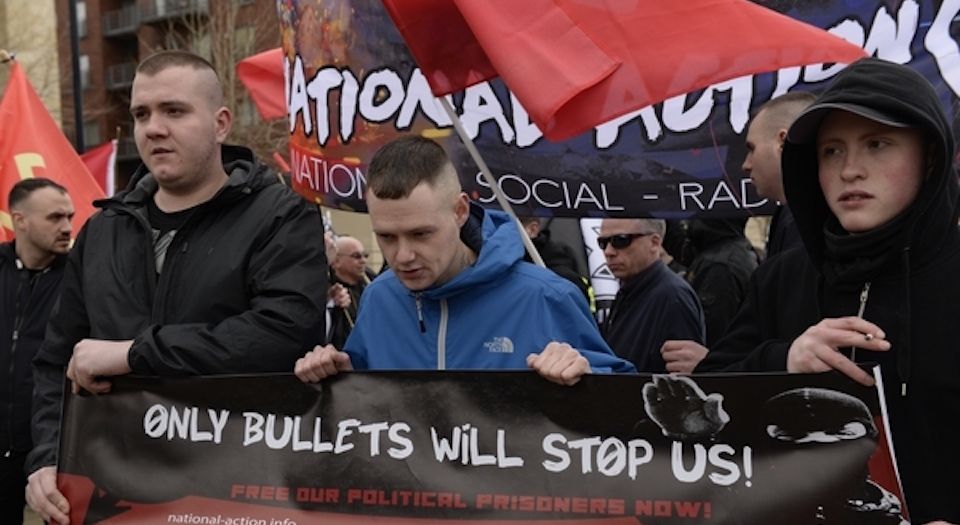 National Action is to become the first far-right group in Britain to be proscribed as a terrorist organisation under the Terrorism Act. If parliament supports the ban in a vote tomorrow, becoming a member of, or 'inviting support' for, National Action will be a criminal offence. The home secretary, Amber Rudd, who has spearheaded the move to ban NA, said it had 'no place in British society'. 'National Action is a racist, anti-Semitic and homophobic organisation which stirs up hatred', she said.
Indeed, National Action plasters areas with 'whites only' signs, and bangs on about making the UK racially pure. But Rudd missed a crucial point: NA is also completely ineffectual. Videos of its demonstrations reveal what truly desperate affairs they are. They go like this… About 40 people show up, wave black flags, and complain about Britain being 'taken over' by immigrants. Then, a few anti-fascist demonstrators will usually make an appearance, they'll all have a fist fight, and someone uploads the footage to YouTube. All attendees are ultimately kept under control by a small gaggle of community-support officers, and everyone eventually goes home to tweet insults at each other. It's hardly the resurgence of the blackshirts.
However, the move to proscribe National Action isn't about dealing with a direct threat. It has been acknowledged that this is a response to the murder of the Labour MP Jo Cox by the right-wing lunatic Thomas Mair earlier this year. This is why the ban had to wait until the end of Mair's trial. He received a whole life order for the murder of Cox, meaning he will almost certainly spend the rest of his life behind bars. But there is nothing to suggest Mair was in any way associated with National Action. NA merely expressed support for Mair after Cox's murder, adopting a phrase he used in court as its slogan. This is likely to figure highly in parliament's discussion on the ban.
It goes without saying that Mair is a dangerous criminal. And National Action will do anything, including adopting the words of a murderer as its slogan, to gain a bit of publicity. But proscribing it as a terrorist organisation is hugely disproportionate – it's gesture politics at its worst. It suggests Mair's actions were part of a broader far-right movement, when in fact he acted as one deranged individual. What's more, it allows this vile group to profit from Cox's murder, and suggests it is capable of creating another criminal like Mair.
The context to all this is the current panic about racism in the aftermath of Brexit, expressed most clearly in the media and political obsession with hate crime. It was widely reported after the vote that hate crime in the UK had skyrocketed. Articles were published in the Guardian that seriously suggested fascism was on the rise. The truth is that, after a short spike following the Brexit vote, levels of hate crime in the UK have all but returned to normal. The apparent increase in hate crime is largely attributable to people's greater willingness to report incidents they see, rather than there being an increase in incidents.
National Action poses no real threat to the UK. Politicians are simply using the law to send a political message. It is an abusive application of draconian legislation. And it marks a chilling shift. This group has been banned not because of what it does but because of what it thinks, and who it glorifies. Anyone who believes in a free society should be deeply worried by this.
But NA is not the only group affected by UK terrorism laws. Proscription is also deemed 'necessary to assist our international allies in the fight against terror'. In other words, organisations can be banned in order to placate a foreign power. The most obvious example of this is the Kurdistan Workers' Party, known as the PKK. The PKK is doing the West enormous favours by fighting ISIS in Iraq, and for many in the UK (myself included) its members are heroes. But the PKK is on the list because Turkey believes it to be responsible for attacks against them. This means that those travelling to join the PKK to fight ISIS can be prosecuted on their return to the UK.
That a small group of nasty loners can be outlawed by the government should make us all think seriously about our terrorism laws. Not only does the often arbitrary process mean many groups who aren't terrorists can be banned; it also allows politicians to ban groups, in order to 'send a message' about a particular incident. Worst of all, labelling groups like National Action terrorist organisations gives them a power, a profile and a notoriety they would never have had otherwise.
Luke Gittos is law editor at spiked and author of Why Rape Culture is a Dangerous Myth: From Steubenville to Ched Evans. (Buy this book from Amazon(UK).)
To enquire about republishing spiked's content, a right to reply or to request a correction, please contact the managing editor, Viv Regan.