Who'd be a football coach now?
The child-abuse panic is poisoning the adult-child relationship.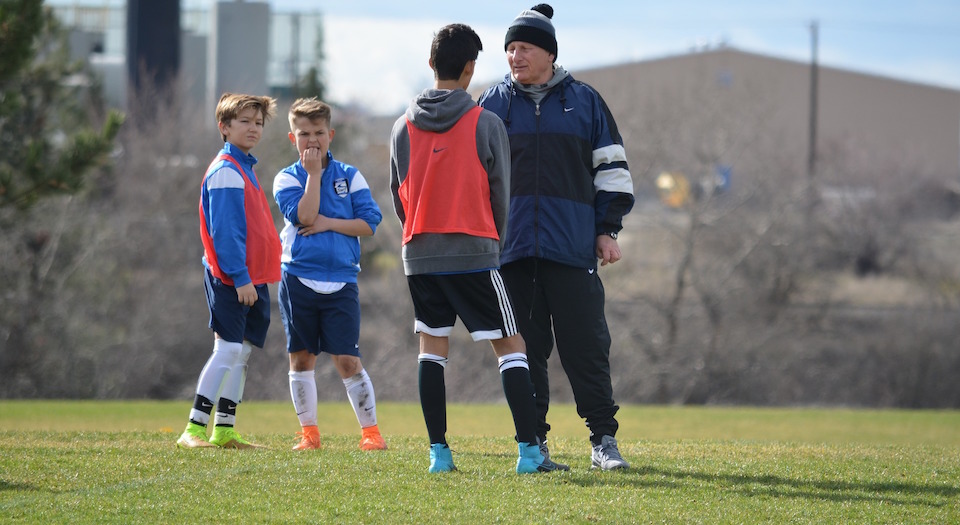 It is nearly a month since former professional footballer Andy Woodward told the Guardian he was sexually abused as a boy by Barry Bennell, a former talent spotter and youth coach who spent most of his career at Crewe Alexandra and Manchester City. Woodward's disclosure was the cue for other alleged victims to come forward and make allegations of sexual abuse, complete with suggestions of cover-ups, against Bennell and others (including former employees of Southampton, Newcastle and Queens Park Rangers). Now, with the child abuse scandal rolling through club after club – at the last count, over 20 police forces were investigating allegations at 98 clubs, and hundreds of calls have been logged by the NSPCC – questions need to be answered. How widespread is abuse in football? And is the current focus likely to stop would-be coaches from entering youth football?
Yet some have already made up their minds. Peter Wanless, chief executive of the NSPCC, says the scandal 'reveals the worrying extent of abuse that had been going on in the sport'. According to Reuters, it is already 'one of the worst paedophile scandals Britain has ever known'.
Surely a bit if perspective would be wise here. Not least because the hysteria about abuse in football is not conducive to establishing the facts. As it stands, we don't know whether sexual abuse in football is on the same scale as the systematic abuse of young girls supposedly in the care of their local authorities, and for which the men responsible were convicted. We don't know if it's on the same scale as the Savile scandal, and the array of follow-on allegations, some true, many false, made against assorted public figures. We don't know, because no one seems that bothered about establishing the facts before drawing hyperbolic conclusions.
The amnesia here is striking. Have those currently calling this 'one of the worst paedophile scandals Britain has ever known' forgotten about the collapse of Operation Midland, the Metropolitan Police's completely groundless inquiry into the alleged sexual abuse and murder of children at the hands of senior politicians, army figures and spooks? Are they simply ignoring the folly of the now seemingly discredited Independent Inquiry into Child Sexual Abuse, which, with its impossibly broad remit, has proven nigh-on impossible to conduct? Too often, child-abuse hysteria has led to grave mistakes being made, from false accusations to ineffective suspicion-spreading inquiries.
Whatever the child-protection lobby might say, the truth is that child sexual abuse is extraordinarily rare. Most of what is recorded as suspected abuse is actually neglect, and few cases of abuse are suspected to be of a sexual nature. The official figures from the Department for Education show that in 2015/16, 50,310 children were subject to a child-protection plan, which means social-care professionals agreed that these children were suffering or likely to suffer significant harm. Of these 50,310, 46 per cent were recorded as possibly subject to neglect and 35 per cent to emotional abuse. The figure for suspected sexual abuse is not even cited because it is so small – tentative estimates suggest just six per cent of all 'child in need' assessments involve suspected sexual abuse.
The very scale of the national game, with 3.35million children aged five to 15 playing football in England, means that the child-abuse panic in football has far-reaching consequences. Yes, of course, one child abused is one too many. But one child denied the opportunity to play football at the weekend because their parents are scared that the local coach might abuse them is also one child too many.
That is the problem with the evidence-lite claims now being made about football. It is a panic that will eat away at people's trust in coaches and clubs – and will ultimately further undermine children's trust in adults. Instead of recklessly joining in the hysteria, the authorities owe it to young footballers not to overreact to allegations of awful but thankfully rare abuse. A measured response will ensure that children are able to enjoy their childhoods unhindered by very adult obsessions and suspicions.
In the past, those institutions and clubs now being accused of standing by while the abuse was carried out might have attempted a cover-up. Now they tend to the opposite, and open themselves up, issuing mea culpas and launching investigations and inquiries. So Martin Glenn, chief executive of the Football Association, wasted no time in announcing an immediate internal review committed to 'openness and honesty and everyone exposing what has happened'. Such moves are meant to reassure people, but they actually succeed in eroding the longstanding trust football clubs have built up with local communities. It is bad enough when the BBC or parliament embrace child-abuse hysteria; but football is part of families' everyday (or at least weekend) lives, bringing together parents in a way that doesn't happen all that often anymore.
Introducing kids to local football clubs means placing them in the care of strangers, adults who will hopefully not only develop children's football skills, but perhaps develop their character, too. There are no procedures or checks that can ever guarantee children are absolutely safe. But the minuscule risk that they might be abused should not be allowed to poison the adult-child relationships on which youth football is based. By actively undermining parents' trust in football clubs and the people who work or volunteer for them, those who claim to be concerned about children's welfare are actually ensuring that children will be worse off in the long run.
The abuse-in-football panic, as with the other child-abuse scandals of recent times, won't help prevent rare and distressing cases of actual child abuse. But it will lead to the growth of yet more suspicion in our already atomised and anxious society.
Dave Clements is a writer, public servant and convenor of the Institute of Ideas Social Policy Forum
To enquire about republishing spiked's content, a right to reply or to request a correction, please contact the managing editor, Viv Regan.