Veganism: a cult of purity
This obsession with clean living is a denial of human nature.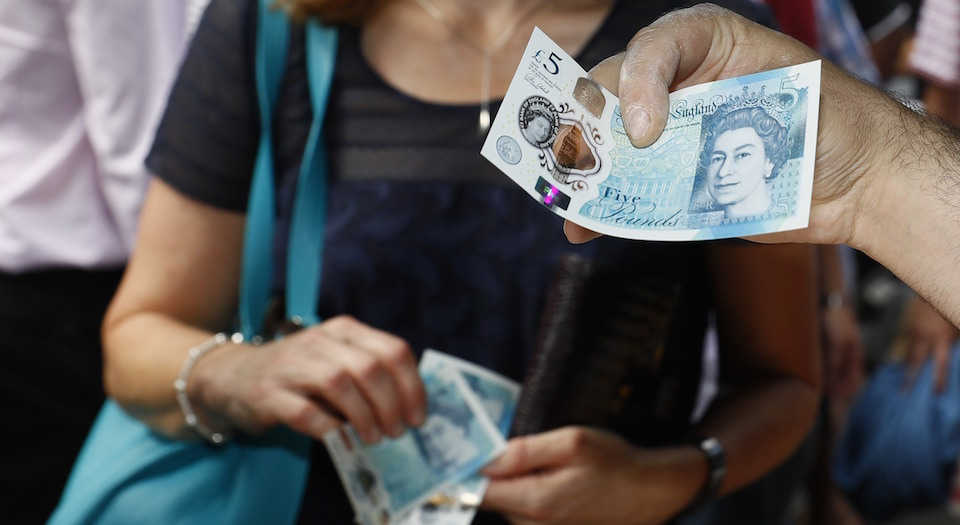 It's easy to scoff at vegans who are up in arms because the new five-pound note contains animal fat. Yes, their carry-on is precious, self-righteous and risible. But these are the default characteristics of vegans. We expect this behaviour from them. It's the main reason why people in the Western world go vegan: to prove that they are superior to you and me. Whereas vegetarians quite reasonably object foremost to the killing of animals, self-regarding vegans are concerned ultimately with the perceived pollution of the self.
It seems of little concern to vegans that most £20 notes carry traces of cocaine, the trade which causes untold misery to human beings. Neither does it appear to worry them that most everyday objects, from toothpaste to cars to condoms, contain animal fat. The petition against the new five-pound note was designed to convey the message that they don't want to touch our disgusting money.
We might also lament the Bank of England's announcement that it is now working on 'potential solutions' to this issue, which it is treating with the 'utmost seriousness'. Again, nothing new. It's now commonplace for institutions, or people, to back down, apologise, or atone in the face of petitions and mob pressure, usually with the abetment of Twitter.
The truly significant aspect of this episode is that it represents a new cult in society: the cult of purity. In society, we increasingly yearn for authenticity, certitudes and purity. Religious fundamentalism is but one manifestation of this, as the competitive quest for purity inevitably leads to an extremist mindset. We see it in secular politics, too. Observe the Momentum movement, which is driving the Labour Party further to the left, with each member trying to assert who is the most pure, authentic anti-capitalist.
Witness, too, campus censorship, Safe Spaces, trigger warnings and Twitch-hunting, driven as they are by the desire to banish dirty and contaminating words. The banning of tabloid newspapers at universities is just the latest step. Elsewhere, we have the phenomenon of 'clean eating' and detoxifying, eating only organic and supposedly untainted GM-free foods. The number of vegans in this country has increased 360 per cent in the past 10 years. Add to this the cult of Scandi, with its monochrome-mood television dramas and its bland, blank clothing and furniture.
The reasons for this cult of purity, with its consequence to veer to extremes, are manifest. The inclination towards populist extremes in politics is adjudged the fault of globalisation and the collapse of the centre-left everywhere. Fussy, organic eaters combine our age of narcissism with anti-modern romantic primitivism. Islamism is a response to the failure of Arab politics and statehood, causing much of that part of the world to look upon the West and Israel with envy and resentment.
Yet I suspect that the cult of purity is mostly a reaction to the digital revolution. The world is far more noisy and complicated than it was 30 years ago. In an age of incessant information and perpetual connection, the cult of purity and longing for simplicity represents a kind of mental refuge. It's no coincidence that today we hear the expression 'digital detox'. People seek sanctuary and certainty in a world that seems to be drifting beyond their control.
This doesn't bode well. The desire for purity is driving our culture's now manifest lurch towards a new puritanism, with its desire to expunge or suppress the unpalatable and problematic. Yet that which is messy, foul and offensive is intrinsic to the human condition. It's usually good for us. Outrageous, dirty and wrong experiences open our minds.
---
Get Over Yourself: Nietzsche For Our Times
Regular readers of this column will know that I've been undertaking a project on the 19th-century philosopher, Friedrich Nietzsche. So it's with great pleasure that I can announce the release, next year, of my new book: Get Over Yourself: Nietzsche For Our Times.
'Not another Nietzsche book', you may groan. True, there have been thousands of books which introduce the philosophy of the moustached German who went mad. But Get Over Yourself puts matters the other way round. Rather than simply explaining his thought, it instead asks: what would Nietzsche make of us? What would he think of our 21st-century, digital age?
In our age of identity politics, therapy culture, Safe Spaces, religious fundamentalism, virtue-signalling, Twitterstorms, public emoting, dumbing down, digital addiction and the politics of envy, the book introduces Nietzsche's philosophy by putting the man in our shoes. Get Over Yourself both uses Nietzsche's philosophy to understand our society, and takes our society to explain his philosophy.
Nietzsche's essential message is that life is about struggle, and that, rather than being afraid of adversity, or fleeing from or trying to stifle that which we find objectionable or difficult, we should embrace strife and not fear failure. As the man most famously said: 'Live dangerously!'
---
Our rush-hour crush
'To the red-head who got on the Piccadilly-bound tram at Chorlton at 8.24 yesterday morning, I think you're amazing and brilliant. Like a shining star. If you were a shining star among all the billions and billions and billions of stars in the universe, you would be the most amazing and brilliant and amazing. Coffee?'
Brian, Manchester.
'Saw you in Tottenham Court Road yesterday, with your uber-cool striped red and white scarf. Thought you were totally uber-dish! UTTERLY DEAD GORGEOUS! SCREAM!'
Caitlin, London, SE1.
'To the lady yesterday, preening herself at the zebra crossing in Walton Street, Oxford (absolute nightmare of a town, if you ask me! Utterly ruined by ecomentalists), you might think you're all that in your new Volkswagen Golf GTI Clubsport S (the fastest front-wheel drive production car to go round the Nurburgring, incidentally), but, quite frankly, you aren't the best-looking woman in Oxford – or even… in the world. POWER!'
Jeremy, Chipping Norton.
'Bearded man opposite me on the District Line between Victoria and Blackfriars on Tuesday morning. Do you mind not ogling me? It's not my fault I'm so beautiful. Avert your post-truth, patriarchal gaze from my Safe Space.'
Laurie, London EC4.
'Bearded, smug-faced git on the southbound Jubilee Line approaching Westminster Station yesterday morning, reading the Guardian. You look just the type of warmist, libtard, lefty tosser that I hate. "Fairtrade coffee"? You must be sodding joking!'
James, London SW1.
'Deathtaking blonde on the number 18 omniboss last Frightday mourning towards the Hanging Gardens of Marylebone, with rosy-posy smile, smelling sluttishly with perfumios that came cunvy peeling off. Birra, piachairy?'
James, Trieste, Italy.
Patrick West is a spiked columnist. His new book, Get Over Yourself: Nietzsche For Our Times, will be published next year by Imprint Academic. Follow him on Twitter: @patrickxwest
Picture by: Getty Images.
To enquire about republishing spiked's content, a right to reply or to request a correction, please contact the managing editor, Viv Regan.