Why I'm fighting my uni ban on tabloids
Banning the sale of tabloids is slippery censorship and should be opposed.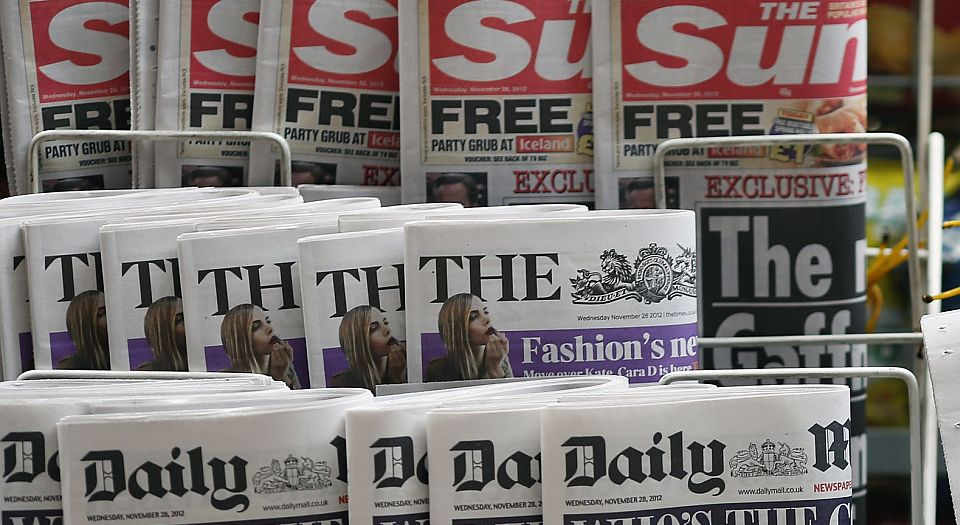 I feel like I watched campus democracy finally die last night. In an extraordinary act of authoritarian virtue-signalling at Queen Mary University in London (QMUL), where I'm a student, 13 student councillors revealed their inner tinpot totalitarian by deciding to ban the sale of newspapers on campus.
Like medieval cardinals, these censorious 13 decreed that the content of newspapers such as the Sun, the Daily Mail and the Express is unacceptable, and therefore such papers cannot be sold or bought.
Their illiberal stance echoes a recent similar ban on tabloid newspapers by City University's Students' Union (SU), and a ban on the sale of tabloids by Plymouth's SU. I feel ashamed that QMUL has joined this paternalistic ban-happy club.
The council meeting had a staggering turnout of 25 student representatives. Complete with jazz hands to replace clapping – clapping can trigger distress, apparently – the gathering voted 13-3 in favour of the proposed motion to ban the sale of papers that contain 'hateful discourse'. The other council members awkwardly chose to abstain from the vote. Cowards.
The representatives claimed that, as the elected spokespeople for QMUL students, they have a mandate to ban the sale of tabloids. One assured us that this motion is 'supported by an array of migrant-solidarity, refugee-action and international student groups'. Notably, however, not a single one of these talked-up minority groups turned up to defend the motion.
There was much opposition to these student reps haughtily claiming to be censoring in the name of marginalised groups. There was a larger turnout of non-council members (who sadly couldn't vote on the motion) than at any council meeting in ages. Others expressed their opposition to the ban online – until the council decided to stop (ie, ban) the livecast, too.
I used my two minutes on the platform to defend the right of students to buy and read whatever they like on campus, free from the diktat of a student council telling us which ideas are acceptable and which are not. I suggested that if we are going to ban the sale of newspapers that publish anti-migration stories, then surely we should ban the Labour Party, too? Who can forget that one of Labour's main policies in the 2015 General Election was to cut immigration, as emblazoned on its 'controls on immigration' mugs? This is how ridiculous it is to allow a student council, or anyone, to decide what is offensive, and then to ban it.
Council members said the motion wasn't about censorship. One said the motion was simply a statement that 'as a union, we do not support that kind of "journalism"'. They compared their motion to the earlier boycott of Robin Thicke's song 'Blurred Lines' by QMUL's SU. 'Idiots were in uproar. [But that] was a statement against rape culture. A gesture. Not censorship', they insisted.
They protest too much. Make no mistake: a motion to ban the sale and stock of tabloid papers is an act of censorship. It is an attempt to control the distribution of literature on campus. It is about denying the right of students to buy, and also to sell, certain publications. Imagine if a student bookshop were told it could not sell a radical left-wing book or stock the New Statesman: that would be recognised as a political restriction on the right to promote certain material. This is the exact same.
The council members said they were devoted to 'upholding our values of diversity and inclusivity'. Yet how can an SU be diverse if it restrains certain ways of thinking? By clamping down on newspapers and 'offensive' speakers and pop songs and so on, SUs around Britain have shown that they are deeply hostile to diversity of opinion. By 'diversity' they really mean 'we accept everyone so long as they agree with us'.
Student officials love bans. It makes them feel powerful to control what students may buy and read and hear. QMUL's anti-tabloid warriors received a tweet from the National Union of Students congratulating them on their ban.
What happened at QMUL last night was a disgrace. Thirteen council members, claiming to speak for a population of 22,000 students, expunged newspapers from campus shops. This is not radical; it's deeply conservative. I'd like to propose my own motion to my fellow students: defy these bans. Bring tabloids on to campus, stock them in your union's cafes, keep selling them in campus shops, and stand up for free speech. No one, least of all 13 council worthies, should get to tell us what's 'acceptable'.
Emily Dinsmore is a writer, student and a campaigner for spiked's Invoke Article 50 NOW! campaign.
To enquire about republishing spiked's content, a right to reply or to request a correction, please contact the managing editor, Viv Regan.